New Hankook winter tyres – 1st test success with Auto Bild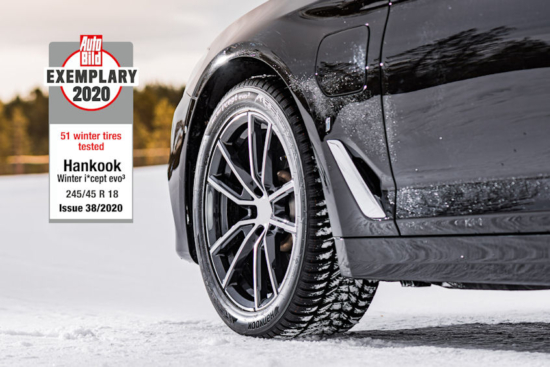 As reported earlier this month, Hankook Tire has released its latest winter products for motorists and Western and Central Europe. And the new tyre line is off to a promising start, with Auto Bild awarding the new tyre its top 'exemplary' rating in its winter 2020 comparative evaluation.
This successor to the Hankook Winter i*cept evo 2 is currently produced in two versions, the Winter i*cept evo 3 car tyre and the Winter i*cept evo 3 X SUV tyre, with a total of 95 dimensions available. An 'ev' version intended for original equipment on electric vehicles will also be produced in future.
For the first time, Hankook has employed an asymmetrical pattern for a UHP winter tyre range. It says this configuration not only provides excellent grip on snow, but also helps to effectively reduce the risk of aquaplaning. "With the Winter i*cept evo 3 and Winter i*cept evo 3 X, our development engineers have created two lines of winter tyres with a wide range of product features that are able to respond particularly well to the changing and increasingly demanding winter weather conditions," comments Sanghoon Lee, president of Hankook Tire Europe. "We are therefore confident that these new tread patterns will meet our customers' high expectations.
Natural resins for flexibility
Development of Hankook's third-generation winter range was influenced by the changing nature of Europe's winters in the face of climate change. Klaus Krause, who heads Hankook's ETC European Research and Development Center in Germany, notes that our winters are now punctuated by mild temperatures that alternate with sudden onsets of winter that bring frost and snow, as well as dry days that are unexpectedly interrupted by heavy rainfall. This makes choosing the right tyres for the season all the more important.
"A highlight of the third i*cept evo series is hidden in the tread compound. In addition to natural resins, special additives are also used here to ensure the tyre stays flexible at all times, especially at low temperatures, while at the same time achieving significant improvements in grip on wet surfaces," Krause continues. According to Hankook, the use of pine resins ensures the necessary flexibility at a very wide range of temperatures, prevents hardening and thus helps improve grip on winter and wet roads due to increased elasticity of the tyre's contact surface. In addition to the natural resins, a highly dispersible nano-silica compound is used, supplemented by other traction-enhancing additives.
Improved braking distances
Displacement and drainage of water and slush via the two main drainage grooves, which are 20 per cent wider in the new V-shaped tread pattern, play an important role in reducing the risk of aquaplaning. When comparing the Winter i*cept evo 3 to previous Hankook patterns, Hankook observed a seven per cent reduction in braking distance on wet roads as well as a reduction of up to ten per cent on snowy roads.
In addition to the high-grip tread compound, the further optimised arrangement of 3D sipes in conjunction with the directional tread pattern provides traction and lateral driving stability on snowy roads. The snow traction performance is supported by an increased number of ice-axe shaped tread block edges that grip the snow effectively.
The minimisation of block movements, achieved by the further optimised arrangement and design of the 3D sipes, has a positive effect on abrasion, as well as ensuring a high level of driving stability. The maximised edge effects also improve the general handling properties.
Developed for high torque vehicles
Hankook says it especially developed the Winter i*cept evo 3 series for use on powerful vehicles with high levels of torque. A reinforced casing ensures high driving stability and a high-strength bead core maintains optimised positioning on the rim. In combination with the wide tyre shoulder and the optimised block design, this ensures more precise steering response and improved grip when cornering, as well as optimised handling even on dry roads. The shoulder area of the new Hankook UHP winter tyre, with wide interlocking shoulder blocks, also provides the tread's necessary block stiffness, thereby increasing cornering stability even at higher speeds.
Both tread patterns are mainly manufactured in Hankook's production facility in Hungary. When it comes to market, the Winter i*cept evo 3 tread pattern for cars will be available in 50 sizes for 17- to 21-inch rim diameters (tread widths from 195 to 295 mm, aspect ratios from 30 to 60, speed ratings H to W). The SUV version, the Winter i*cept evo 3 X, is currently available in 45 sizes for 17- to 22-inch rim diameters (tread widths from 215 to 315 mm and aspect ratios from 30 to 65, in speed ratings H to W). Hankook will expand the line-up and gradually phase out the predecessor tyre over the course of the next year.