Michelin supplying 54 cars in delayed 24 Hours of Le Mans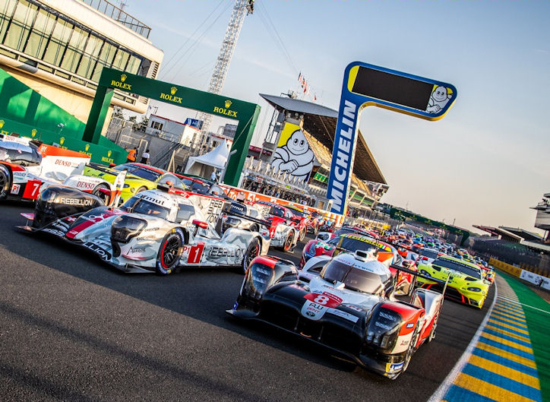 This year's 24 Hours of Le Mans commences tomorrow, but you're not invited. Nobody is – for the first time in its long history, the event will take place behind closed doors, sans partners, sponsors and spectators. Michelin will be present though, with 54 of the 59 competing cars running on its tyres.
Michelin will supply its race tyres to all five LMP1 entries, 19 of the 24 LMP2 cars and all of the LM GTE Pro and LM GTE Am runners. Partners in all these classes will be able to choose from soft, medium and hard slick options. The tyres feature a revised casing design and new compound to meet the performance requirements of the 2020 cars, and Michelin notes that while they were developed according to specifications for this season's original race dates and venues, they're engineered to cover a broad track temperature range from 5°C to 65°C.
"The average daytime and night-time temperatures and the chances of rain are reasonably similar in September compared to June," elaborates Pierre Alves, Michelin Motorsport's FIA WEC programme manager. "The biggest difference will be that nearly 12 hours of the race will take place in darkness, as opposed to just eight hours in June."
Plans changed for health & safety
"All of these changes – particularly those relating to the timetable and possible differences in the weather, not to mention Covid-19 hygiene measures – have impacted on Michelin Motorsport's preparations for the event. Our plan effectively had to be adjusted in order to ensure everybody's health and safety," states Matthieu Bonardel, director of Michelin Motorsport.
"One thing hasn't changed, however, and that's the moment everybody is eagerly awaiting, when the adrenaline rush begins as Michelin's engineers and staff finally get to the circuit. They might be wearing masks, but the broad smiles behind them will testify to the passion that drives each and every one of them."
Pierre Alves adds that a strict protocol has been in place at Michelin Motorsport's headquarters in Clermont-Ferrand, France since the end of lockdown. "All our staff have been educated in health hazards thanks to a series of training sessions and we will apply these good practices at Le Mans as we do elsewhere. The return to endurance racing paddocks has gone well so far thanks to the ACO's reassuring protocols which dovetail perfectly with our own."
Restrictions on international travel mean the European team will have to get by without the on-site support of its engineering colleagues from America, Japan and Australia. "We were unable to reinforce our teams as much as we would have liked for this important race," says Alves. "We have therefore had to prioritise and select those team members who are the most vital to our on-event operations to ensure that this year's Le Mans 24 Hours goes as smoothly and successfully as possible."
Michelin's tyres for the 24 Hours of Le Mans
Tyre allocations for this year's 24-hour race differ to previous years due to the introduction of a new Hyperpole session for the six fastest cars after Thursday's qualifying in all four classes (LMP1, LMP2, GTE Pro and GTE Am). This ACO initiative has increased the number of tyres required for the event.
In addition to the basic allowance of 24 tyres for LMP1 and LMP2 entrants and 28 for LM GTE Pro and LM GTE Am competitors to cover free practice, opening qualifying and race mornings warm-up, eight additional tyres will be provided to all the crews that contest the Hyperpole session.
For the race itself, the LMP1 cars will continue to benefit from an allocation of 48 tyres, with 56 for the LMP2 runners and 60 for the LM GTE Pro and LM GTE Am entrants.