Addressing the EV 'charging anxiety' problem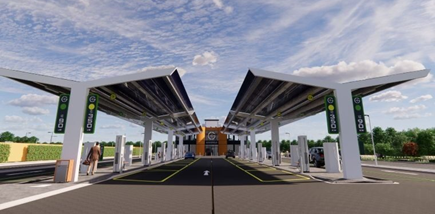 We are continually being told that electric vehicles are the future – indeed, petrol and diesel-engined vehicles are scheduled to be phased out in the UK market; the original deadline was 2040, but this was brought forward to 2035, and there is talk of possibly introducing the ban in 2030.
This last date is regarded by many as unachievable – when the deadline was brought forward to 2035, Mike Hawes, chief executive of the Society of Motor Manufacturers and Traders, described the situation as "extremely concerning" and accused the Government of "moving the goalposts."
Hawes points out that vehicle manufacturers are doing their bit, with 60 plug-in models currently on the market and another 34 coming on-stream in 2020, so there is plenty of choice for the motorist when it comes to vehicles.
Looking at new vehicle registrations for 2020, year to date to the end of August, petrol vehicles account for 59.3 per cent of the market and diesel vehicles for 17.7 per cent – electric sector sales make up 23 per cent. Admittedly, the EV registrations figure is growing (YTD to August 2019, EVs accounted for just under 9 per cent) but they are still very much in the minority. Why should this be?
We said earlier that there is plenty of choice of vehicles – perhaps there is too much choice, as the motorist has many types of EVs to choose from, let alone different brands. Of the 23 per cent EV market share referred to earlier, this is made up as follows:
| | |
| --- | --- |
| EV type | Market Share (%) |
| Battery Electric Vehicle (BEV) | 4.9 |
| Plug-in Hybrid Vehicle   (PHEV) | 3.3 |
| Hybrid Electric Vehicle (HEV) | 6.3 |
| Mild Hybrid Diesel Electric Vehicle (MHDEV) | 3.4 |
| Mild Hybrid Petrol Electric Vehicle (MHPEV) | 5.1 |
| Total  | 23.0 |
Source: SMMT figures
Aside from possible confusion over which type of EV to buy, surveys reveal that there are two other major concerns exercising the minds of potential EV buyers, and these are driving range and ease of recharging. These two factors are inter-dependent; if driving range can be significantly extended (and batteries are becoming more efficient all the time), then there is no need to worry about numbers of charging points on our road networks. Equally, if charging points become as common (or more common) than petrol stations, then range becomes less critical. However, we are a long way short of such a situation, with Mike Hawes describing the UK's current charging network as "woefully inadequate."
One company that is aiming to address the situation is Gridserve, which has plans to develop a UK-wide network of 100+ 'Electric Forecourts' over the next five years, at a cost of £1 billion. The illustration shows an artist's impression of the first of these charging stations, planned for Braintree, in Essex. The aim, says Gridserve founder and CEO Toddington Harper is "to make charging as simple and stress-free as using petrol stations."
The planned Braintree complex will house 30 EV chargers, including six Tesla Superchargers. Twelve of the other chargers will be capable of operating at 350kW, which Gridserve says could add 200 miles to an EV's range in 20 minutes.
As well as chargers, it is planned that the site will contain shops, cafes and an airport-style lounge and meeting pods, plus there will be a phone next to every charger – should drivers need assistance or technical information, the phone is connected to a dedicated helpline, which will be manned by EV experts from the AA. Having such a network of sites at strategic locations, says Harper, "will eliminate range and charging anxiety."
Gridserve is developing several large solar farms as part of what it calls a 'sun to wheel' initiative that ensures that 100 per cent of the electricity used at forecourts is renewable and, from the grid's perspective, sustainable – Gridserve owns the Clayhill Solar Farm in Bedfordshire, which will provide the energy for the Braintree facility.
There is no doubt that Gridserve's stated vision of the future of electric motoring being served by a nationwide grid is extremely ambitious, not to mention expensive. Equally, there is also little doubt that, if the EV target is going to be successfully met, then it – or something very much like it – is badly needed.