Goodyear reports Q2 net loss of US$696 million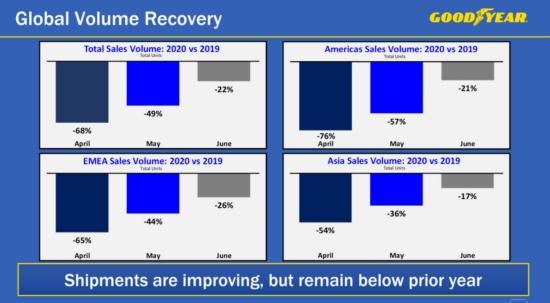 Goodyear Tire & Rubber reported a Q2 2020 net loss of $696 million ($2.97 per share) compared to net income of $54 million ($0.23 per share) a year ago in financial results released 31 July 2020. Goodyear's second quarter 2020 sales were $2.1 billion, down 41 per cent compared with a year ago. According to the company, the decline was driven by "lower industry volume and reduced sales from other tyre-related businesses." However, there are signs that demand is improving.
Tyre unit volumes for the quarter totalled 20.4 million, down 45 per cent on last year. In year-to-date results, Goodyear's net loss was $1.3 billion ($5.62 per share) compared to a net loss of $7 million ($0.03 per share) in the same period in 2019. Sales for the six-month period were $5.2 billion, a 28 per cent decline from the 2019 period, primarily due to lower volume and reduced sales from other tyre-related
businesses.
Tyre unit volumes in the first half of 2020 totalled 51.7 million, down 31 per cent. Replacement tyre shipments
decreased 28 per cent, reflecting lower industry demand. Original equipment volume declined 41 per cent, driven by lower global vehicle production.
Richard Kramer, Goodyear's chairman, CEO and president, pointed to the company's efforts to mitigate the pressures of the global pandemic: "Although our first half results were greatly affected by difficult industry conditions as a result of the ongoing COVID-19 pandemic, the decisive actions we took to safeguard our business helped mitigate the impact on our results. While we are encouraged to see industry demand gradually recovering in most major markets, our plans for the second half consider the challenges and uncertainties that remain. We continue to focus on the wellbeing of our associates, servicing our customers and supporting our brands while appropriately managing our costs and
working capital."
Wells: "…the most severe volume shock we've ever experienced"
However, the seriousness of the downturn in Goodyear's figures is unavoidable. Indeed, during Goodyear's 31 July second quarter 2020 conference call, executive vice president, chief financial officer and former European president Darren Wells conceded that: "There's no question this was the most severe volume shock we've ever experienced, worse than the Great Recession and worse than the strike-related shutdown we had back in 2006, and it came on the heels of a weak second half of 2019." Not only that, but such an unprecedented shock will have "a lasting affecting on our balance sheet."
Pointing out that "What we're able to do about it is a better story" Wells went on to highlight the contributions of employees: "We figured out new ways to reduce cost and preserve cash, actions we've never taken before. Our salaried workforce made significant contributions, with many being furloughed, free to part for all of the second quarter. Those that were working did so at pay that was 10 per cent to 30 per cent lower, in many cases, voluntarily."
There were, however, two more positive notes. First, there are signs that the demand trough is showing signs of recovery (see charts). And secondly, there has been increased adoption of online and mobile tyre fitment options. Specifically Goodyear is reporting that e-commerce usage is up 15 per cent year-on-year and that mobile tyre installation is up 150 per cent year-on-year.