Trelleborg group sales relatively good, but tyre sales impacted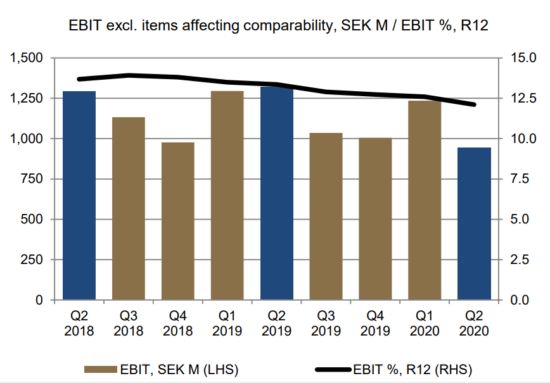 Trelleborg Group has reported "satisfactory" second quarter 2020 financial results "under the circumstances", the company stated in its second quarter results. Specifically, Trelleborg Group organic sales declined 19 per cent, albeit with an improvement in the latter part of the quarter. As a result, net sales for the second quarter declined 18 per cent to 7,689 million Swedish krone. Pre-tax profits (EBIT) declined 29 per cent, corresponding to an operating margin of 12.3 per cent. At the same time, operating cash flow was strengthened "significantly", according to the company.
However in the tyre side of things, OE sales were hit but vehicle manufacturer closures, something that was especially marked in the material handling segment. Trelleborg Wheel Systems' OE sales to manufacturers of agricultural machinery was "negatively impacted by several customers closing their production sites for a number of weeks", Trelleborg Group reported in an official statement. However, this was at least partly countered by a "slightly positive trend for agricultural tyre deliveries to the aftermarket".
Sales of tyres for material handling and construction vehicles were more impacted since deliveries to OE manufacturers and aftermarket customers declined significantly. At the same time, the volume loss was partly offset by the positive sales mix, strict cost control and the benefits gained from structural measures implemented earlier.
"The second quarter was dominated by intensive efforts to respond to all of the direct and indirect effects arising from COVID-19. All units in the group implemented local action plans that address their unique situation. Considering these special market conditions, performance during the quarter was satisfactory, despite a significant decline in organic sales and earnings generation," said Trelleborg group, president and CEO, Peter Nilsson.
Nevertheless, Trelleborg says it will implement further measures to manage the negative effects of the corona-hit market context. Trelleborg's statement didn't give further details, but did say: "These initiatives address production and sales structures in all business areas and aim to enhance the efficiency of the organization to face a new market situation after COVID-19."
Peter Nilsson, President and CEO of Trelleborg Group commented: "The Group has demonstrated its ability to navigate well through the challenging market conditions created by the ongoing COVID-19 pandemic. Our strong cash flow generation and resilient margins also give us great opportunities to continue building an even stronger Trelleborg for the future".