Michelin launches MachXBib agricultural tyre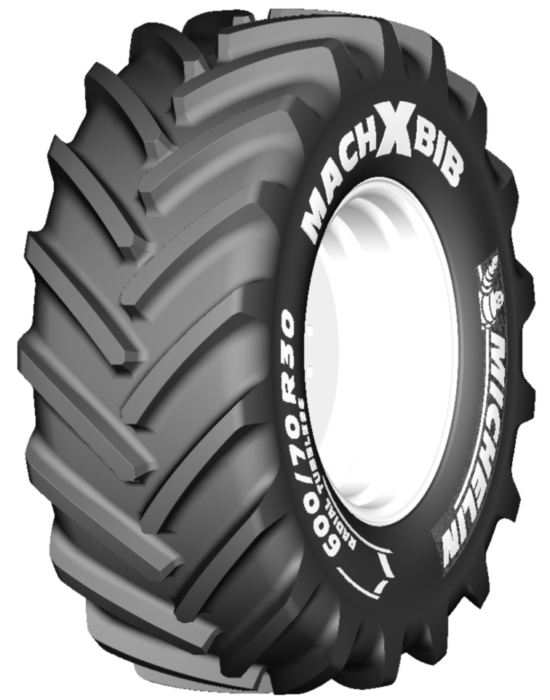 Michelin has launched the latest version of its popular MachXBib agricultural tyres, with a revised tread pattern that improves endurance, traction and resistance to stubble damage.
Designed for high horsepower tractors delivering between 160-300hp, the new MachXBib design will initially be launched in three sizes traditionally used on the front axle – 600/65 R28 154D/150E, 600/70 R28 157D/154E and 600/70 R30 158D.
Key changes include a redesigned tread pattern offering a flatter contact patch, which helps achieve more regular tread wear; plus overlapping lugs which help to optimise road handling. The deep tread pattern is designed to offer maximum traction, whilst the lugs' more rounded shape offers greater resistance to stubble damage. This shape has also proven to be more robust and stable during extensive testing.
The new tyres deliver a greater load capacity on the front axle, thanks to their ability to be inflated to higher pressures. At 2.4 bar, the new 600/70 R30 158D MachXBib offers a front axle load capacity of up to 9,780kg in field conditions and at speeds of up to 30km/h. The previous generation MachXBib tyres in this size offered a maximum inflation pressure of 1.6 bar for 30km/h operation, giving a front axle load of just 8,400kg in field conditions.
Gordon Brookes, Customer Engineering Support Manager for Michelin's agricultural division, commented: "The new generation of MachXBib tyres offer improvements in virtually every area. We have taken a tyre that has been hugely popular on the original equipment and replacement markets for many years, and brought its performance up to the next level."