Tyre Boss fits high-capacity tyre press for OTR, specialist tyres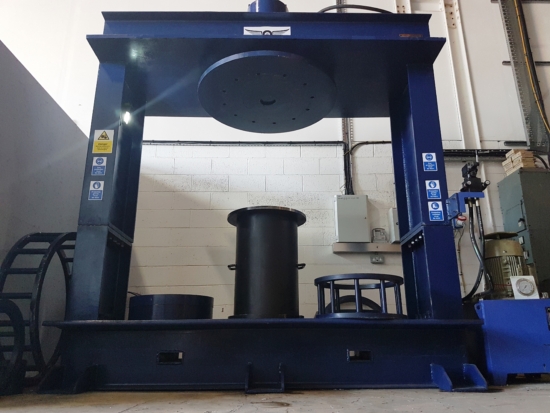 Glamorgan OTR tyre supplier Tyre Boss has invested in a 250 tonne static tyre press. The high capacity press, which is over 3m tall, can be used to press tyres from 5.00-8 solids to 24.00-35 solids. This means the company can handle the full range of pneumatic, solid and specialist tyres supplied by Tyre Boss for every make and size of off-highway machinery. The new tyre press is the latest investment for the Welsh company. It opened a second warehouse earlier in the year, having moved into new premises in 2019.
The press will be used for both the company's service exchange scheme and for brand new tyre and wheel assemblies. With huge stocks of new and used rims and brand-new tyres in stock at all times, the press will enable Tyre Boss to improve delivery times. The company comments that lead times are currently pressurised due to increased demand from waste and recycling sites. They are working around the clock to process an increase in domestic waste while the UK is confined to home.
Tyre Boss's large press also enables it to press for companies that need to outsource their pressing requirements. Wayne and Victoria Collins own the business and are working hard to ensure the nation's waste machinery is supplied with damage resistant, puncture-free tyres to maximise productivity on site.
"We are responding to urgent calls for tyres and the new press has been a real godsend. We are working alone in the workshop and are following all the hygiene protocols, including at the point of delivery on site. We have already pressed, delivered and fitted dozens of tyres since the press was commissioned, so the decision to invest in this piece of kit – which was made prior to the emergence of Covid-19 – seems to be paying off."
The tyre press is another example of the couple's investment in customer service. Tyre Boss says the tyre press, the second warehouse, and its attainment of ISO 9002 will put the company in fine shape to service more customers as the market returns to normal.