Point S opens China pilot centres in Foshan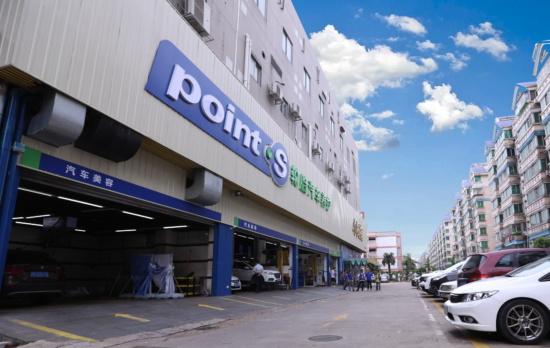 Following its entry into the Chinese market in October 2019, Point S has opened its first two pilot outlets. The tyre retail and car maintenance group formalised its joint venture, Point S China, with Suremoov and Harson, two major players in the Chinese garage market, and the membership of their respective networks. The formation of the JV was introduced at the end of 2019 during the Paris Equip'Auto show, and in an official ceremony in Shanghai on 25 October.
Point S's first two outlets are located in Foshan, southern China. Their opening is accompanied by a training programme deployed by its Chinese team, and the harmonisation of the two partner networks of Point S China. They represent more than 1,200 centres. Point S's ambitions for its Chinese development plan includes a target recruitment of more than 1,000 additional franchised workshops by 2025. This ambitious plan would, it says, give it an optimised network in China.
Pilot Point S China outlets
Located in the city of Foshan, north-west of Hong Kong, and next to Guangzhou, the two pilot points of sale were respectively inaugurated on 29 May and 6 June. The leaders of the companies Suremoov and Harson, as well as many officials, journalists, suppliers and potential partners, attended the inaugurations. These events also attracted more than 3,000 customers, Point S adds. The outlets, with 15 and 10 work bays respectively, have updated their signage to Point S colours following the company's graphic charter guidelines, adapted to the specificities of the Chinese market.
Looking beyond the COVID-19 pandemic, Point S confirms its ambition in this market, projected to become the world's largest aftersales market for cars. Mr. Lan, founder of Suremoov, says: "Both Suremoov and Harson respectively have 16 to 20 years of retail chain operating experience, so this, combined with the Point S brand, supply system and other resources, will enable retailers to achieve breakthroughs in gross profit and store management."
Fabien Bouquet, Point S International CEO, said he is delighted with this first founding step in a major project. "The health crisis did not affect our ambitions or change our business plan for the Chinese market and, on the contrary, confirmed our market scenarios which will accelerate and support the attractiveness of our local franchise offer and our brand with independent Chinese players in our sector."
Suremoov is a leading franchise network in China of more than 950 points of sale created in 2004 and who specialise in bodywork and quick maintenance. Harson, the joint venture's other partner, has more than 250 points of sale specialising in the maintenance of high-end European vehicles.
By relying on these well-established and well-recognised partners, Point S intends to become a key player in car maintenance in China and consolidate its place as a world leader with a presence on four continents, 39 countries and over 5,500 POS.