GT Radial tyres return to Gundlach exclusivity in Germany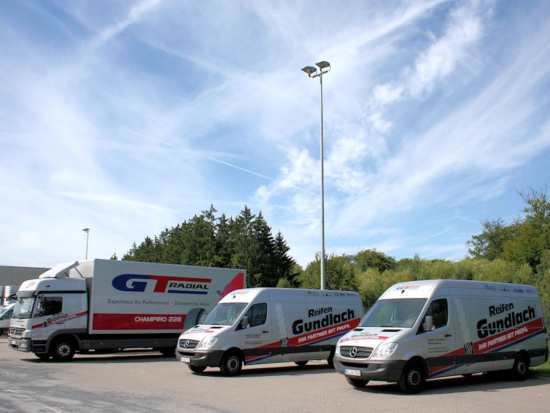 Reifen Gundlach has resumed its exclusive distribution of GT Radial brand tyres in Germany. The new deal comes three years after Giti Tire ended their previously long-standing exclusive partnership with the wholesaler, started in 1994. Giti stated in 2017 that it wanted to to "achieve a higher market penetration with a planned realignment of the brand." Part of the strategy was to make the GT Radial brand available through four different wholesalers. This coincided with the European entry of its eponymous Giti brand, with a special focus on the German market. At its peak, it had previously sold around a million GT Radial tyres per year, according to Gundlach statements. Now in 2020, the manufacturer has opted to resume its exclusive arrangement for GT Radial with Gundlach.
A 'new chapter'
Giti told Tyrepress sister site, Reifenpresse.de, that it wants to create a "new chapter" in its relationship with Gundlach. The partnership with the Raubach, Westerwald based wholesaler will offer "marketing support" for consumers, as well as brand differentiation for Gundlach dealers, and broad penetration in the German tye retail market.
"From its market launch in the early 1990s to today, GT Radial has become one of the top tyre manufacturers in the world," said Dr. Peter Schwibinger, CEO of Gundlach. "I think it's excellent that we can combine our common experience and expertise in the German market for the benefit of our customers."
"This marks a new chapter in our relationship with Reifen Gundlach and we are pleased that they will represent and distribute the GT Radial brand again in Germany," added Chris Bloor, executive director of the Giti Tire Group, responsible for international sales and marketing. "We have been working together for more than two decades, and both companies have clear roles, goals, and objectives to provide tire dealers and drivers with the most value.
"Our management, sales and marketing activities are coordinated so that we appear in the market with one voice. Together we will proactively tackle all cooperation opportunities to establish the GT Radial brand for tyres for the medium-sized market segment for passenger cars, 4x4s and light trucks on the entire market."
GT Radial brand backs exclusive arragement again
Giti said that customers could expect a large product range of passenger car to light truck tyres in winter, summer and all-weather versions from GT Radial. UK customers of wholesaler Micheldever Tyre Services will be familiar with the range. Unlike in Germany, Giti Tire did not choose to realign its distribution arrangements, or bring in Giti-brand car tyres in the UK market – with the exception of some sizes not available in GT Radial fitments. It opted instead for continuity with its longstanding wholesale partner.
Joachim Jansen, director strategic alliances at Gundlach is pleased to resume the relationship with GT Radial. "We are of course very pleased that we can now offer our customers GT Radial as an exclusive brand again. Due to the brand's wide tyre portfolio, which includes over 90 per cent of the most important sizes, our product variety for our customers increases significantly. GT Radial optimally complements our high-performance product range."
Jansen added that joint contract negotiations were "fair": "Despite the Corona crisis and the associated circumstances in the past few weeks, we managed to work together to secure the future. This shows flexibility and adaptability, for which I am very grateful to everyone involved."
Customers have received the relaunch well, according to the Gundlach sales department. With a joint marketing plan, Gundlach and GT Radial want to optimally support customers and combine previous experience and after-sales services with a number of new measures.