Michelin Stoke up-and-running, looking forward to 'steady market growth'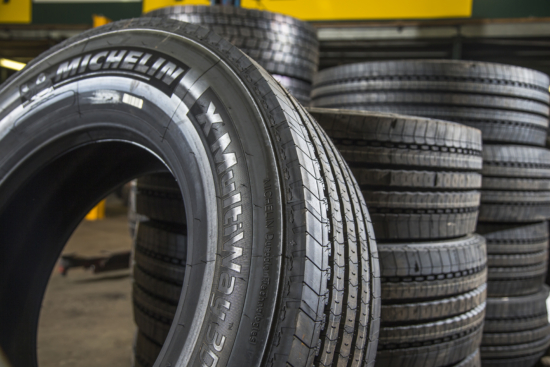 On 22 April Tyres & Accessories reported that Michelin was restarting production at its Stoke-on-Trent retread manufacturing facility. Roughly six weeks later, we caught up with factory manager Francois Levert in order to find out the latest.
Truck tyre miles-driven didn't drop as much as passenger cars during lockdown, but demand was still hit – especially during the first half of national social distancing. Since trucks are the biggest consumers of retreaded tyre products, and since their miles-driven are gradually increasing in the direction of more normal levels, is retread production at Michelin Stoke back up to speed?
Michelin Stoke factory manager Francois Levert confirmed that the facility is operational, but stopped short of confirming that it is operating at full speed: "The factory is making tyres again, which we are very happy about. A huge amount of work went in to making sure we could operate as safely and as efficiently as possible. We're not at capacity because demand is still not back up to speed."
In light of Brexit and now coronavirus, export busines has been under business and logistical pressure. With this in mind it is worth asking where the retreads in Stoke are ending up: "It's a mixture and it varies", Levert explained, "but in general more than half our output is for the UK."
During lockdown national attention was focussed on blue-light fleets. But, as we are well aware of in the tyre sector, logistical operations (as well as those that support them) have been of critical importance. And for this reason, such fleets appear to have made up a large proportion of the recipients of tyres made in Stoke:
"With large swathes of the retail sector shut for an extended period, demand is more focused on third party logistics companies, buses and companies dealing with essential deliveries. Having said that, truck tyre demand has been reasonably sheltered in some parts of the market because of online shopping and deliveries to supermarkets," said Levert.
Moving forward the country continues to adapt to evolving governmental advice. So, with this in mind, how will the advice impact tyre demand?
"As the country gets to grips with the latest advice, and as the situation evolves, we'd expect to see conservative but steady market growth. We have to be ready to take advantage of any commercial opportunity that comes our way and as always that will involve convincing customers that Michelin's retreads represent excellent value, excellent performance and a more sustainable option.
"There is also a belief that, post-Covid, customers will place higher value on localism, social responsibility and environmental credibility – and Michelin is unrivalled as far as these are concerned. We can only deal with the market we find in front of us, but the government can certainly help to create an environment where more sustainable forms of transport are encouraged, and we see the Transport Decarbonisation Plan as an opportunity to make that happen. If the UK is serious about 'building back greener' then high-quality truck retreads have to figure. They save fuel, they reduce raw material usage and they save businesses money."
And therefore, as Michelin UK seeks to make the most of any opportunities afforded by the post-lockdown recoveries apparent "steady market growth" we can expect the manufacturer to set out its stall on the basis of its respected fleet and ecological credentials.