How Pro Align is helping garages revive margins post-lockdown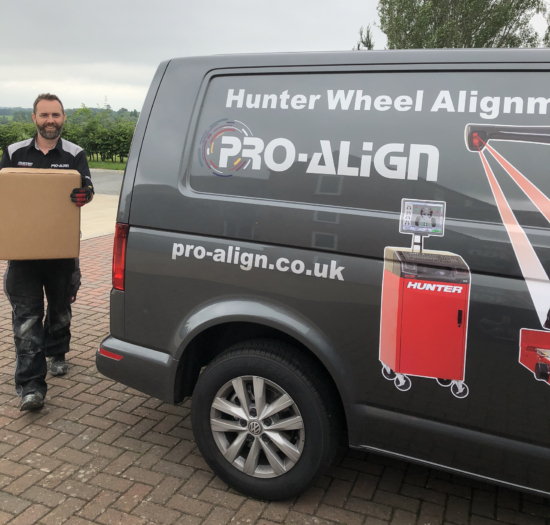 Roughly 18 months after Clive Seabrook joined Pro-Align, Tyres & Accessories caught up with the relatively new CEO in order to find out more about how the right equipment and services can add value to garage businesses, especially in the post-lockdown environment.
Challenging times need innovative solutions, so Pro Align responded to the pressures brought about by lockdown by seeing by choosing not to approach the circumstances as a commercial opportunity, but rather by responding to the customer instead:
"We adopted the stance that we are providing a service", said Seabrook, adding this that meant the message was that Pro Align wanted to ensure that customers could continue to do what they wanted to do during the period.
Not only since Covid, but pre-Covid the opportunity to increase revenue through services such as wheel alignment is described as "phenomenal". Raising consumer awareness of how alignment can actually help them remains a key part of the strategy.
In terms of the garage owners, those that adopt a very pro-active approach to driving alignment tend to do very well, according to Seabrook: "A number of customers do significant volumes of alignment and once you have the capability to be efficient, it can be a very successful part of the business. So, our opportunity (the same as pre-Covid) is to: a) help existing customers drive additional revenue and b) helping new customers understand what the opportunities are."
Specifically, one area of opportunity in the post-lockdown environment is the mid-range service upsell. Where before consumers may have opted for a premium tyre, the latest data is suggesting that the effects of Covid on the economy are once again driving consumers towards desegmentisation in the same way that we saw over a decade ago during the global financial crisis. However, while margin may be lost due to de-segmentation, additional services such as wheel alignment, which improve fuel-economy and add value through ride-comfort could be ways to revive those same flagging margins:
"Indeed, if you have the equipment that we provide, it can be a very quick process to help consumers understand the opportunity. So, yes I think it can add a significant opportunity [for garages]. I don't know what's going to happen in the new and used car markets, but ultimately people are going to have to drive."
Therefore, alignment remains a real opportunity for all the well-known reasons. Moving forward, it all about taking these messages and the necessary support to a wider opportunity.
Not just alignment, tyre changers and ramps too
Brought together under the Hunter brand name, Pro-Align markets a broad portfolio of tyre changes, lifts and ramps as well as its alignment systems. According to the company, these are aimed at anyone looking to setup on the alignment and wider garage space. "Alignment, tyre wear and vibration – it's not just about the immediately post-Covid period, it's the whole industry that's going to evolve over the next five to 10 years."
Training and support services
With this in mind, do you offer training and support in helping garages get up to speed with the necessary electric vehicle and sensorisation technology? Clive Seabrook explained:
"We have an after sales service that obviously looks after breakdown, but also training. [Training] is key, not just technician training, but front-of-house training because that is where the sale is made.
"One of the key things in terms of equipment that we offer is the speed of the check. We know that 60 per cent of cars on the road will fail and require an alignment. The challenge is understanding where that 60 per cent is, helping them understand what the failure looks like and – more importantly – what the correction looks like."
"In terms of training we offer a basic IMI course, an advanced IMI course from our offices in Towcester, but also on-site training including for front-of-house to help them up sell the alignment process."
From Brita to Pro-Align, weathering lockdown
As we saw at the start of this article, initially, Seabrook only saw himself as joining Pro Align as a way of smoothing the transition, but before Covid and lockdown took hold, the role became a permanent position. So how did Seabrook, a seasoned executive with experience in the diverse worlds of luxury pens and well-known brands such as Brita, end up in the automotive aftermarket?
"An evolution of events…I was talking to one of the owners here at Pro-Align about the transition that they were going through and about moving towards the next phase of growth." Not long afterwards Seabrook was leading the company through the challenges of lockdown and coronavirus.
The company adopted a combination approach to weathering the storm, with Seabrook explaining: "We furloughed the majority of our staff from fairly early on in the process, reacting ultimately to our customers." In other words, demand was understandably affected by significant drops in miles-drive, as it is was across the board.
However, it wasn't a simplistic or linear strategy, something the reflects the complex realities of working in the aftermarket segment at this time: "We saw phases throughout the period. The first two weeks ultimately everybody shutdown and didn't really want any interaction – be it sales or breakdown [services]. Therefore, the initial two-week period was very quiet, we had a skeleton staff.
"Gradually, we saw businesses begin to turn round and respond to what was happening in the marketplace. A customer down in Maidstone that I visited at the time, they were doing work on key-worker's vehicles. They stayed open at that time were actually quite busy and needed our support," Seabrook commented.
Therefore, even at the leanest point, Pro Align ran the headquarters on a skeleton staff and had three technicians supporting customers throughout the period. As businesses have started to open up, we've evolved our strategy and brought additional sales engineers into the business.
As a result of lockdown demand and business volume, was therefore "very low" in April. Things picked up a bit in June. But overall, June is the first month that can realistically be called a recovery month. To put this into context, this doesn't mean the business is back to operating at pre-Covid levels. But things are clearly looking up once again. Moving forward management is aiming to broaden exposure of the benefits of wheel alignment and other value-added services to existing and new customers.

Subscribers can view the complete interview with Clive Seabrook (left) embedded at the end of this article at tyrepress.com.