Cooper launches two Roadmaster van and local delivery tyres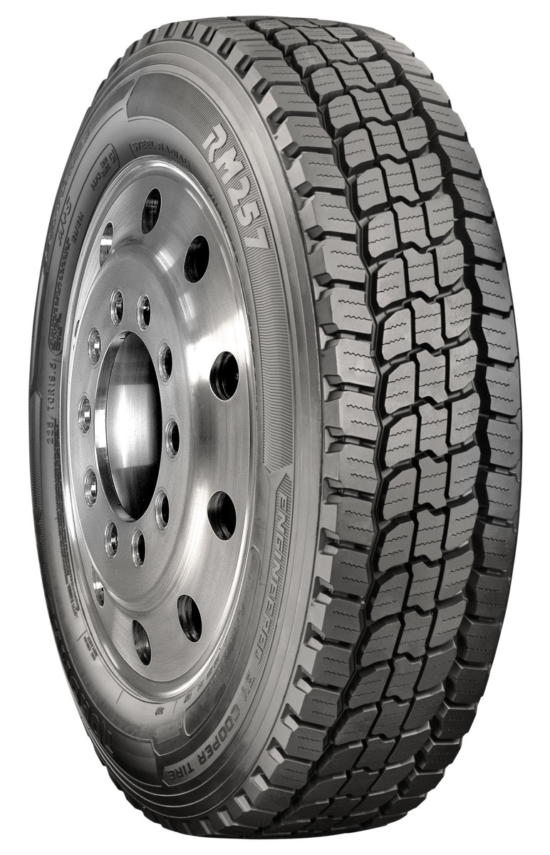 In the USA, Cooper Tire's Roadmaster brand has bolstered its presence in the delivery and emergency vehicle segment with the introduction of two new tyres. The Roadmaster RM257 drive and Roadmaster RM170+ steer, both 19.5-inch tyres, will soon be available for order through Roadmaster dealers.
"We continue to enhance our products by bringing new technology to our Roadmaster brand," said Gary Schroeder, Executive Director of Cooper's Global Truck and Bus Tire Business. "Small fleets and owner operators – in a variety of applications requiring 19.5-inch tires – can move into these tyres and receive excellent performance at a price that will help keep operating costs low. They're designed for improved handling and longer wear over their predecessors, and built tough to meet the demands of intracity deliveries."
The Roadmaster RM257 is an entirely new drive tyre that a Three-Peak Mountain Snowflake certification. The RM257 is an open-shoulder tyre with three tread blocks in the centre. The tyre's 3D siping allows for better grip in wet weather conditions, while staggered shoulder pockets and chevron
grooves provide excellent bite and performance in snow and mud conditions. Lateral tie bars help stabilize the tread blocks to enhance even wear and promote better handling.
Meanwhile, the Roadmaster RM170+ tyre builds upon the tread design of its predecessor, the RM170 steer tyre. The 'plus' designation pitches it as an even more durable tyre that offers "improved handling and wear through enhanced compounding". It will give those operating smaller trucks, vans and emergency vehicles more miles to removal while providing a softer ride.
While the Roadmaster RM170+ tyre is primarily used as a steer tyre, it also has use as an all-position tyre in applications where deep-biting traction isn't required.
The tyre will also be available to fit 265/70R, 285/70R and 10R22.5 sizes. Both models are N speed-rated (up to 87 mph) – a first for the Roadmaster range. "These are Roadmaster's first tyres to carry that rating," said Schroeder, adding: "It allows us to meet the tyre needs of ambulance and EMT operations running in high-speed situations."
To aid in durability, both tyres feature an extra strip of rubber on the sidewall – a curb bar – which helps ensure the integrity of the sidewall. The tyres also feature high tensile steel-belt construction to ensure long casing lives and multiple retreads.