ContiAcademy offers online REACT licence renewal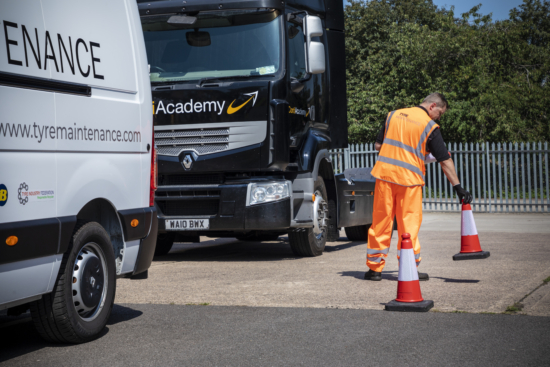 Continental has become the first tyre manufacturer to offer commercial tyre technicians the chance to gain and renew their REACT licence online via the ContiAcademy.
The new online offering has been set up to ensure technicians working across the UK can remain up to date with REACT (Roadside Emergency Action Concerning Technicians) licencing, despite restrictions on public interaction ongoing in light of Covid-19.
Overseen by the NTDA (The National Tyre Distribution Association) REACT licences are a recognition of competency for any truck tyre technicians who action roadside tyre repairs on behalf of NTDA members and must be renewed every five years to help ensure safety best practice. The training is the recognised industry standard for roadside tyre maintenance and repairs and can also be completed by technicians who do not work for NDTA members.
The ContiAcademy based in Lutterworth, Leicestershire, offers a range of certified commercial vehicle tyre technician training and is an official REACT training provider. Tyre technicians working within the industry have typically used this central location to obtain and renew REACT licences, but Covid-19 restrictions have prompted a move for the classroom element to be completed safely online
Gwyn Fennell, Technical Services Manager at Continental, said: "REACT licences are designed to ensure the safety of truck tyre technicians working in incredibly dangerous roadside locations. Even with restrictions on public movement in place, the road transport industry is as busy as ever, continuing deliveries and keeping supply chains moving across the UK and Europe. To this end, it has been of vital importance to make sure the ContiAcademy is still able to offer technicians REACT renewal training despite Covid-19 restrictions, to ensure their safety.
"Our priority is to ensure our delegates are able to complete this training while maintaining social distancing rules, so we have adjusted our delivery format to provide a safe solution for the REACT practical training and assessment."
In line with the ContiAcademy REACT programme before Covid-19 restrictions, delegates will continue to receive written material in advance, which must be completed prior to their course date. The classroom theory element of the training will then be conducted online with materials adjusted to maximise interaction and engagement. Written assessment then follows via a secure online platform, individual to each learner.
REACT licence renewal also demands practical assessment, which will now be carefully managed with a ratio of maximum of two candidates per one assessor. Fennell says, "The practical training has been the most challenging adjustment in light of Covid-19 social distancing rules, however it is really important that assessors can ensure learning has been fully understood and can be accurately applied.
"Completing the practical assessment on a two to one basis will not only ensure these high safety standards but will enhance the learning experience for the technicians."
Continental plans to roll out online REACT licencing for new tyre technicians, as well as renewals. Stefan Hay, Chief Executive of the NTDA, said: "During the lock down period, Commercial Tyre Technicians, as key workers, have once again demonstrated how important their role is in keeping the UK's transport and distribution infrastructure moving. Ensuring that they are well trained, competent and, most importantly, safe, is essential and we applaud Continental for this excellent initiative, which undoubtably will prove to be an important solution to technician's training needs in these very challenging times".