Vipal Machinery aims to expand internationally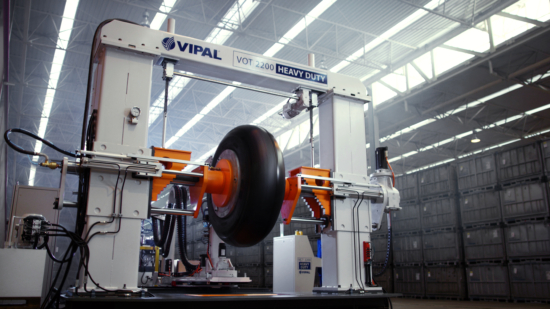 Vipal's tyre retreading equipment development has sold 56 machines since the start of its operations in 2016. According to the company, these were sent to countries in North America, South America and Oceania. Now, the plan is planning to expand internationally.
Already the market leader in Latin America and a leading manufacturer of tyre retreading products, Vipal reports that diversification into the machinery segment is the perfect companion to retreaded tyres. The initiative is part of the company's vision to focus on the competitiveness of its partners, distributed in over 90 countries on five continents. With its own unit in the city of Nova Prata, in the state of Rio Grande do Sul, Brazil, Vipal Machinery is the result of initiatives made by the Innovation Group, a multidisciplinary team formed by Vipal in 2015.
The first equipment produced by Vipal Machinery is the VR01 Smart buffer in Uno and Duo versions (with one and two buffing towers, respectively). The VOT Heavy Duty, in turn, was developed for automated rubber application in the process of retreading agricultural and small/medium OTR tyres. VOC Cargo, on the other hand, which focuses on the application of cushion gum rubber in the retread process for commercial tyres, comes in three power versions and seeks to optimize the retreaders' demands at a low cost.
"We are always working to improve the performance of our customer network. We integrate our machines with customers' ERP systems, streamlining processes, improving controls and business management. The intention is to expand our product portfolio to continue meeting the needs of our partner retreaders", Evandro Rossi comments, Industrial Engineering Manager at Vipal Machinery.
"The main objective of Vipal Machinery is to bring cutting edge technology to our partners, wherever they are, offering them resource optimization, whether in terms of energy, labour or improvement in the physical space", the Director of International Business from Vipal Rubber, Leandro Rigon highlighted, adding: "Vipal Machinery employs all the technical and technological capacity in its engineering that Vipal Rubber has added throughout its over 46 years. Thus, we will continue to invest in expanding our equipment and business portfolio in the global market".
According to the commercial and marketing director of Vipal Rubber, Guilherme Rizzotto, "Vipal Machinery follows the company's strategy of bringing innovations to the market, always offering the best solutions for our customers". According to Rizzotto, the company is in a constant process of diversification, especially in its core business. "Our actions are aimed at improving what is in our DNA, which is tyre retreading. By qualifying our partners, we raise their level of competitiveness, valuing the market as a whole", he concluded.