TMG E-CUBE set to impact UK tyre market following pandemic lockdown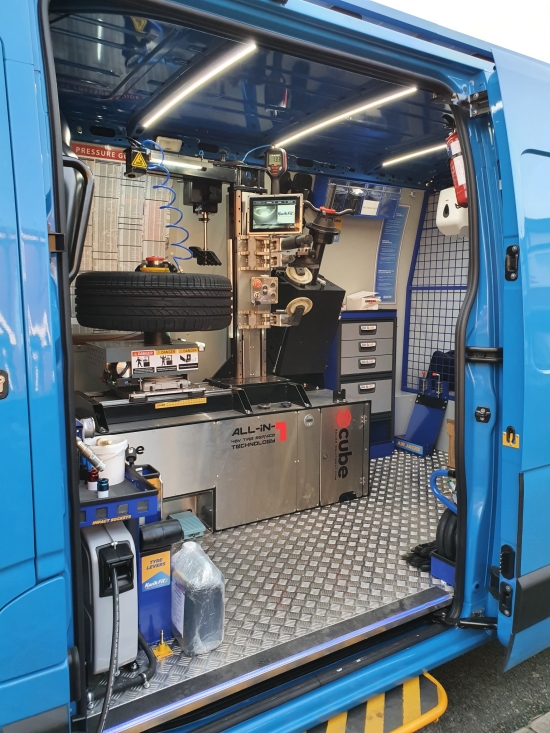 Netherlands based TechnoMarketing Group (TMG) is working towards the introduction of its E-CUBE mobile tyre servicing equipment in the UK. The system is already firmly established in many countries throughout Europe and in North America. It is designed as the next generation in versatile and safety when changing a tyre at a customer's home or workplace. The current suspension in normal product promotion and presentation has presented a hiccup for the introduction, with the postponement of The Tire Cologne removing an obvious way for the company to market the device in person. However, the lockdown currently in place across the world presents something of an opportunity for mobile car servicing to attract new customers, who may opt to continue to use such a service when restrictions are lifted, giving the product at least some sense of timeliness.
Ralph Dubbeldam, managing director of TMG Group says: "This is an unexpected and unwelcome setback in our plans to give mobile tyre technicians in the UK the opportunity to work within a much safer and faster working environment when changing tyres. However when the virus crisis is over we will be ready to provide our E-CUBE unit to all forward thinking tyre retailers who offer a mobile service to their customers through our appointed UK distributor On Board Power."
The latest third generation of the E-CUBE is designed to be "significantly smaller than any previous mobile tyre changing equipment on the market," the company states. It also eliminates the need for an onboard generator. Tyre technicians will also be able to easily work within the complete safety of their service vehicles and also presents the added profit bonus of being able to provide add-on services including vehicle battery optimisation and air conditioning maintenance during every visit.
Dubbeldam concludes, "The E-CUBE will take safe and efficient mobile tyre changing in the UK to the next impressive operating level and it is just going to take us just a little longer to deliver this product game-changer to the UK market."
Yorkshire based firm On Board Power was appointed UK distributor of the E-CUBE in October 2019.