Hunter commercial vehicle alignment system gains Mercedes-Benz OEM approval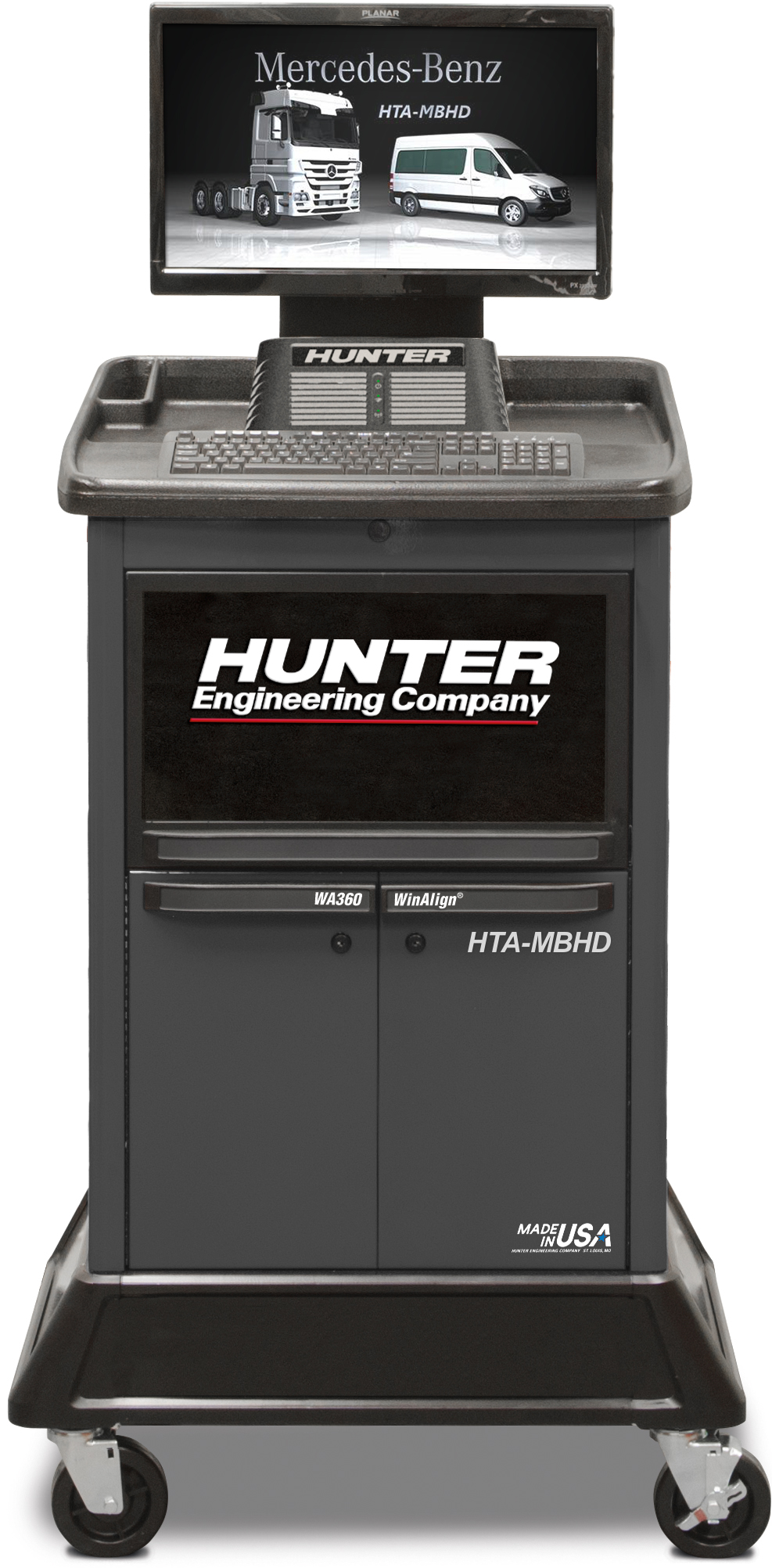 Mercedes-Benz has given the Hunter three-axle commercial vehicle alignment system OEM approval. Available exclusively in the UK through wheel alignment specialist Pro-Align, Hunter states that its system is the first and only wheel aligner available capable of providing live alignment readings on three axles simultaneously, reducing the time needed to conduct an alignment check. The aligner can be used on all Mercedes-Benz trucks, buses, trailers and vans, including those with multiple steering axles. The CV approval follows Mercedes-Benz making Hunter's car focused aligners available to dealers last year.
"Hunter has been working closely with Mercedes-Benz over a number of months to produce the most technologically advanced commercial vehicle wheel alignment system available on the market today," comments Chris Ivory, product manager, Pro-Align.
"The culmination of this work is the approval by Mercedes-Benz for use of the aligner in all of its dealer workshops. This important announcement means that system has been rigorously and extensively tested, and that Mercedes is confident that it meets its latest, exacting equipment standards, setting a new benchmark in the process."
For full compliance with Mercedes-Benz' rigorous approval requirements for its workshop alignment equipment, the Hunter aligner is capable of measuring wheel alignment angles relative to the vehicle's chassis centre line, using the frame reference mode, as well as to the thrustline of the rear axle, using the axle reference mode.
The wireless system requires users to attach sensors to six of the vehicle's wheels. Jacking of the vehicle is not required as the important rolling compensation is carried out in one short roll of the vehicle, which can be assisted with Hunter's unique EasiPush.
Live readings are transmitted from the sensors to the system console with results presented in a clear, easy to understand printable format or electronically by email and online via HunterNet.
The new aligner is suitable for workshops that do not benefit from level alignment bays. The system's floor slope mapping and memorising capability allows individual work bays to be mapped and memorised. This means that the aligner can be moved regularly between multiple bays and deliver accurate and precise measurements without additional measuring devices to compensate readings.
"With the launch of the Hunter commercial vehicle wheel alignment system, rapid wheel alignment assessment has become a reality for HGV, coaches and buses alike," adds Ivory. "This latest approval is another significant advancement and we are looking forward to helping as many Mercedes-Benz workshops upgrade their alignment capabilities accordingly."