ABB Formula E Race at Home Challenge stages test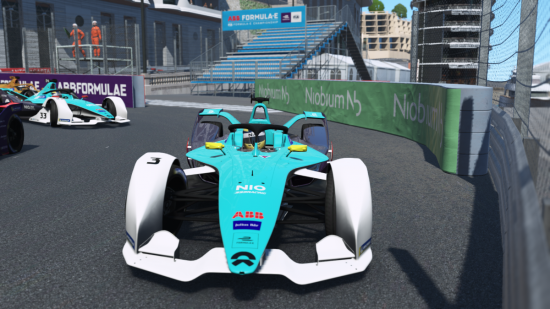 As a replacement for suspended events during the COVID-19 pandemic, Formula E has launched its official eSports series on rFactor2 as a fundraiser. ABB Formula E Race at Home Challenge, in support of UNICEF, staged its test round at the virtual Monaco ePrix circuit on 18 April 2020 at 15:30BST.
NIO 333's Oliver Turvey and Ma Qinghua joined all other 22 Formula E drivers to continue to provide close racing for electric racing fans around the world during the 'red flag' period. The newest addition to the eRace scene, ABB Formula E Race at Home Challenge will be staged in the next eight consecutive weeks. With a number of bold formats including "single lap qualifying" and "Lap-by-Lap elimination", this will surely create some exciting races and unexpected results.
In the Driver Grid race, Turvey continued his consistency throughout the 2019-2020 season, finished 10th at his "home ePrix". Racing from Shanghai, Ma showed an encouraging performance with lap times matching top drivers. However, in a battle of 12th place with Jaguar driver James Calado, the English driver overtook the Chinese driver by cutting a chicane. This resulted in Ma to be eliminated while running 13th. The right order was correctly restored after the race, and Ma was promoted to 12th after a penalty was given to Calado.
Gentleman driver Liu Zexuan represented NIO 333 FE Team in the Challenge Grid race. After practicing on rFactor2 with Ma in the past two days, the former Asian F3 racer finished 18th amongst world's top eSports racers. Key team members of the NIO 333 FE team and a number of influencers of China witnessed the excitement of this new initiative. Through various methods of multimedia, the broad Chinese Motorsport community was able to witness the first step of this new journey.