NI MOT Crisis: 3 more lifts operational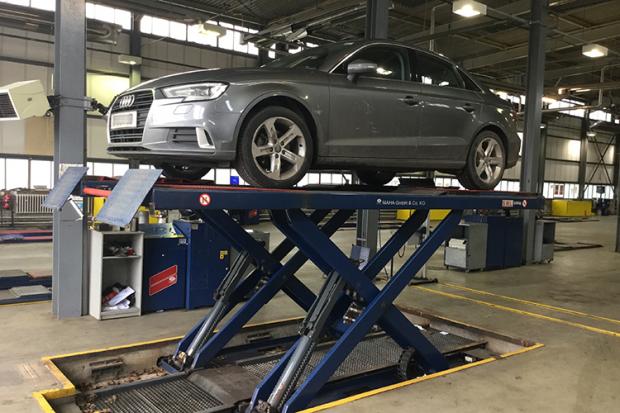 Three more vehicle lifts became operational at Driver & Vehicle Agency (DVA) test centres in Northern Ireland on 31 January as work continued to restore normal operations. Together with the two lifts that went into operation on 29 January as well as roughly 15 per cent that were not affected by the severe cracking reported across 85 per cent of the DVA network, this means that the Northern Irish MOT process is now running at between 15 and 25 per cent of normally capacity more than a week after all MOTs in Northern Ireland were suspended on safety grounds on 27 January 2020. Therefore, it is still likely to take months before the process is back at full speed.
"Today three vehicle lifts, two in Lisburn and one in Belfast, where no faults were previously identified have now been independently re-inspected and cleared for use. These lifts are now operational and provide much needed additional capacity for prioritising four-year-old cars, taxis and car dealerships.
"In addition, earlier this week Minister Mallon announced that two new lifts are being installed to provide additional capacity – one in Balmoral Road, Belfast and one in Newbuildings, Derry. It is anticipated that the new lift in Belfast will become operational over the weekend, with the new lift in Newbuildings, Derry, operational from Monday. These lifts will be independently inspected and checked before becoming operational."
Mr Duffy continued: "Since the disruption to services began last week, we have conducted over 19,000 vehicle tests and continue to issue temporary exemption certificates on a daily basis, allowing those drivers to keep driving and tax their vehicle.
"We are endeavouring to work to notify in advance anyone who is affected and to reschedule their appointment as soon as possible. Those with MOT expiry dates in the coming days are being prioritised."
MOT test update: A further three vehicle lifts now operational as work continues to restore normal operations https://t.co/0PlL1DQN5W.
Information for customers at https://t.co/4JQSEQuruS @nidirect @ConsumerCouncil pic.twitter.com/uKaELAyllx

— Dept Infrastructure (@deptinfra) January 31, 2020