Dunlop extends MXGP World Championship support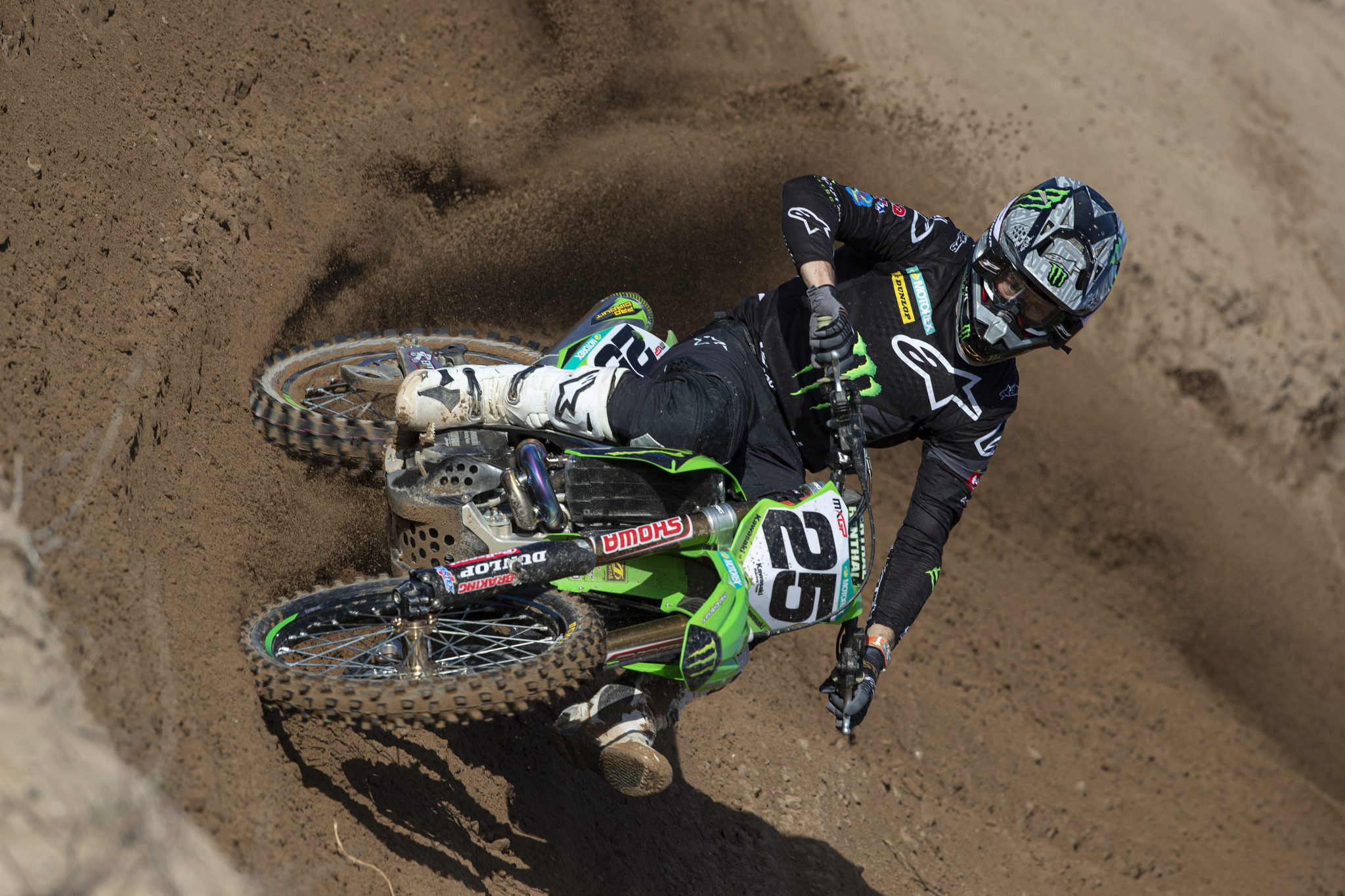 The promoter of the FIM MXGP World Championship has extended its partnership with Dunlop. Infront Moto Racing has signed the tyre brand up to a new three-year partnership agreement to be an official tyre supplier of the series.
Teams competing in MXGP, the highest level of motocross, have a free choice of tyres. In recent years, Dunlop has been providing its latest tyre technology to race-winning teams, most notably Monster Energy Kawasaki and also Standing Construct, who ran KTM bikes in 2019 and switch to GasGas this year.
Having chosen to move to Dunlop at the start of last season, Standing Construct's riders celebrated five victories from the last eight races, most notably Dutch rider Glenn Coldenhoff taking back to back overall victories in Italy and Sweden as well as wins at the season-ending Motocross of Nations.
David Luongo, Infront Moto Racing CEO said: "Dunlop has been at the heart of motorsport since the very beginning. We are proud to have such a premium brand actively using MXGP to promote their race-winning tyres. We are delighted they see MXGP as more than a promotional platform, too. The open tyre competition makes MXGP a fantastic arena to develop new technologies and products. Dunlop's recent launches prove that motorsport can drive innovation."
Wim Van Achter, motorsport manager, Dunlop added: "MXGP gives us the opportunity to test our latest off-road technology in the most demanding and gruelling events in the world. Our range of tyres, including the versatile Geomax MX33, have been developed in the heat of competition. As a result, amateur, local and national riders can buy the same tyres that have been developed and used by MXGP race winners. It's a true proving ground for tyre innovation."
Late last year, Dunlop launched the Geomax MX53 for harder terrain and cited the MXGP experience as being key to testing the technology in the tyre.
Dunlop also benefits from the growing audiences who follow MXGP events. The events feature live streaming, fan zones in the paddock and strong global media coverage.
MXGP World Championship commences
Following a successful Monster Energy FIM Motocross of Nations (MXoN) at the end of 2019 in which five out of the seven races were won by Dunlop riders, the tyre manufacturer headed into the FIM World Motocross Championship (MXGP) opening round, held at Matterley Basin, UK on 1 March, full of confidence that they can continue that success.
Eddy Seel, Dunlop's MXGP Event Leader, explains Dunlop's technical development for 2020: "For the hard-packed soil surface of Matterley Basin, Dunlop riders will benefit from the newly developed MX53 tyre. The tyre's tread block pattern and compounds have been specifically designed to perform on hard surfaces but with the versatility to grip on looser soil too.
"This technology will provide riders with the confidence and performance to challenge consistently for race victories."
This season Dunlop will be supplying tyres and providing technical support to three top MXGP teams; Standing Construct GasGas Factory Racing, Rockstar Energy Husqvarna Factory Racing and the Kawasaki Racing Team MXGP. Standing Construct GasGas rider Glenn Coldenhoff most notably benefited from Dunlop's continuous tyre development and technology by winning four out of the last eight MXGP races.
Tim Mathys, Standing Construct GasGas MXGP team principal says: "Having a strong relationship with Dunlop has been vital to our success, Dunlop's continuous tyre development and instant feedback have allowed the team to head into each weekend confident that the tyre will perform on any surface or condition."
FIM Women's Motocross World Championship (WMX)
Matterley Basin also hosts the opening round of WMX. In 2019, every round of the championship was won by a Dunlop rider. World champion, Courtney Duncan, returns and will face a tough challenge from another top Dunlop star, Kiara Fontanesi. She returns after a year of maternity but aims to pick up where she left off in 2018. That season was her fifth world championship title on Dunlop tyres, meaning six of the last seven women's world championships have been won by riders who chose Dunlop Geomax.