UK car production falls -4.0% in October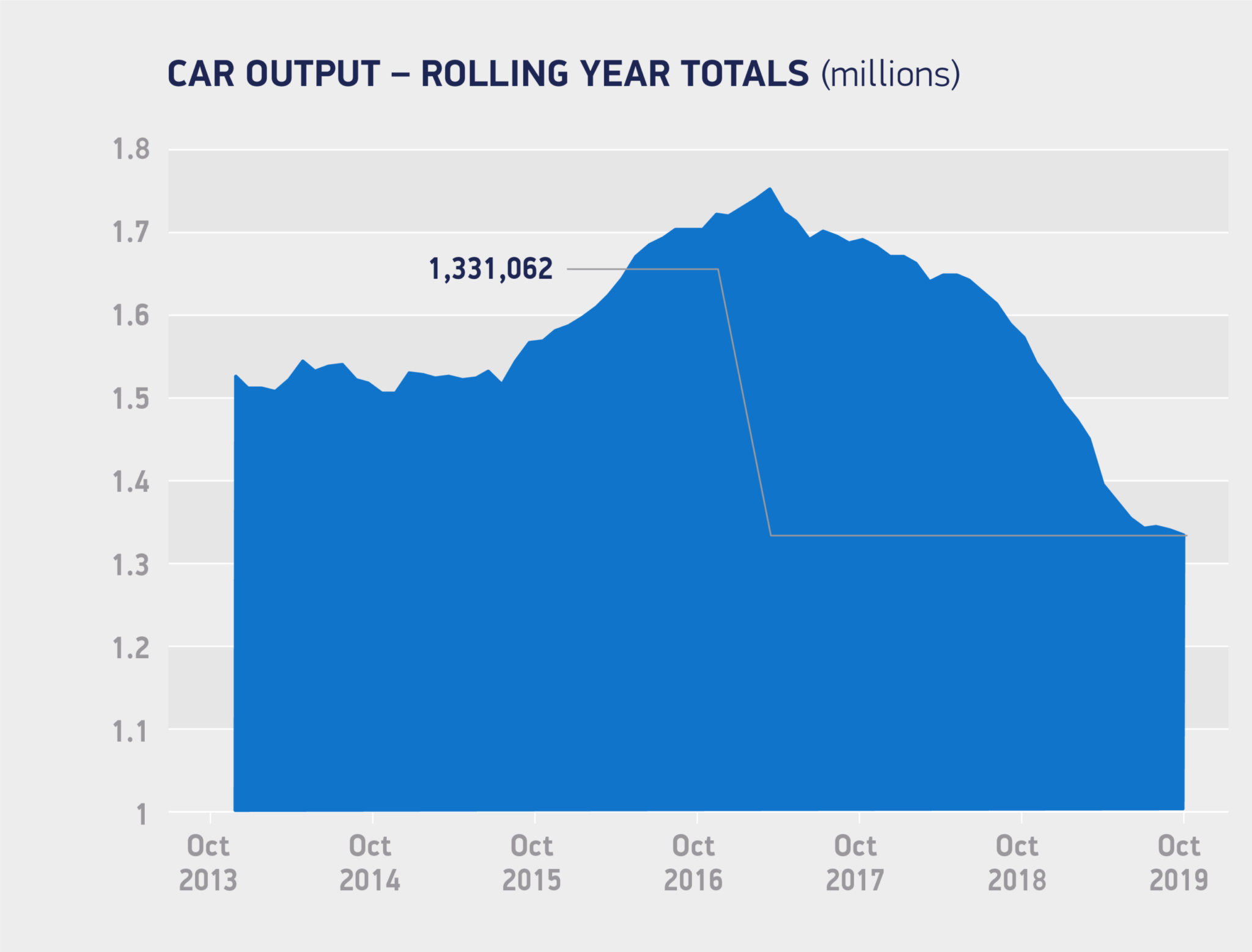 SMMT calls decline the cost of uncertainty, with domestic demand sliding into double-digits
UK car manufacturing output fell -4.0 per cent in October, with 134,752 units rolling off production lines, 5,622 fewer than October 2018, new Society of Motor Manufacturers and Traders (SMMT) figures show. British car production has now fallen in 16 of the last 17 months, with August the outlier. 'No deal' Brexit contingency shutdowns earlier in the year artificially boosted output that month.
In October 2019, production for the home market declined -10.7% as consumer and business confidence continued to wane, while overseas orders were down -2.6%, a result of soft demand in some key markets. Model changeovers also played a part in the downturn, while in the year to date car production is down -14.4% to 1,123,926 units, with the majority, 80.5%, heading abroad to destinations around the world. These include the EU, US, China and Japan.
Mike Hawes, SMMT chief executive, said: "Yet another month of falling car production makes these extremely worrying times for the sector. Our global competitiveness is under threat, and to safeguard it we need to work closely with the next government to ensure frictionless trade, free of tariffs, with regulatory alignment and continued access to talent in the future. This sector is export led, already shipping cars to more than 160 countries, and in a period of unprecedented change a close trading relationship with the EU and preferential trading with all these other markets will be essential to keep automotive in Britain."
Fear of WTO terms Brexit
Jonathan Moss, head of transport at global legal business DWF comments that the fear of tariffs in the event of a 'No deal' Brexit have driven the decline in car production. "This 4 per cent fall in UK car production last month stems from a fear among manufacturers of a post-Brexit imposition of a 10 per cent tariff on exports under World Trade Organisation terms. This would have an adverse impact on manufacturing costs (both in terms of imported car components and exported cars), rendering manufacturers considerably less competitive than their foreign counterparts.  This is further compounded by the SMMT warning earlier this week that a no-deal Brexit would cost the UK car industry £40bn by 2024.
"In anticipation of possible post-Brexit disruptions, global firms – including Toyota, BMW and Jaguar Land Rover – have already shut down production lines. Nissan – which supports 30,000 jobs in Britain – went even further to state that a no-deal Brexit would jeopardise Nissan's entire European business model. The potential effects of a decline in the automotive sector in the UK are wide-reaching and indeed, in April this year, the unseasonal fall in car output pushed down UK GDP by 0.2 percentage points. As such, to remain competitive, it is crucial that we curb this industry decline through our political leaders securing a close trading relationship on any departure from the EU."