Trico makes it a hat-trick of A1 Motor Stores awards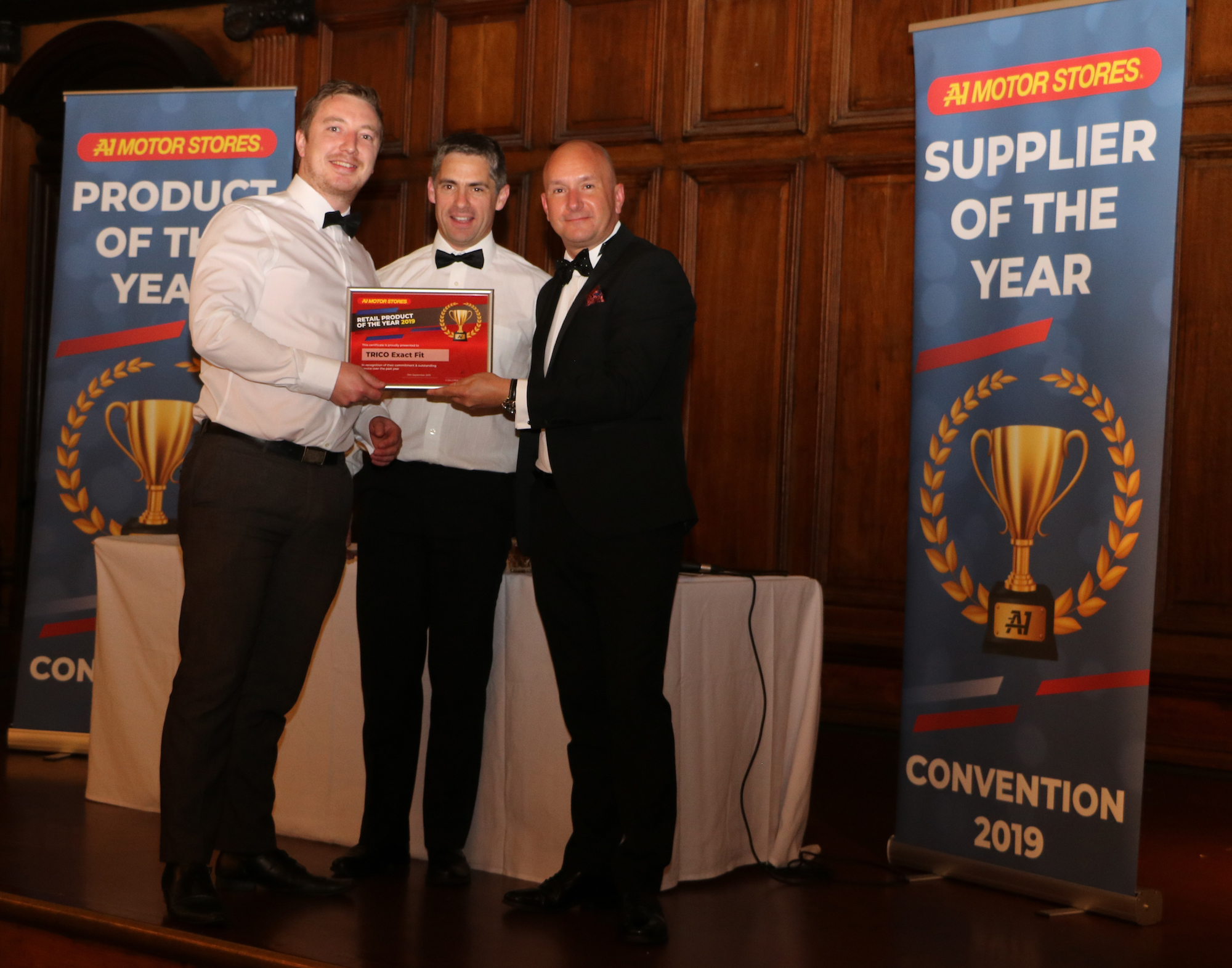 Trico is delighted to announce that its Exact Fit wiper blade range scooped the A1 Retail Product of the Year award, revealed at the buying group's convention and awards dinner ceremony at the Crowne Plaza Newcastle Stephenson Quarter.
It is the third year in-a-row where the original equipment manufacturer and supplier has been honoured, winning Retail Product of the Year and Retail Supplier of the Year in 2017 and 2018 respectively.
The accolades and recognition from A1 Motor Stores marks a hugely successful relationship, spanning more than a decade, and this latest prize demonstrates that the partnership between both parties is as strong as ever.
Senior Brand and Product Manager, Sam Robinson, along with Trico UK and Ireland Technical Sales Representative, Andy Taylor, joined fellow A1 Motor Stores suppliers, as members took the opportunity to be brought up-to-date about latest news and product updates, while it was also the perfect platform for Sam and Andy to meet new members.
Robinson said: "Andy and I thought the show was excellent; we received great feedback from members about how well Trico products are working for them, while a number of new, interested members approached us about converting to Trico following conversations they've had with other members."
On the award, a jubilant Robinson added: "To continue our track record of awards is both humbling and hugely satisfying. A lot of hard work goes into profiling members with the appropriate ranges, ensuring they have what they need to service their customers and maintaining strong relationships."
A1 Motor Stores Operations Director, Simon Salloway, said: "Working with one of the aftermarket's leading suppliers is always a pleasure, but when we continually hear members praise the quality of its product we take notice.
"Trico has worked tirelessly with the A1 membership to promote the product and ensure members are well placed to maximise every sales opportunity. A1 continues to grow as a group, in both members and sales, and this is only possible with the support of our suppliers, Trico being singled out as one of the best."
The A1 Motor Stores convention was also the setting for Trico to reveal the final winners of its Race to Spain competition. The campaign was created to thank A1 Motor Stores members that had purchased Trico blades, all of whom were entered into a draw.
B and C Car Parts and Transpares joined fellow A1 Motor Stores members, Epic Accessories, Motorway Hessle, PDM Motor Spares and Alan Quine Motor Factors at Circuito Mike G Guadix between the 27th and 30th September, where they were given the driving lesson of a lifetime, as they received instruction from professional race drivers from Tockwith Motorsports while driving cars, karts and 4×4 buggies.
Robinson added: "The winners of this competition have all been loyal to Trico, and we hope they appreciated this trip to Spain as a fantastic return gesture. The weekend was a superb one; I hope they all enjoyed driving the fast cars, basking in the weather and enjoying the sights surrounding us."