Grouptyre Wholesale expands into potters bar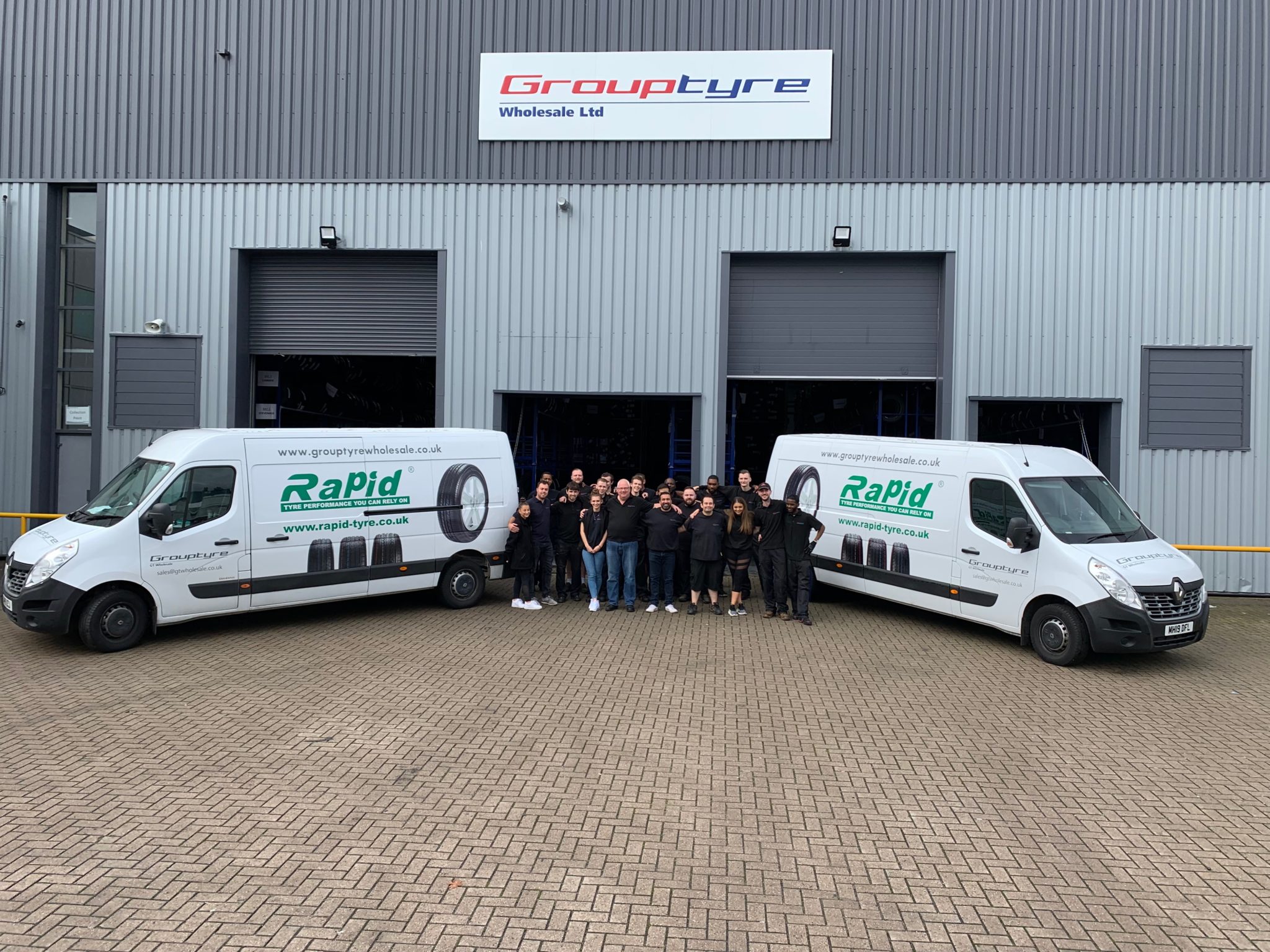 South-East Grouptyre member, Grouptyre Wholesale Ltd has opened the doors to a new state of the art warehousing facility in Potter's Bar, Hertfordshire. The wholesaler, which covers a wide area across the South East, including London and the Home Counties, states that it had outgrown the satellite facility in Brentwood, Essex and decided Potters Bar was the ideal location for the move, with easy links to the A1, M1, M25, M40 and M11 motorways.
The new Potters Bar warehouse offers 22,000 square foot warehousing capacity and 2,500 square foot office space and will give Grouptyre Wholesale increased tyre stock holding capacity and allow for further choice of product for Grouptyre Wholesale's customer base. Grouptyre Wholesale continue to operate also out of its Aylesbury based warehouse.
"It was an easy decision for us to expand into Potter's Bar", says Gary Oliver, Grouptyre Wholesale's MD. "We had outgrown our Brentwood facility and needed a bigger space with better motorway links so that we could continue with our promise to our customers on providing them with a superior delivery service. The new warehouse allows just that and our customers are already seeing an improved delivery service, with all customers receiving a daily delivery as a minimum – most are receiving multiple daily deliveries.
"With product availability being key and the width of stock being so wide, it's always a challenge, but we believe that the investment in the new facility and the strong team we have at Grouptyre Wholesale, things are going from strength to strength for us, and long may it continue", Oliver adds.
Grouptyre turnover over £379m
Grouptyre's 10 member companies now account for a turnover in excess of £379m, and employ more than 1700 people around the country – 47 of whom are business development managers. Three regional sales managers cover the country and overall there are 40 local or regional warehouses operated individually by the members. The company also has a nationwide fleet of 455 vans, allowing the company to make deliveries to tyre retailers at least twice a day on average, with on demand deliveries in many areas.
Grouptyre Wholesale's move to a larger stockholding facility in Potters Bar, closer to key motorway networks, from its Brentwood operation is indicative of members' continued investment in hi-tech warehousing facilities. It adds that its localised approach enables the group to develop its service to tyre retailers, while managing on a national level its growth and increasing volume of tyres which they hold and move around the country.
While developing and maintaining strong strategic partnerships with major manufacturers is described as key, Grouptyre collectively has an extensive range of car, van and 4×4 tyres available exclusively from brands such as Evergreen, Goodride, Landsail, Rapid and Sailwin. The company states that these exclusive brands have been assembled to give retail customers confidence in recommending their products to the end consumer, with many offering high tyre labelling grades. The group also offers business support packages including POS and merchandise for these brands. Grouptyre currently stocks more than 7000 product lines, holding approximately 1.5 million tyres in stock at any time. Grouptyre states that this allows it to offer retail customers a greater profit opportunity as a result of their competitive buying power, as well as offering a huge choice of available products to suit all needs.
Grouptyre's electronic offering is GroupLink, a virtual warehouse for instant stock check, pricing, alternative recommendation and ordering. The company offers tyre retailers free on-site training for GroupLink, provided by an experienced Grouptyre representative to ensure the web-based tool is utilised to its full potential. Grouptyre can also help to set up websites for its customers, and with its Tyres Online tool, retailers can have access to the online market "without making any significant investment." Tyres Online features as a button on the retail partner's website, and although it is not a full e-commerce website, it does display tyre availability and price.