Trinseo addressing key trends with new S-SBR family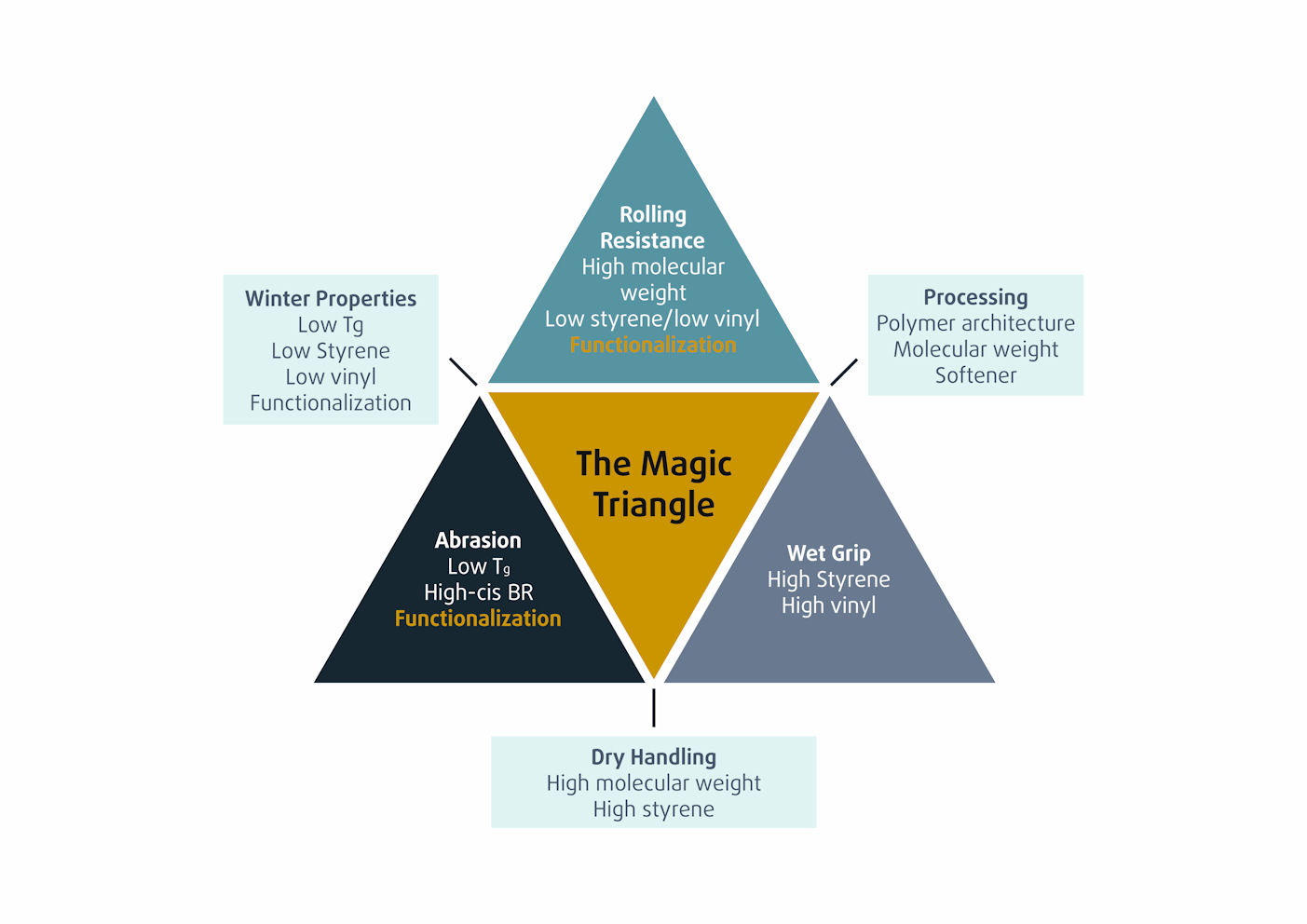 Anyone who's racked up a few miles in the tyre industry will be familiar with what some call the 'magic triangle' of performance – the relationship between wet traction and braking, rolling resistance and wear, and the role compounding plays in helping the protagonists live in harmony. But Trinseo considers this three-pointed model a relic. We recently spoke with Samer Al Jabi, global business director of Trinseo's Synthetic Rubber business segment, to find out why.
Al Jabi shares that existing grades of Trinseo solution styrene butadiene rubber (S-SBR) – grades that have brought accord within the magic triangle – contributed to decreasing rolling resistance by around 30 per cent, an amount equalling an almost six per cent reduction in a car's overall CO2 emissions. In February, Trinseo introduced a new grade of S-SBR for ultra high-performance tyre treads. Known as Sprintan 918S, this latest Trinseo S-SBR takes the decrease in rolling resistance a step further without compromising on other features such as grip and physical ability.
Rolling resistance is further enhanced by Trinseo's proprietary funtionalisation technology, which reduces the number of free chain ends in the polymer; in the case of Sprintan 918S, multi-functionalisation techniques are employed.
Another point of difference with Trinseo S-SBR is the anionic polymerisation technology the company uses. "We deal with it in a batch process, and this is something that helps us to architect our polymers to tailor them to different angles of performance needs," Al Jabi explains.
No compromise on processability
Yet these factors alone don't make Sprintan 918S a product that is, in the global business director's words, the "first in a family of new generation products." Where 918S departs from the preceding grades of S-SBR is its processability.
"Sprintan 918S doesn't compromise on processability," Al Jabi states. This is significant because newer generations of S-SBR have, as a rule, proven more difficult to process. Functionalisation technology, a necessity for dispersing silica within rubber, results in chemistries that lock together. This makes it harder for tyre makers to process them in their mixers and also complicates extrusion further down the line.
"Processability has been a big challenge for tyre makers," observes Al Jabi. "That's why we embarked on this great development. Sprintan 918S is the result of two years' research and development work."
Without betraying the secret wizardry behind Trinseo's R&D efforts, Al Jabi confirms that the company has "developed a good know-how into designing our polymers to not compromise on processability." Put in very simple terms, the technology Trinseo uses gives it room to architect the polymers so as to not compromise on this feature.
S-SBR capacity increase & pilot plant
Sprintan 918S is one of nine S-SBR grades that Trinseo currently makes at its facility in Schkopau, Germany. This site now has an annual capacity for 200,000 tonnes of S-SBR thanks to an investment in capacity expansion completed early last year. By boosting capacity by a third, Trinseo is better positioned to supply a high-performance tyre market estimated to be growing at six to eight per cent a year. Trinseo is now able to satisfy around 15 per cent of global S-SBR demand. "We now have good capacity to address growth expected in the coming years," Al Jabi comments.
Schkopau, near Leipzig in the east of Germany, is a town with a long history of synthetic rubber production and home to Trinseo's entire synthetic rubber operation. Plants at the site produce S-SBR, emulsion-styrene butadiene rubber (E-SBR) and nickel-butadiene rubber (Ni-BR). For the past year and a half, the Schkopau facility has also hosted a pilot plant dedicated to product development and testing. This facility mimics the output of Trinseo's industrial plants and can produce small batches for testing.
"The pilot plant is typically dedicated to S-SBR," elaborates the global business director. "This is a great resource for us and enables the development of polymers that can be tested in tyres quickly, in decent quantities and with the exact technologies that we use in our industrial plants."
Chemistries just the starting point
The pilot plant in Schkopau is helping Trinseo progress beyond the current state of the art. Al Jabi shares that "next, next generation products" that pursue even better rolling resistance are already in the pipeline. "We're not just working on programmes that further enhance this characteristic for the fun of it. There's a high mandate from tyre makers and OEMs to think about the key drivers to reduce CO2 emissions. Rolling resistance is still one of the key trends out there."
Europe, the USA, China and Japan are just four of the many markets where governments have set CO2 targets. Such regulatory goal setting is having a huge impact upon tyre development, as is the trend towards electrification. Samer Al Jabi identifies both as lead challenges for Trinseo's Synthetic Rubber business segment, noting that these industry trends are now being driven at a much faster pace than in previous decades.
Trinseo has responded to this rate of change by rethinking its approach. In the past, the company took its synthetic rubber chemistries as the starting point when developing new products. "But the future will be about more than just polymers," Al Jabi posits. "We must also look at what qualities a tyre application needs to possess, what the compound needs are, and ensure that the polymer, filler and additives function in harmony."
Al Jabi believes an outside-in perspective is called for, and for Trinseo this means a closer collaboration with tyre makers. The company works with tyre manufacturers at various levels, including on specific products for particular customers. "We work very closely with customers on product development. And we engage with them on the development cycle to ensure that what we have in our 'kitchen' is relevant. At all times we are guided by what customers tell us their needs are."
In closing, Al Jabi comments that being guided by customer needs involves taking a holistic approach. "We are investing in our organisation and people. We think beyond R&D and have created technology and innovation organisations that include tyre compounding, capability and understanding the end application."