Mitas launching new enduro tyres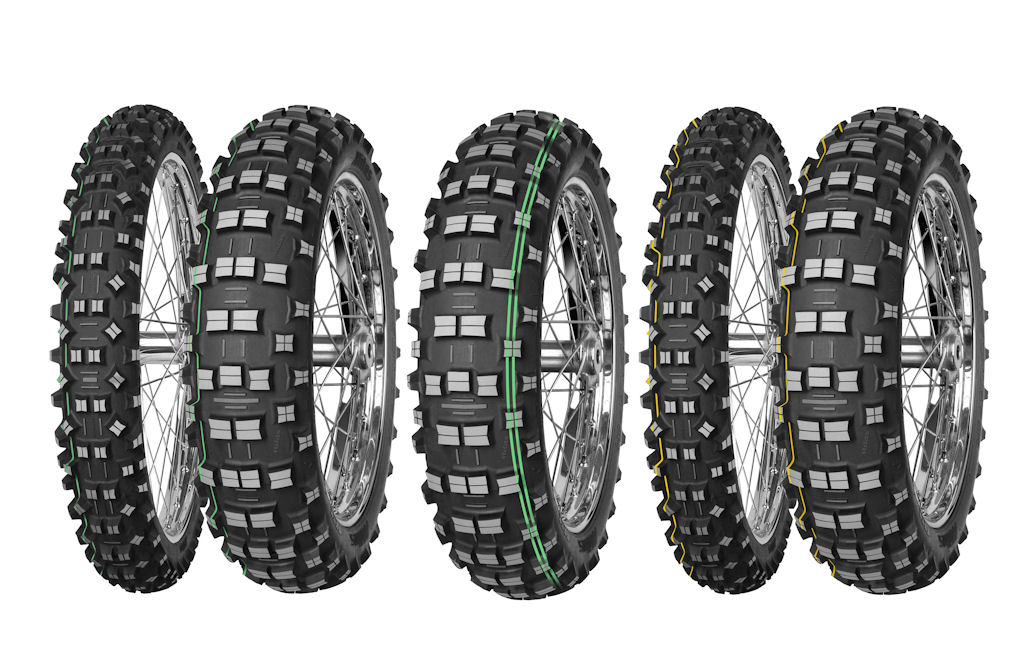 A new generation of Mitas enduro and extreme enduro tyres will be unveiled tomorrow. Mitas will present its new Terra Force-EF and Terra Force-EH at Erzbergrodeo, a motorsport event held in Austria between 30 May and 2 June.
The Trelleborg Group company says the Mitas Terra Force-EF and Terra Force-EH offer improved performance on a wide range of off-road surfaces compared with their predecessors. A larger footprint provides better grip in various riding conditions, while spaced knobs are designed to provide good clean out ability in mud or sand.
"Terra Force-EF and Terra Force-EH are successors to the popular and widely known Mitas Enduro and Extreme Enduro off-road tyre ranges. The new generation was developed and tested in cooperation with many professional riders. Knowing that many riders are happy with our current Enduro and Extreme Enduro tyres, these will remain part of the extended portfolio of Mitas off-road tyres," comments Ksenija Bitenc, director of the Mitas Motorcycle Tyres division.
The Mitas Terra Force-EF Super is marked with a yellow stripe. Its fibrous and durable compound was developed to give outstanding grip and very low abrasion even on hard terrain. Mitas says this compound resists tearing and cutting and is therefore suited to a wide range of terrains, from soft and intermediate to rocky. Tread pattern knobs were designed to meet specific Fédération Internationale de Motocyclisme (FIM) regulations.
Mitas Terra Force-EF Super light, marked with a green stripe, is intended for harder enduro races. It has a softer tread compound than the Super version, and this gives ensures better adhesion and performance on hard and rocky terrain or when riding over tree roots in wet forest terrain. Designed for harder competitions, it complies with current FIM regulations for enduro competition tyres.
The Mitas Terra Force-EH Super soft is marked with double green stripes and features an extra soft sticky tread compound for extreme enduro races. The tyre is best suited to extreme rocky, stony, wet and mud terrains. Mitas says it is ideal for vertical climbs on hard enduro races and for all extreme terrains. This tyre is not street legal and is only available as NHS (Not for Highway Service).
Available tyre sizes:
TERRA FORCE-EF
| | |
| --- | --- |
| Front | Rear |
| 90/90-21 54R TT Super | 120/90-18 65R TT Super |
| 90/90-21 54R TT Super light | 120/90-18 65R TT Super light |
| 90/100-21 57R TT Super | 140/80-18 70R TT Super |
| 90/100-21 57R TT Super light | 140/80-18 70R TT Super light |
TERRA FORCE-EH
Rear
120/90-18 65M TT Super soft
140/80-18 70M TT Super soft