Prinx Chengshan breaks ground on Thailand tyre plant project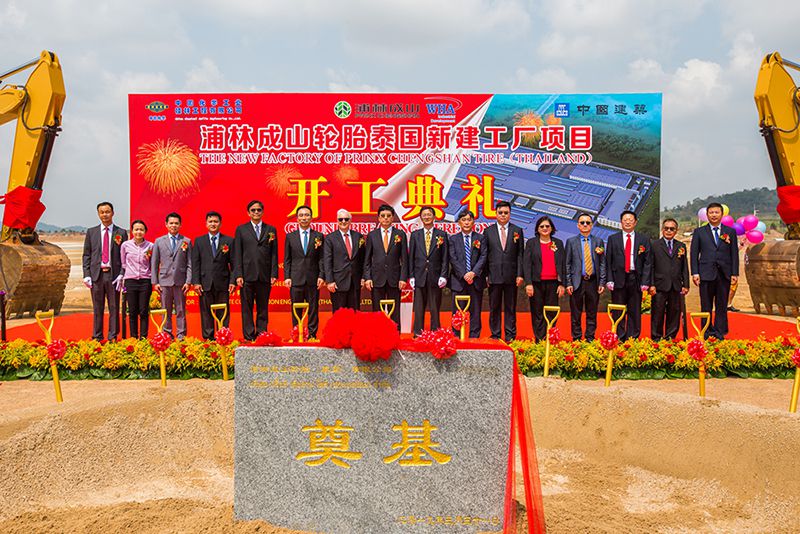 A groundbreaking ceremony has been held for the new Prinx Chengshan Thailand factory in the WHA Eastern Seaboard Industrial Estate EISE 3 in Chonburi. The new plant is amongst the first to be set up in the industrial park, and Prinx Chengshan notes that a launching ceremony for the park was held today.
The Hong Kong Stock Exchange-listed tyre maker is investing nearly US$300 million in infrastructure and production equipment for the first stage of production. The plant will adopt leading tyre industry design philosophy and be set up according to artificial intelligence manufacturing standards. When the facility's first stage is completed in mid-2020, it will be capable of producing 4 million passenger car tyres and 800,000 all-steel truck and bus radials per annum.
"The establishment of the first overseas production base in WHA ESIE 3 in Thailand is a major step for the expansion of Prinx Chengshan," said Che Hong Zhi, chairman of the Board of Directors of Prinx Chengshan (Cayman) Holdings Co., Ltd. and chairman of the Board of Prinx Chengshan (Shandong) Tire Co., Ltd. "Prinx Chengshan has a 43-year history of development and has always adhered to the global development strategy. It was listed in Hong Kong in 2018 and is in line with international capital. The Thai production base is an important step towards the international development for Prinx Chengshan, and it is also the first tyre production base of overseas investment."
Che added: "Thailand is an important global free trade country and original country of natural rubber, and is the largest automobile production centre in ASEAN. The development of automobiles and related industries is very fast and the transportation network is quite developed. Investment in Thailand is not only Prinx Chengshan's important measures to integrate resources and radiate to the world, but also an important step in forging Prinx Chengshan's internationalised brand. It is also a favourable exploration to deepen the good-neighbourly and friendly relations between China and Thailand, and promote the friendly economic exchanges between China and Thailand."
The groundbreaking ceremony was attended by: David R. Nardone, Executive Director of WHA Industrial Development PLC, Wang Yifei, Chairman of China State Construction Engineering (Thailand) Co., Ltd., Mr. Liu Qing, Executive Director of China State Construction International Engineering Co., Ltd., and Li Hong, Assistant General Manager of China Chemical Industry Guilin Engineering Co., Ltd. Chirada Bumrungvej, deputy manager of the Transmission Systems Engineering Service Department of the Thai Power Authority (Bangkok), and Wu Lin, Vice President of the Bank of China (Thailand) Co., Ltd.