Alliance 398 MPT: ATG's 'turning point' for the agri and forestry sectors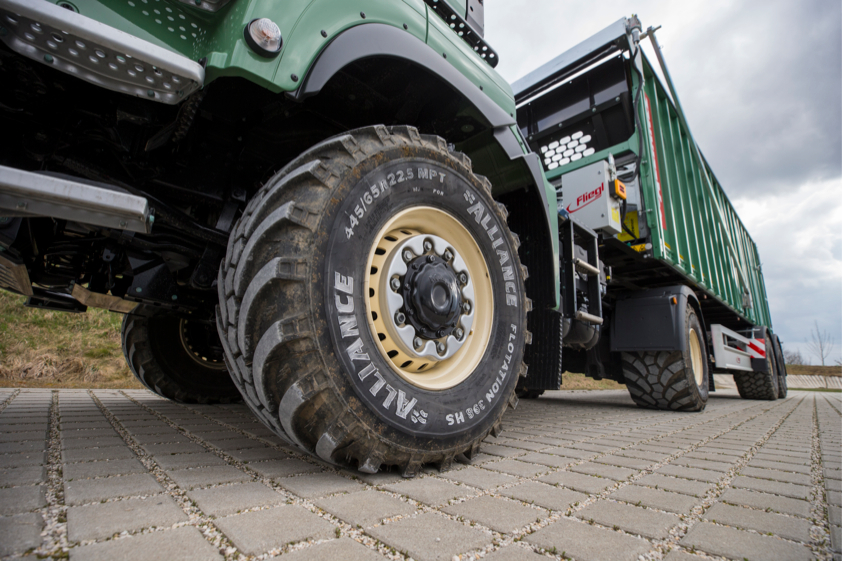 Alliance Tire Group claims to have written "a new chapter in the history of efficient transportation" with the release of its Alliance 398 MPT multi-purpose tyre for trucks used in agricultural and forestry applications. The tubeless 398 MPT was developed to provide optimum traction and soil protection when off-road as well as speeds of up to 100 km/h and excellent driving stability on the road. The result, says ATG, is shorter work cycles as well as time and labour savings.
ATG considers the concept of direct transportation a "turning point" for the agriculture and forestry sectors. Slurry trucks parked on field edges awaiting the transfer of their cargo to manure tanks are a familiar site in rural areas. Yet this procedure is an inefficient one as the load must be transferred to a second vehicle for the last, short leg of its journey. Time is also lost at harvest time when transfer vehicles are used to bring crops from the combine harvester to the truck or trailer waiting at the edge of the field. ATG says such scenes are a thing of the past with the 398 MPT flotation tyre.
The ability to drive an agri-truck right up to the manure tank when transferring slurry or to the combine harvester in the field when collecting harvested crops cuts down on empty runs, additional workers and extra equipment such as transfer vehicles. In addition to saving on machinery and labour costs, the farmer or contractor will benefit from increased efficiency and productivity.
The Alliance 398 MPT's tyre pressure can be decreased to as little as 0.8 bar when used off-road in order to reduce soil compaction and give better traction. Tyre pressure can go as high as 6.5 bar for on-road use. Pairing the 398 MPT with a central tyre inflation system (CTIS) enables a fast and efficient switch between road use with high tyre pressure and field use with low pressure.
ATG reports that the 398 MPT offers excellent driving stability and safety when used on the road at high pressure thanks to its excellent roadholding and low heat build-up as well as minimal vibration and tyre/road noise at speeds up to 100 km/h. The benefits off-road include suitability on muddy, uneven or loose surfaces as well as good self-cleaning properties.
Maximum reliability and performance on- and off-road was ATG's priority when developing the Alliance 398 MPT. The all-steel tyre features a casing with four steel belts and a strong bead for durability, improved puncture protection and low rolling resistance. At the same time, the tyre's structure is designed for greater stability and longevity by minimising buckling in the sidewall area. Capacity for a high volume of air and the tyre's large footprint facilitate high load capacity with evenly distributed – and significantly reduced – pressure upon the ground.
According to ATG the directional tread's s-shaped centre blocks provide perfect on-road suitability and comfort, with low vibration and noise levels. The angled tread elements provide good traction and the broadly-spaced shoulder blocks have been designed to self-clean. The pattern's high non-skid depth (NSD) was selected for long service life.
The tyre maker tested the Alliance 398 MPT in a variety of terrains and climatic conditions across two continents over a four-year period. ATG reports that its customers' expectations were "fully fulfilled." The 398 MPT is available in a launch range that includes size a 600 50R22.5 drive axle and trailer fitment and 445/65R22.5, 445/70R24 and 495/70R24 sizes for steer axle, drive axle and trailer use.