'Biggest' agri radial amongst BKT newcomers at SIMA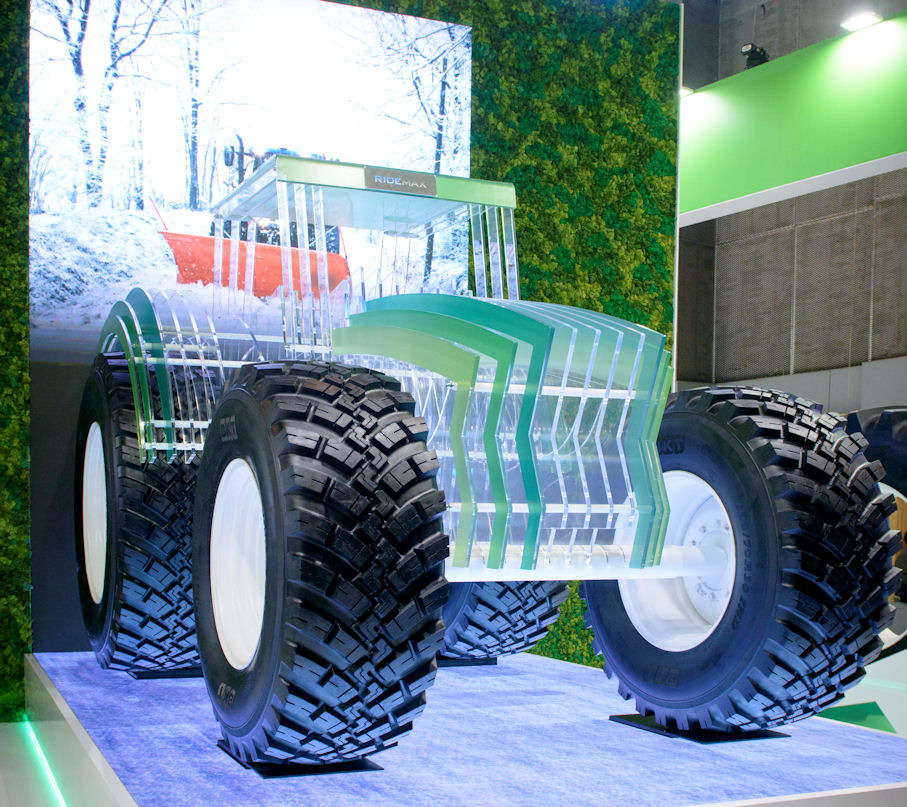 It'd be hard to miss the new Agrimax Force size that BKT is premiering at SIMA – at 2.3 metres tall, the IF 750/75 R 46 tyre is the largest agricultural radial the company has ever produced.
Agrimax Force is the most popular tyre line in the BKT portfolio, and the introduction of the size IF 750/75 R 46 increases the number of dimensions available to 23.
Other BKT agricultural products showcased at SIMA include a new version of the FL 630 Super that features a HD (heavy duty) compound. The 650/55 R 26.5 tyre was developed for combined use on the road and in the field, and the FL 630 with HD compound is capable of carrying a 50 per cent heavier load than the standard version. BKT says the tyre's robust structure "ensures excellent traction and superb road holding even if cornering or performing other manoeuvres," adding that its tread design offers "great grip on any type of terrain" and "top self-cleaning properties."
The giant plexiglass tractor seen at other trade shows is also present at the BKT stand during SIMA. This time it is fitted with Ridemax IT 697 tyres in the new M+S (mud and snow) marked rear size 710/70 R 42. BKT says that although the Ridemax IT 697 is an all-season product, it is ideal for winter applications as its tread compound provides "extraordinary stability on terrains covered by snow and ice." The plexiglass tractor wears a 600/70 R 30 fitment on the front axle.
Last but not least is a tyre that BKT calls a hybrid uniting the agricultural and construction segments. This is the Earthmax SR 31, displayed at SIMA in size 20.5 R 25. Designed for multipurpose usage on wheel loaders in construction sites and farm yards, BKT claims the Earthmax SR 31 offers "excellent traction and handling plus best riding comfort." It adds that the tyre's tread compound is particularly resistant against cuts and high temperatures, ensuring a long tyre life-cycle. In addition, multilayer steel belts and a rigid block design aid traction and stability, even on muddy terrain.