Electric Audi e-tron SUV to run on Bridgestone tyres as original equipment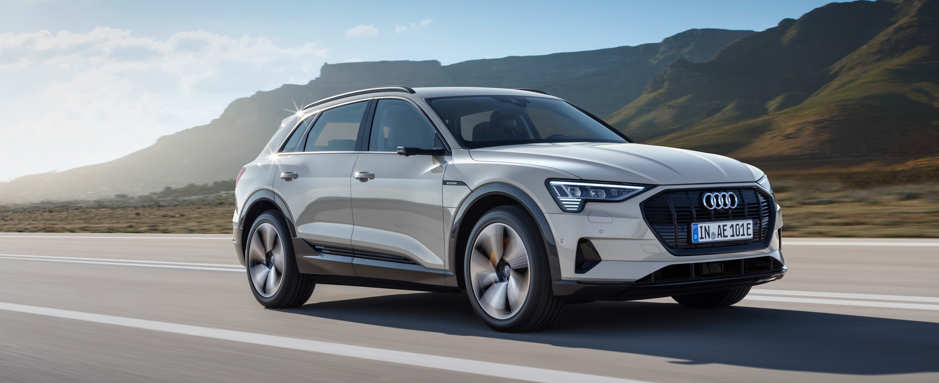 Deal described as the 'latest step in a strong collaboration that has already seen Bridgestone become Audi's number one tyre provider'
Audi has selected Bridgestone as its tyre supplier for the release of its first all-electric SUV, the Audi e-tron. The companies agreed a list of characteristics required to highlight the specifications of the new model. The e-tron boasts fast acceleration, high comfort, very low noise, and high levels of safety without dropping performance. Bridgestone will supply six different tyres sized between 19 and 21 inches, four summer and two winter tyres, as original equipment. The manufacturer has emphasised the original equipment channel recently, achieving "more than 120 OE fitments" in EMEA during 2018, a result it labelled its best ever.
Speed and safety
Driven by two electric engines, the Audi e-tron goes from 0-100 km/h in less than six seconds. This means the tyres need to ensure high handling and braking performance. Bridgestone is supplying its Alenza 001 SUV summer tyres, which feature a block structure that optimises contact with the road, improving steering response on corners and stability when driving on a straight. It has been awarded the grade A for wet grip on the EU tyre label.
Bridgestone has specified its Blizzak LM 001 in winter conditions for its dependable cornering and handling on wet, dry, icy, slushy and snowy roads. The tyre combines a high-silica compound imbued with Bridgestone's Nano Pro-Tech polymer to promote increased levels of grip.
Low rolling resistance
The latest generation of electric vehicles require low rolling resistance in order to ensure the most efficient use of charge. Bridgestone states that its tyres work with the e-tron to allow it to travel 400km on a single charge. Each fitment also offers good tread life, the company claims.
Sound of silence
Audi wants the e-tron to reflect its reputation for luxury and comfort as its first electric vehicle. The car's near-silent motor I complemented by sound proofing, dual-pane windows, and special seals to minimise cabin noise. Bridgestone also proposed its proprietary B-Silent technology as a further means of minimising in-vehicle noise. The technology consists of an integrated open-cell polyurethane foam element applied to the inner surface of the tyre, reducing the tyre air cavity resonance produced by air vibration, and contributing to the reduction in cabin noise without compromising driving performance and dynamics of the tyre.
Bridgestone Audi's 'number one' tyre supplier
Bridgestone's latest Audi supply deal extends its position as the brand's biggest tyre supplier. In 2018, for example, Audi selected Bridgestone's Turanza T005 for fitment to its new A7 Sportsback. It also supplies tyres for the A1, A6, and Q2.
"We are pleased to have been chosen by Audi to provide tyres as original equipment for their first-ever fully electric vehicle," says Mark Tejedor, vice president of original equipment at Bridgestone EMEA. "Audi has created a vehicle that is innovative, environmentally friendly and offers incredible driving comfort. It is only logical that it is being paired with Bridgestone tyres that offer the same characteristics. In an industry in rapid transformation where vehicles are becoming more and more CASE – connected, autonomous, shared and electric, Bridgestone delivers new solutions and technologies answering car manufacturer's most demanding challenges thanks notably to our industry's leading investments in R&D."
The Audi e-tron, built in Belgium, will be available in dealerships from January 2019.