Michelin: Dundee closure to cost £180 million through to 2021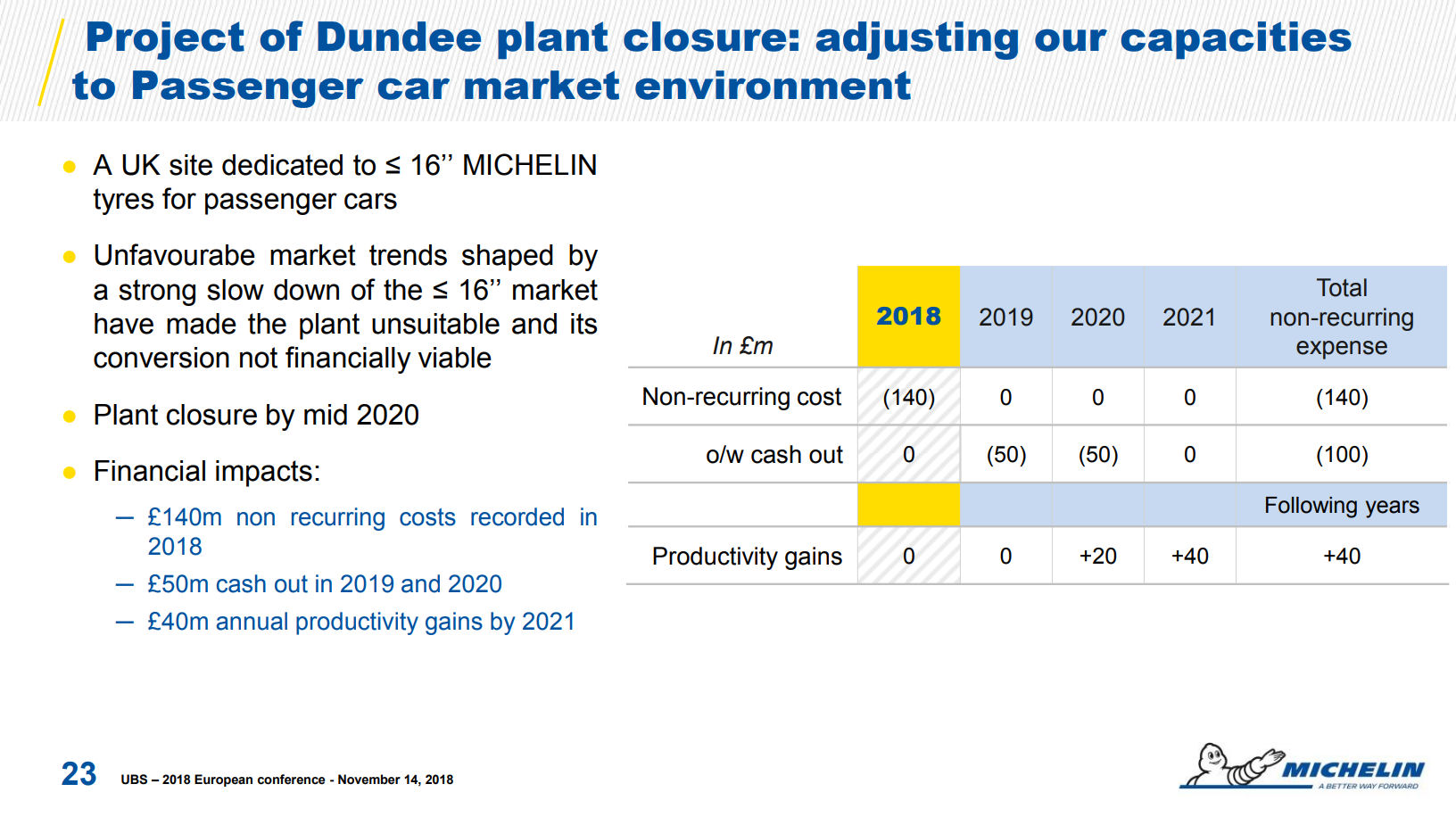 Michelin calculates that closing its tyre factory in Dundee will cost the company £240 million until the end of 2021, however it expects to partially offset this cost with £60 million of savings during this period and then make annual savings of £40 million thereafter.
Closing the Dundee facility will remove 52,000 tonnes of Michelin capacity. Justifying the elimination of this capacity, the tyre maker points out that the plant is dedicated to producing 16-inch and smaller car tyres, a market segment where demand is falling. Michelin states that converting the plant to the manufacture of other products is "not financially viable."
Michelin's comments on Dundee at the UBS 2018 European Conference in London last week underline the finality of the tyre maker's decision to close the plant. Nevertheless, Scotland's government is still working towards a better outcome for the 850-strong Dundee workforce. First Minister Nicola Sturgeon and Economy Secretary Derek Mackay met with union representatives in Dundee yesterday to discuss the work of the Michelin Dundee Action Group. According to The Herald, Sturgeon said there were "reasons for optimism" regarding the future.
The Scottish First Minister's optimism doesn't necessarily mean tyre production will continue in Dundee, however. The Evening Telegraph reports that Sturgeon views this as one option, however she says that the "other, more realistic option is re-purposing the site to provide some form of employment and maintaining Michelin's presence in Dundee." The publication adds that Dundee and Angus College already has its eyes on the Michelin plant site and wishes to relocate its campus there after 2020.