Magna launches MA02 for scrapers and graders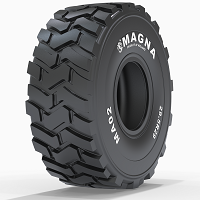 Magna Tyres Group has launched the Magna MA02 Scraper. According to the company, this tyre is explicitly designed for scrapers and graders and will make the groundwork for all your projects as effortlessly as it possible can be.
The Magna MA02 Scraper is engineered and constructed with a unique non-directional E3 "rock" tread pattern which will considerably improve traction and performance. The steel radial construction of the tyre ensures more sturdy protective layers. This allows for better load performance and greater operator comfort.
Additionally, heat build-up inside the Magna MA02 Scraper is noticeably reduced by the use of a new technology in the high-tech casing of the tyre.
Initially, the tyre will be available in three different sizes: 29.5R29, 33.25R29 and 37.25R35, with a single maximum load of up to 23.600 kg. Manufacturing of the Magna MA02 Scraper has commenced and the tyre will reportedly be available to order immediately.