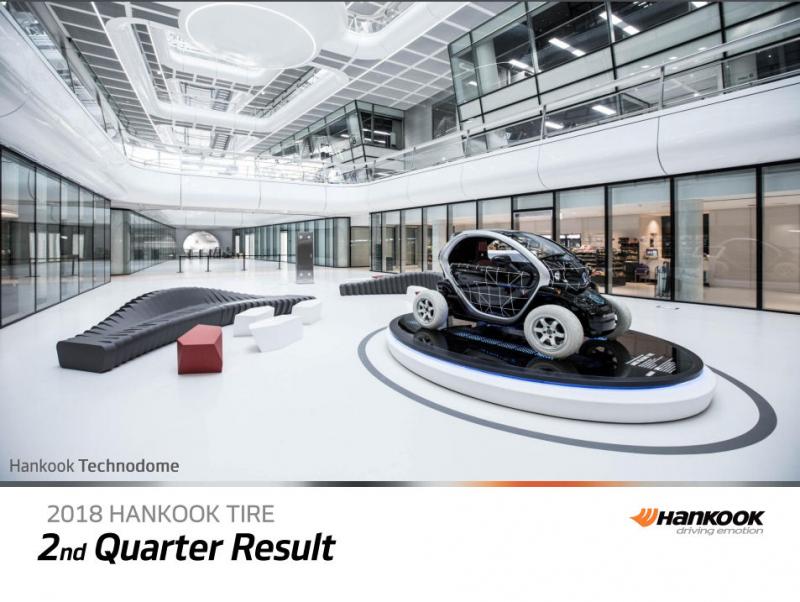 At KRW 1.67 trillion (£1.14 billion), sales were up 2.3 per cent year-on-year for Hankook Tire in the second quarter of 2018, however this didn't stop operating profit slipping 10.4 per cent to KRW 183.2 billion (£125.3 million). According to the tyre maker, operating profit was reduced compared with the same period of last year due to initial operating costs in its tyre plant in Tennessee, USA as well as increasing competition in the Korean market. The operating margin decreased from 12.3 per cent to 10.7 per cent.
Sales within Europe rose 11.1 per cent year-on-year, to KRW 591 billion (£404.2 million), in the three months to 30 June 2018. Hankook Tire says replacement market sales continued to grow in "major European countries," a trend that was coupled with "decent demand" for winter tyres. The tyre maker also increased its supply to major and premium OEMs. Sales of 17-inch and larger fitments accounted for 43.4 per cent of all passenger car and light commercial vehicle tyre business within the region, a flat year-on-year result and well below the global ratio of 52.1 per cent.
For 2018 as a whole, Hankook Tire anticipates sales of around KRW 7 trillion (£4.79 billion) and an operating margin of 11 to 12 per cent. Projected full-year sales have been adjusted due to weak sales in Korea and a softer US market. During the latter half of the year, through the stabilisation of the Tennessee plant and increased replacement market tyres, sales performance is expected to improve.
Further information about Hankook's Q2 2018 financial results can be read here.
Category: Company News