Output at Continental's Kaluga plant exceeds 10 million tyres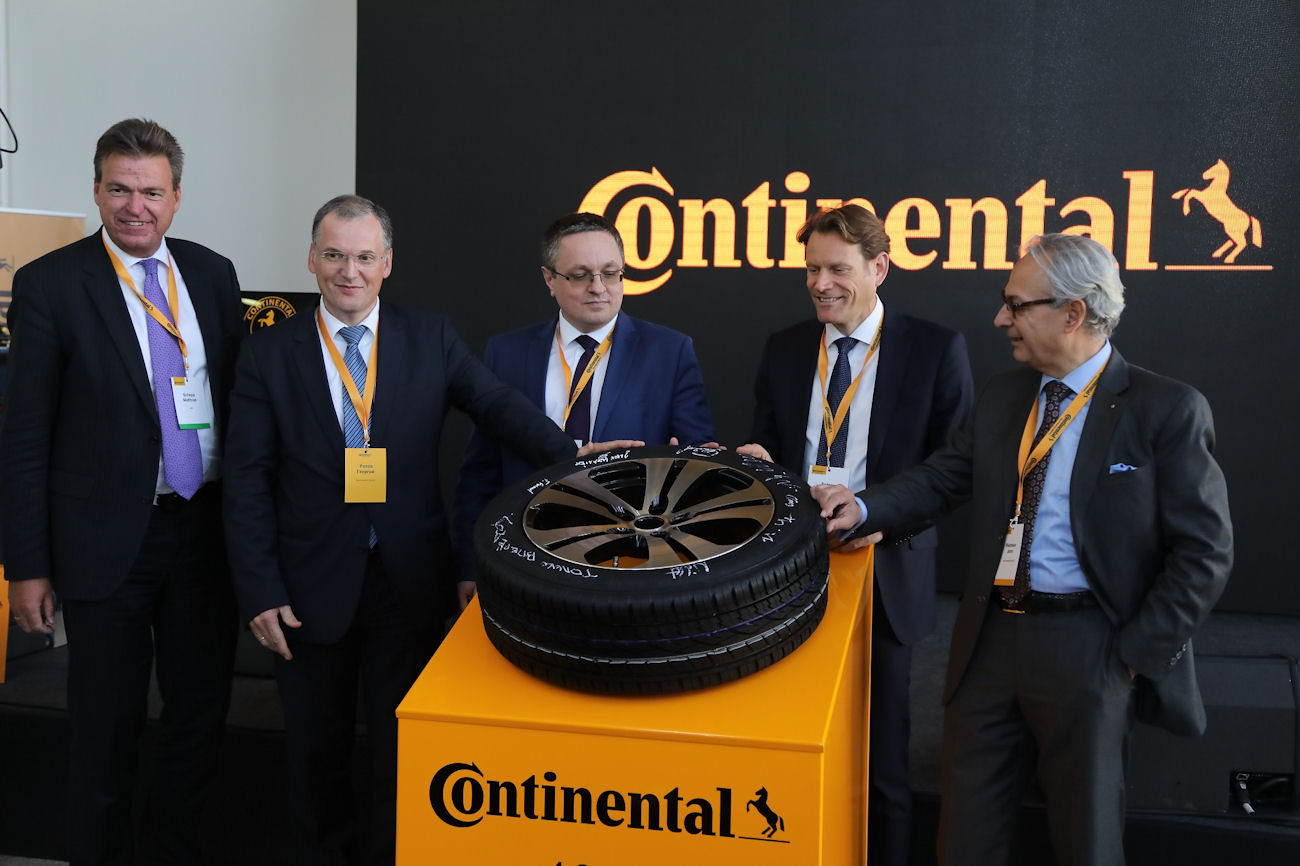 Nikolai Setzer (2nd from right) views the 10 millionth tyre at the Kaluga plant
Five years after production commenced, the Continental tyre factory in Kaluga, Russia has celebrated the production of its 10 millionth tyre. Plant output officially went into eight-digit figures on 11 April and the team in Kaluga marked the occasion with invited guests, including government officials, customers and representatives from the Continental Executive Board.
"The greenfield tyre plant Kaluga is now a mature plant and a success story for us," stated Nikolai Setzer, Executive Board member and head of Continental's Tire Division. "It is an important part of our Vision 2025 – the strategy of the Tire Division, which focuses on growth, value creation and excellence. With excelling at exactly these three values the team in Kaluga has progressed consistently and achieved all goals successfully. In 2011 we have laid the foundation of this tyre plant, in 2013 we have started production, in 2014 we had celebrated the first million tyre and today we have reached already the ten millionth tyre. It is a pleasure for me to see that in less than five years of the plant's activity we have achieved such excellent results.
"This is a clear growth path and my thank you goes to all who have contributed to make this celebration today possible," Setzer continued. "Together, we have managed to maintain the growth pace of this plant in a complex and dynamic environment and we have kept our promise to our customers, by constantly delivering excellent products."
The plant in Kaluga delivers a wide range of passenger and light truck tyres to original equipment and after customers in Russia as well as in the EMEA and APAC regions. Continental is also expanding its partnership with car manufacturers, and it comments that "large Russian and foreign companies" now work with tyres produced in the Kaluga plant. All Kaluga-made tyres meet ISO/TS 16949 quality standards.
The plant's production portfolio includes more than 300 articles, covering passenger and light truck tyres in 13- to 21-inch rim diameter sizes; serial production of 21-inch tyres began in March 2018. Tyres are manufactured under the Continental, Gislaved and Matador brand names.