CeMat debut for non-marking, anti-static Camso forklift tyre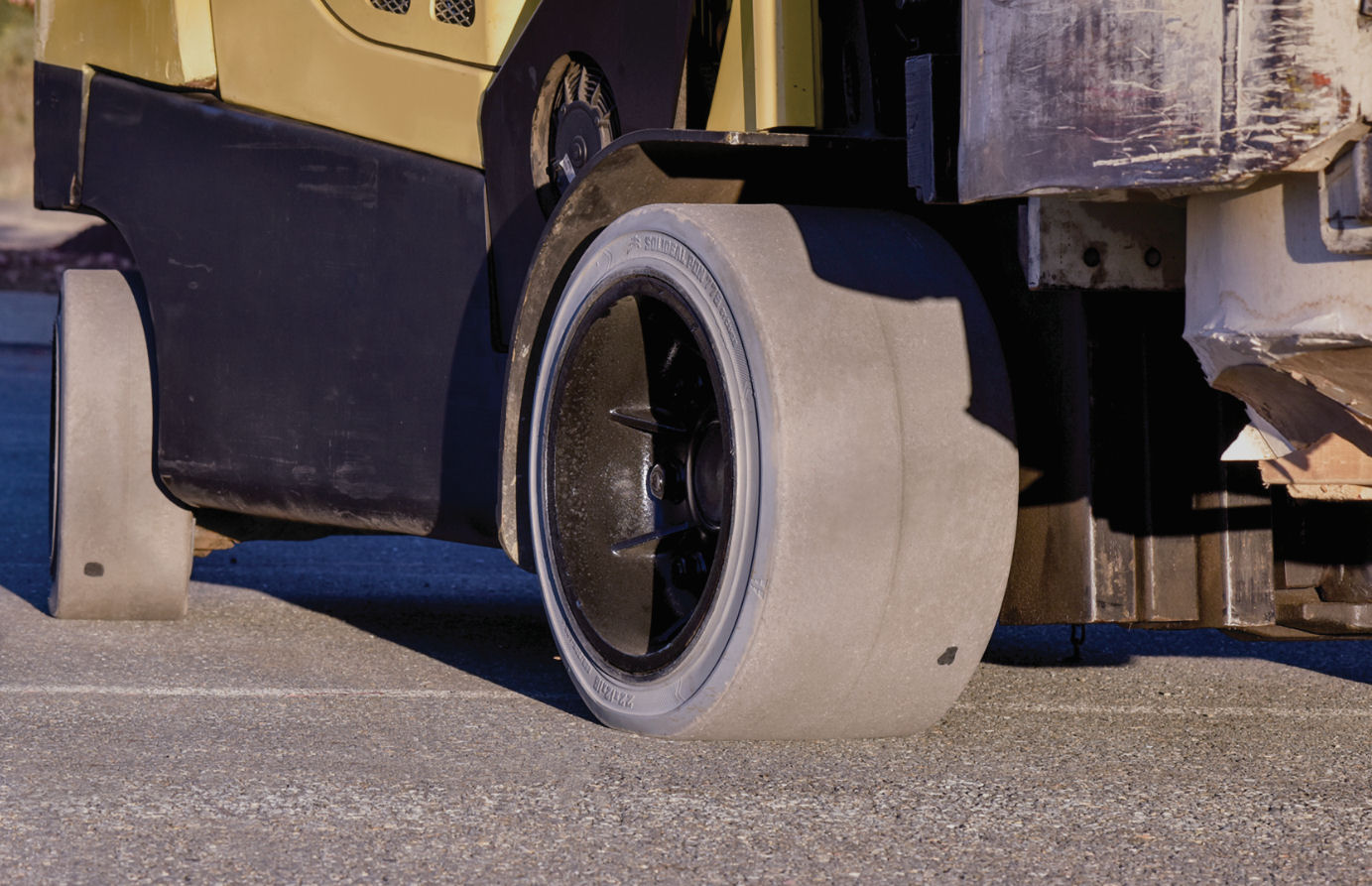 Camso has unveiled the first patented anti-static forklift tyre designed to resolve the important safety issue of static electricity generated by non-marking tyres. The company will showcase its new Solideal PON 775 NMAS (Non-Marking Anti-Static) press-on tyre at the CeMat show later this month.
In 2017, the company launched three new Solideal press-on (PON) tyre solutions for forklifts working in high- and medium-intensity applications. In high-intensity applications, tyres are pushed beyond their limits and are likely to experience heat build-up. Where non-marking tyres are used, operators and warehouse managers also have the issue of static build-up to consider.
"Last year, we brought solutions to respond to forklift usage intensity. This year, we're tackling the issue of static build-up," says Darren Stratton, product management director – Material Handling at Camso. "The accumulation of static electricity on forklifts is common in non-marking tyres because of the silica used as reinforcing filler, allowing the tyre to have isolating properties. This can lead to a number of problems like driver electrical shocks, forklift onboard electronic issues or outages and fire hazards."
The Solideal PON 775 NMAS tyre that resulted in Camso's development work in this area is hailed at the world's first press-on that prevents static build-up on non-marking tyres and thereby resolves both potential safety issues for forklift operators as well as facility damage problems.
An industry first
With patented anti-static technology, thermally-efficient construction and abrasion-resistant tread compound, Camso says the Solideal PON 775 represents "a major innovation and breakthrough in the industry." The manufacturer reports that the tyre provides 63 per cent better resistance to heat build-up and 33 per cent greater energy efficiency compared to the Solideal Magnum SM NM (smooth non-marking). It also ensures greater operator safety, and in addition to minimising the risk of electric shock, it reduces the likelihood of outages, electrical component damage and fire.
"We take an active interest in the needs of our customers. The Solideal PON 775 NMAS provides a solution to an existing problem that had never really been addressed before. It's a game-changer and we're proud to be the first to bring it to market," Stratton concludes.
The Solideal PON 775 NMAS will be showcased for the first time at CeMat, the world's leading trade fair for intralogistics and supply chain management, from 23 to 27 April 23. Camso representatives will be at the show in Hannover, Germany, showcasing the new tyre model at booth L30 in Hall 26.