Biomarsh Environmental fleet signs up with Vacu-Lug Tyre Management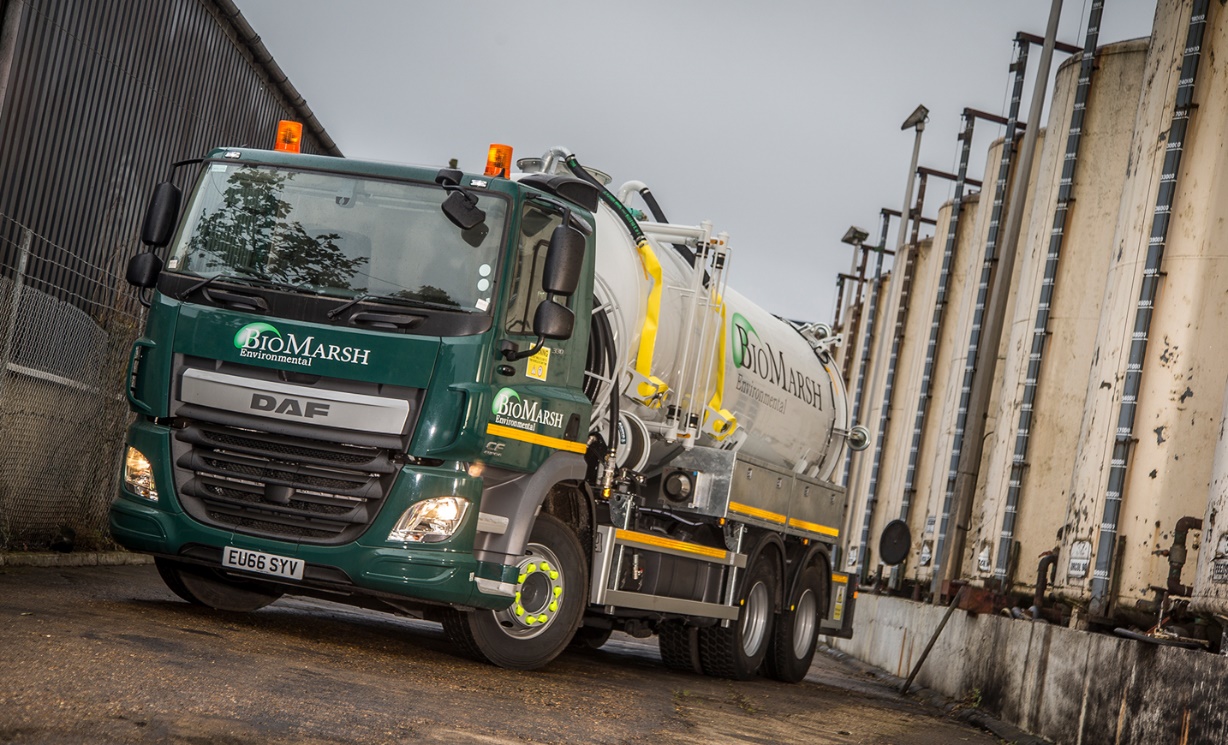 Leading tanker and environmental waste firm Biomarsh Environmental Ltd has signed a comprehensive tyre management contract with Vacu-Lug Traction Tyres. The deal is designed to provide nationwide support and aid compliance throughout the Biomarsh fleet.
Operating throughout the United Kingdom, Biomarsh requires a fully-comprehensive tyre management solution that delivers a consistent, compliant and dependable supply, service and husbandry policy, nationwide. Vacu-Lug's ability to manage and handle complex tyre policies and operations is well-known throughout the industry and Biomarsh was attracted to the company's flexible and forward-thinking approach to tyre management.
Running a modern fleet of vehicles, which perform numerous duties including service jetting work, liquid waste removal, tankering services and household cesspool emptying, ensuring compliance is a top priority for the Biomarsh management team.
"With a reputation for delivering flexible solutions which put the operator first, we are confident that Vacu-Lug can provide the solution to our tyre needs and that they have the right products for our waste management fleet."  comments director, Malcolm Travers.
Committed to delivering consistent customer satisfaction, Biomarsh invests heavily in equipment designed to allow each of their operatives to perform a fast and efficient service. Vacu-Lug's tyre management support will only enhance this further, with the Biomarsh team now having access to Vacu-Lug's VMS Online system, which gives them total visibility of their fleet's tyre assets and detailed inspection reports. Vacu-Lug has also recently developed VMS Mobile (an App available on both Android and Apple devices) which summarises each individual vehicle's tyre and inspection history held online within VMS Online and is an essential tool for vehicle monitoring and compliance control.
Both companies state that they are highly committed to the environment. By opting for Vacu-Lug's retread tyres, Biomarsh will be making large savings on the amount of carbon their fleet uses, and therefore decreasing their own carbon footprint. All Vacu-Lug's rubber waste is recycled by Murfitt's Industries and used to make sport's pitches and children's playgrounds. Both companies hold a number of key accreditations – sharing BSI Standards ISO 9001 in Quality Management, ISO 14001 in Environmental Management and OHSAS 18001 in Occupational Health and Safety Management – indicating their commitment to maintaining high standards throughout their organisations.
Vacu-Lug is the largest, independently-owned tyre retreader in the UK, and a leading tyre management solutions provider.