Pieter Klinkers – Five questions about Acorus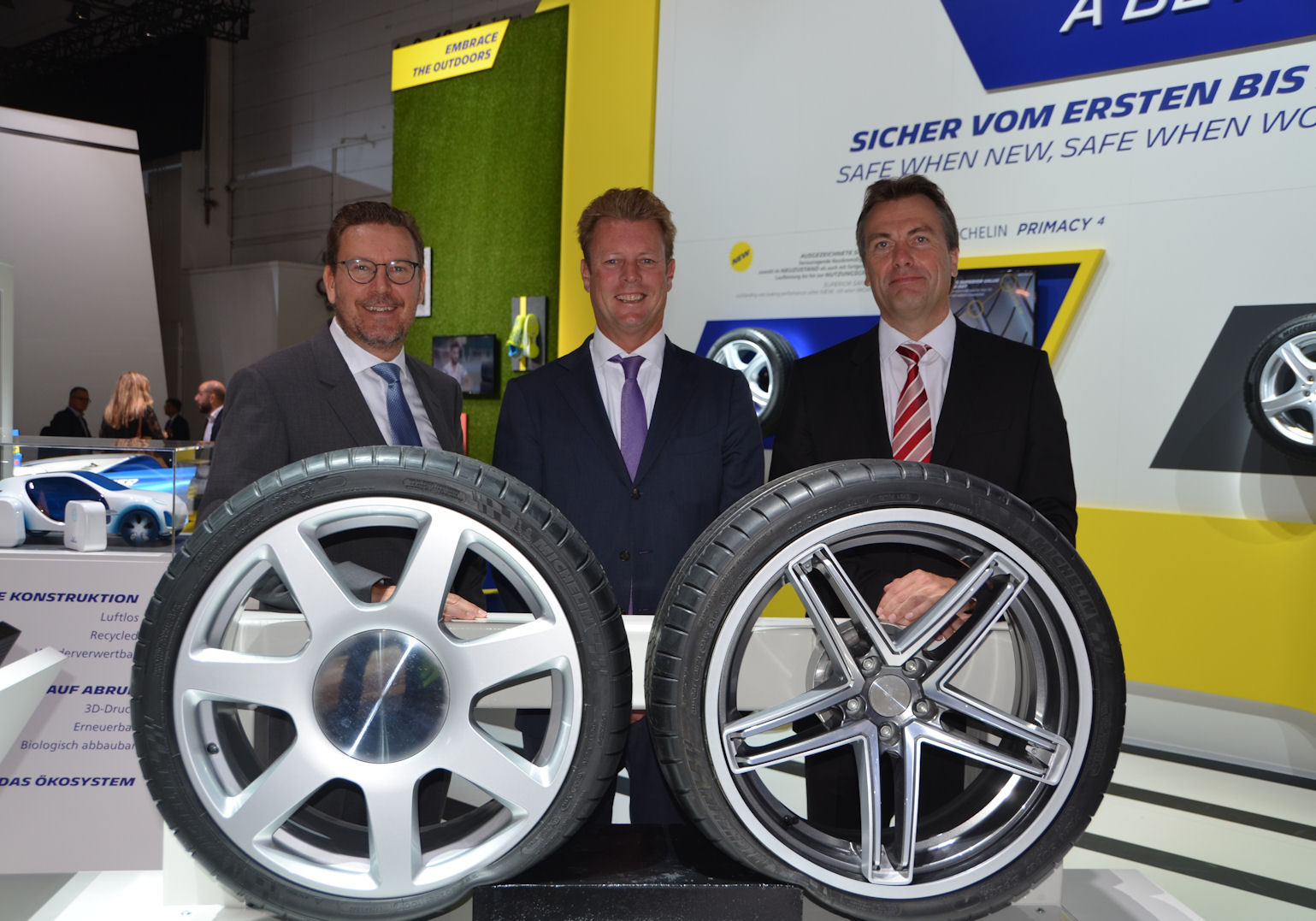 Aesthetics are decisive when choosing a new car, and large diameter rims and low-profile tyres now even feature on the options list for lower performance models. But while kitting a car out with this combination bumps up its sporting credentials a notch or two, your pride and joy no longer looks the part when standing immobile at the side of the road, tyre destroyed and rim ruined after an encounter with a pothole.
Michelin and Maxion Wheels have presented a solution they believe can make this sort of damage a thing of the past. At the IAA show in Frankfurt, Germany last September, Tyres & Accessories met with Maxion Wheels' chief executive officer, Pieter Klinkers. Together with Ralf Duning, the company's vice-president of global engineering, and Cyrille Roget, group technical and scientific communications director at Michelin, he shared a few key points about the new Maxion Flexible Wheel with Michelin Acorus Technology.
Tyres & Accessories: How did the project originate?
Pieter Klinkers: Within every tyre there's a wheel, so there is a natural link between a tyre maker and a wheel maker. On top of that, a couple of high-level people at Maxion previously worked for Michelin, and this provided an additional connection between the companies and led to some sharing of information and informal meetings. Then, about two years ago, Michelin came to us and explained their Acorus technology, and we decided this could be something very interesting for our customers. We both understood that Acorus isn't just a tyre and isn't just a wheel, and that we needed to work together to develop it. This realisation evolved into a concrete project.
T&A: Are Acorus wheels suitable for electric vehicles and extended mobility solutions?
PK: Acorus is certainly suitable for electric vehicle wheels, and as there is no limit from size for this technology, I'd say it's even preferable on the tall and narrow dimensions. Having a flexible wheel protects these low rolling resistance tyres' narrow sidewalls, thereby playing an important role on vehicles where weight reduction measures preclude the supply of a spare wheel of any kind.
Our technology also works with sealant tyres without any problem, however tests performed on run-flat tyres showed that the consumer would experience limitations when driving on a run-flat tyre with flexible wheels. Therefore, we're not pushing for solutions for mounting run-flat tyres on Acorus wheels. In any case, the design of the wheel all but eliminates the possibility of sidewall ruptures, making run-flats superfluous.
T&A: Will cost limit the appeal of Acorus?
PK: Acorus technology is a new process and a new geometry, but most of the additional cost doesn't come from the rim and tyre – we're adding technology with the flanges and, if the customer wants it, an aesthetic ring, and this does mean the product will cost more than a conventional rim. On the other hand, with Acorus the OEM has a value-added product whose cost can be passed on to the end consumer.
T&A: As Acorus works with almost all conventional tyres, how will Michelin benefit from the partnership?
PK: Michelin sells the flange to Maxion, and Maxion will negotiate deals with OEMs. But for sure, during the development phase with OEMs, it would be natural to see this new system equipped with a Michelin tyre first. This is what we prefer. The system is also patented, so initially we want to market it as a Maxion Wheels and Michelin technology, but if it ultimately achieves the success that we're targeting, a lot of people will use it. Acorus is suitable for almost all conventional tyres, there is no physical limitation on what type of tyre is fitted.
T&A: How will you extend the appeal of Acorus to other segments and emerging markets?
PK: We're launching Acorus as a solution for nice, big aluminium wheels, but our R&D centre is already working to adapt the system to work with steel wheels. Some people anticipate that the steel wheel will disappear, but we don't think so. The market trend for autonomous driving and shared vehicles is creating a segment of vehicles that don't need to be fitted with top-of-the-line alloy rims. Furthermore, in regions where road conditions are bad, aluminium and steel wheels have different respective levels of market penetration than here in Europe. Therefore, we're working on a steel wheel adaptation. We think we've already found a good solution. It works according to the same principles as the system we developed together with our friends from Michelin, we just need to modify the Acorus ring's support.