Electric city shuttle buses coming to London, with Acorus technology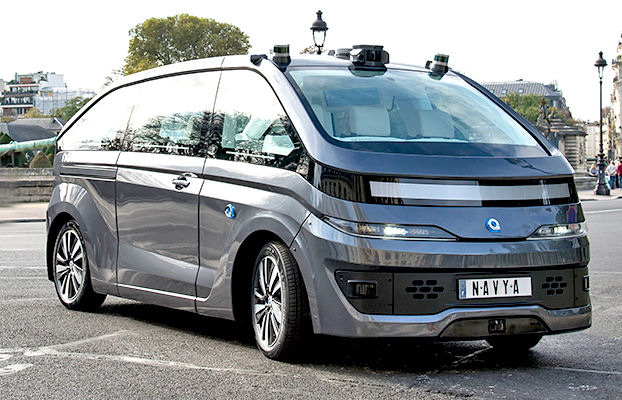 Last September, Michelin and Maxion Wheels jointly presented a flexible wheel solution that features the tyre maker's Acorus Technology. This solution has been adopted by French driverless vehicle specialist Navya for its autonomous electric shuttle bus, which is already on the roads in five cities around the world. The electric city shuttle is now making its debut in London.
A challenge awaits this new type of vehicle. How can it drive over potholes or unevenness in the road surface whilst at the same time ensuring vehicle integrity and passenger comfort? Christophe Sapet, chief executive officer of Navya, comments that "there is an infinity of configurations where things might go wrong: poor road surface, debris, complicated weather onditions. This requires a lot of time and development effort that we do not have."
For this reason, Navya approached Michelin, with the aim of finding a solution. Michelin suggested the Acorus flexible wheel technology. As comments Pierre-Edouard Sorel, initiative marketing director at Michelin, Acorus is "a robust solution that enables autonomous vehicle manufacturers to accelerate their arrival on the market."
The technology works using two rubber flanges mounted on a slightly narrower wheel body. When the vehicle hits a pothole or other obstacle the flanges flex to protect both the tyre and the aluminum wheel body, without the passengers feeling any impact at all. The result is that the shuttle bus stays in line and wheels and tyres have better resistance to puncture risk linked to pinching, whatever the vehicle's speed.
Since September 2015, over 60 Navya autonomous electric shuttle buses have carried over 200,000 passengers in Europe, the United States and Asia/Pacific. The startup is already working on its next generation solution after announcing that its first driverless taxi, the Autonom Cab will be on the road by the third quarter 2018. It can take up to six passengers and drive at speeds of more than 55 mph. Before then, the Autonom Cab will be tested on the streets of Paris and will be presented at the Consumer Electronics Show (CES), which begins in Las Vegas next week. Michelin's Acorus technology experts, who have worked on the project, will be present on the Navya stand at the CES.