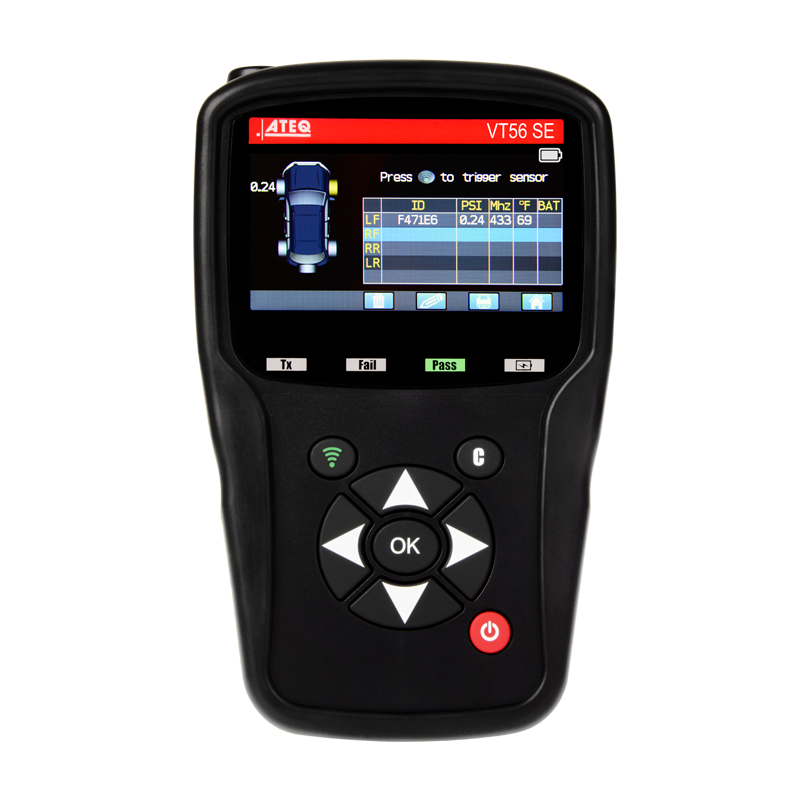 Tyresure Ltd has released the VT56 SE
Tyresure Ltd has released the VT56 SE – a new 'lite' version of the original VT56 tool, which has been streamlined to offer all the essential functions required, for a lower cost.
Configuring all popular universal TPMS sensors, including all of Tyresure's T-Pro sensors, the new tool is designed to integrate and store all sensor data, and allows this data to be transferred to the vehicle via the OBDII socket. Frequent online updates ensure that new vehicles are introduced quickly, providing up-to-date coverage at all times.
The VT56 SE displays all OE available sensor data (including; ID, tyre pressure, tyre temperature and battery status), and offers additional functionality by providing indirect, manual, and auto relearn procedure information. Tyresure part numbers are also displayed to help with identifying the correct part to replace. The tool comes with user-friendly navigation and command buttons, as well as an interface in 18 languages, shown on an easy to read 4.3-inch colour display.
Managing director of Tyresure, Martin Blakey, said: "The new VT56 SE maintains all the key features of the original VT56 tool, but offers an economical alternative which we believe will prove highly favourable within the market."
Included within the software are OBDII locations, a key fob RF tester, help screens and a complete history log of all vehicles serviced, which can be easily recalled at any point from the History menu. The tool also comes with an OBDII Module and a carry case, while a tyre tread depth gauge is also available as an accessory.
Category: Product News