New Vredestein tyres for road cycling segment, as tyre importance 'increases'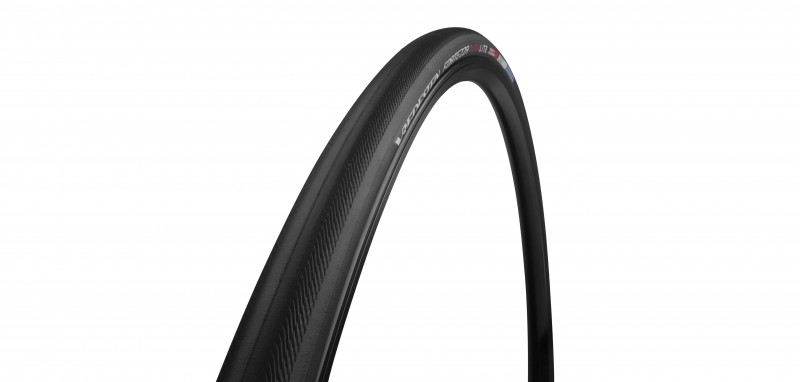 Apollo Vredestein has introduced three new Vredestein brand cycle tyres for the sport segment at the Eurobike exhibition in Friedrichshafen. The tyre manufacturer said it was responding to road bike manufacturers' production of increasingly stiffer frames and wheels to ensure better feedback, comfort and grip for riders. With these characteristics, the importance of tyres increases, since the feel of the road surface and grip contribute more to the overall cycling experience. Vredestein has introduced the Fortezza Duralite, Fortezza Tubeless Ready, and Fortezza Senso Tri, in addition to a new size for the Fortezza Senso Superiore.
Lightweight racing tyres offer many advantages, such as more speed, grip and comfort, and lower rolling resistance. Yet lighter tyres also increase the risk of punctures due to the economising on anti-puncture material. In developing the new products, the R&D team at Apollo Vredestein took on the task of making a lightweight, durable high-performance road tyre along with solid puncture protection.
The Fortezza Duralite is 18 per cent lighter than standard racing tyres (195 grams in 25-622), while also featuring a Sportex Protection Layer (SPL). This offers all the advantages of a lightweight high-performance tyre while maintaining the reduced risk of punctures of a heavier version. The lower rolling resistance and enhanced grip are due to the 150 TPI carcass, combined with a new and durable compound which ensures a long lifespan. In addition, its elliptical contour gives the Fortezza Duralite optimal aerodynamic properties. In short, this model is light and fast while lasting longer than comparable tyres.
Vredestein also introduced the Fortezza Tubeless Ready road tyre, which is made preventively leak-resistant with the aid of Vredestein Tyre Sealant, a special liquid latex. This combination offers three major advantages: the tyre can be used at a lower air pressure and provides better comfort and grip; since there is no inner tube, rolling distance is substantially reduced (most rolling resistance is generated by the friction between the tyre and the tube) and 20 grams are saved per wheel; and the tyre is more puncture resistant because Vredestein's tyre sealant counteracts any punctures caused by e.g. stones or thorns.
The new Butyl Shield Technology that is applied protects the 120 TPI carcass and lengthens the lifespan. At the same time, the stiffer heel contour ensures proper sealing along the rim and clear feedback and assurance for riders. This makes the Fortezza Tubeless Ready very suitable for the higher braking force of disc brakes, since slippage is prevented on the rim.
The Fortezza Senso Tri is developed for triathletes in particular and features a special butyl inner tube. The advantage of butyl is that it has lower air permeability than latex which is normally used in tubular road tyres. Triathlon bicycles often have to be placed in the parc fermé the day before the race, which leads to the risk of reduced tyre pressure in case of latex tubulars. Although butyl has a slightly higher rolling resistance than latex, this is compensated by a special handmade cotton carcass with no less than 290  TPI, in combination with the proven AWS (All Weather Silica) compound. This ensures maximum grip and low rolling resistance. Puncture resistance is enhanced by means of a solid poly-cotton protection layer.
The Fortezza Senso Superiore, Vredestein's premium racing product, is designed for the highest possible performance in terms of rolling resistance, grip and comfort. Wider tyres have become a fixture on road bicycles and users are more and more convinced of their many advantages. Along with growing demand from OEM´s, Vredestein has chosen to produce the Fortezza Senso Superiore in the size 28-622. This 28mm version is more comfortable and has a larger tyre volume, allowing it to be driven with lower tyre pressure. This leads to better control, comfort and grip, while keeping rolling resistance low.