Continental acquires share in driverless mobility firm EasyMile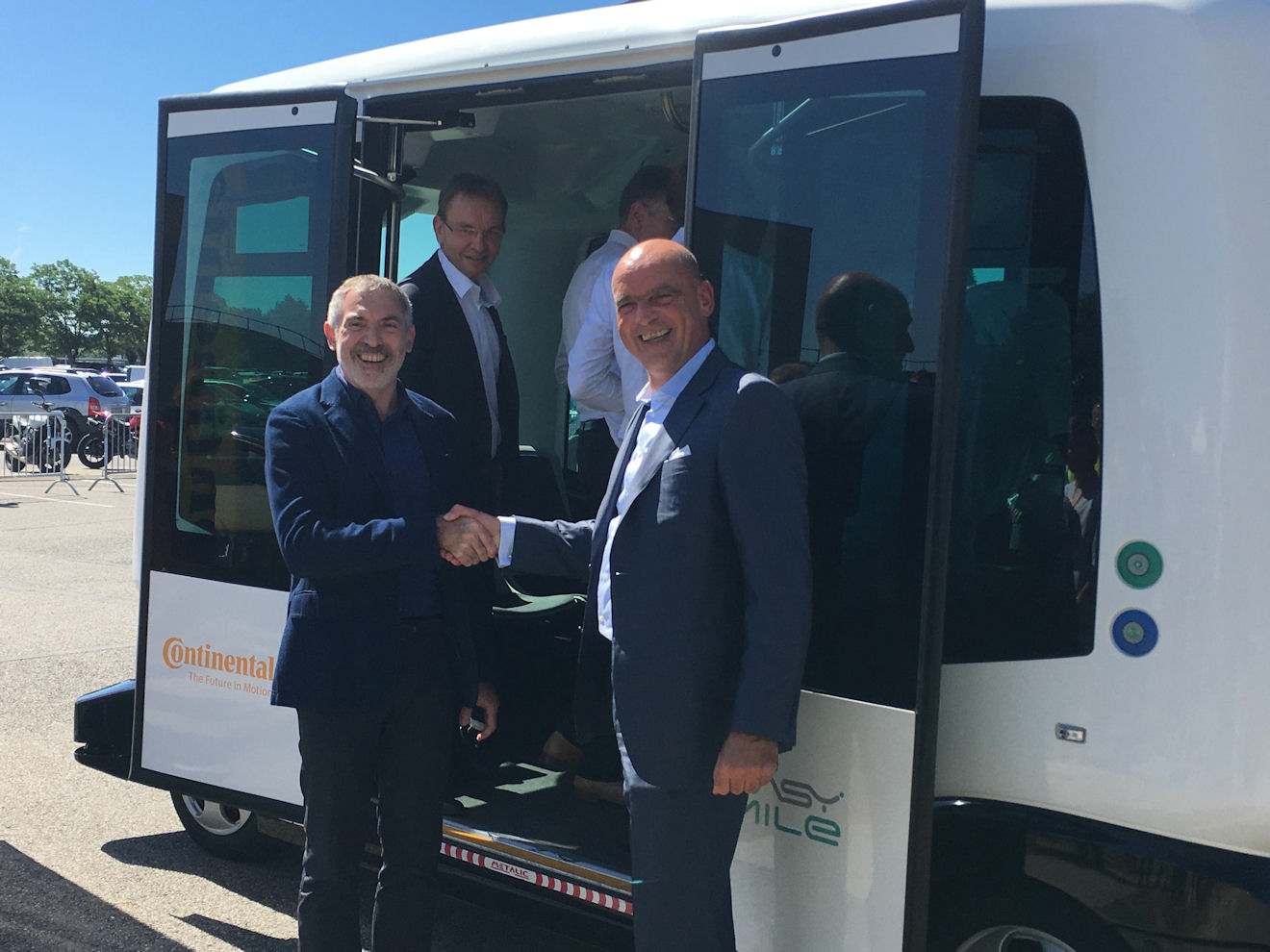 Technology company and tyre maker Continental has agreed to acquire a minority share participation in French autonomous driving company EasyMile SAS, a firm currently focusing on the development of driverless electric shuttles. In addition to the equity investment, the companies plan close cooperation in the fields of environmental sensors, braking systems and driving safety technologies. The transaction's completion is subject to approval by the relevant antitrust authorities.
Autonomous shuttles, also known as robo-taxis, are set to play a key role in addressing the 'first mile – last mile challenge', enabling seamless mobility services for urban and suburban demographics. Widespread deployment of autonomous shuttle fleets is expected to alleviate inner city congestion by enabling door-to-door public transportation at scale. Continental anticipates promising growth for autonomous shuttles and believes these vehicles will hold a considerable share of total car sales in 2030.
"We firmly believe that autonomous shuttles will be playing an important part in urban mobility. That's why it's important to incorporate the findings from current deployments into our development work, so that this new kind of individual mobility can be shaped. We are really looking forward to the collaboration with EasyMile," says Frank Jourdan, head of Continental's Chassis & Safety division.
"We are delighted to partner with Continental, a recognised leader in automotive technology, and known for its focus on quality," adds Gilbert Gagnaire, chief executive officer of EasyMile SAS. "This partnership will accelerate our development of ubiquitous autonomous transportation solutions for passengers and goods. Our EZ10 vehicle is already the most widely deployed driverless shuttle globally and is a demonstration of the robustness and performance of its unique technology. We look forward to integrating Continental's latest components and technology into our solutions to further improve performance and optimise costs."
The planned cooperation with EasyMile will give Continental the opportunity to conduct on-road evaluations of numerous possible applications within EasyMile shuttles worldwide, and it will also introduce tested automotive technologies, for example Continental EcoContact tyres, which will be fitted to the EasyMile EZ10 fleet.
"Together with our customers, Continental is pushing ahead with the development of every variant of assisted and automated driving on highways and for automated parking scenarios," shares Ralph Lauxmann, head of Continental's Systems & Technology Chassis & Safety division and the company's Automated Driving Project House. "The scope and the complexity of the technical systems involved in a driverless vehicle are considerable and can only be handled by a technology company with a very broad product portfolio and a holistic approach. Partnering with EasyMile will accelerate and help us to address the challenges when it comes to autonomous driving in cities."
The EasyMile EZ10 shuttle is a twelve-person autonomous shuttle. First released in 2014, it has now been deployed in more than 50 cities across 17 countries in Asia-Pacific, North America, the Middle East and Europe. Continental began its own testing automated systems on public roads in 2012 in the USA, and the company now has a globally operating fleet of development vehicles in Germany, the USA, Japan and China. The complex requirements placed on driverless vehicles are also being studied under real conditions at a Continental site in Frankfurt, Germany using the company's CUbE (Continental Urban mobility Experience) development platform, which is based on an EasyMile EZ10 shuttle.