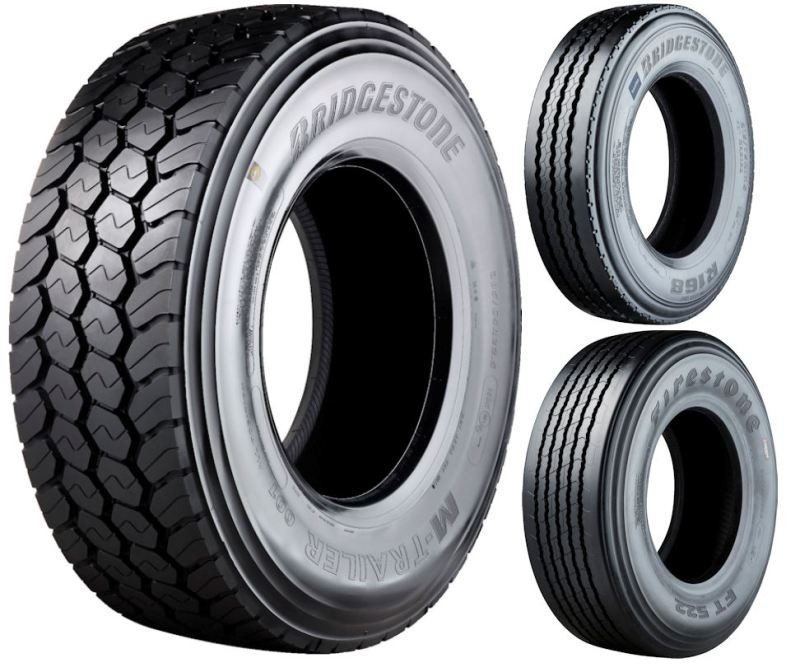 Bridgestone Bandag has introduced several trailer tyre treads
Bandag has brought a trio of new pre-cure treads to market. The first of these is the M-Trailer 001, and in a statement the Bridgestone subsidiary reports this tread was developed with on-/off-road conditions in mind. "Combining robust performance with a high resistance to cuts, chips and punctures, this advanced retread is ideal for use on construction sites, civil engineering projects and other on/off applications where durability is key," claims the manufacturer. The product's new tyre counterpart was launched last summer and came to market at the start of the year. The Bandag M-Trailer 001 "incorporates the very latest compound and pattern technologies developed by Bridgestone such as the tie-bar design, built-in stone ejectors and innovative shoulder shape and mini-wing. Together with Bandag's proprietary retreading process, they help extend the wear life of premium trailer tyres from the mildest to the toughest on/off conditions." The presence of M+S and Snowflake markings indicate reliable performance all year round. The new tread is available for size 385/65R22.5 and 425/65R22.5 casings.
A further new release is the R-Trailer 001 tread for regional and special transport applications. According to the tyre maker, the specific challenges of both applications call for durable retread solutions capable of extended mileage performance, such as the R-Trailer 001. It ads that the new Bandag pattern "helps fleet owners and managers maximise the return on their tyre investments." Approved for year-round use with M+S marking, the Bandag R-Trailer 001 also "guarantees reliable braking and handling in a wide range of road and weather conditions."
The Bandag R-Trailer 001 tread is available for fitment on Bridgestone and other premium tyre casings in sizes: 215/75R17.5, 235/75R17.5, 245/70R17.5, 205/65R17.5, 245/70R19.5, 265/70R19.5, 285/70R19.5, 255/60R19.5, 315/80R22.5, 275/70R22.5 and 315/70R22.5.
Another new addition to the Bandag portfolio is the Protread Pro-TR3. This tread was developed for regional operators "looking for a reliable, lower-cost option for extending the life of their casings." Based on the Firestone FT522 pattern with reduced tread depth, the Protread Pro-TR3 retread for the trailer axle is said to offer light-weight, hassle-free operation with good resistance to tears and cracks. The tread is available for fitment on size 385/55R22.5, 385/65R22.5 and 425/65R22.5 casings.
"Whether it is for challenging on/off applications, long-haul transportation or specialist logistics, fleet operators need the assurance of quality retreads which they can rely on to perform when and how they should," comments Steven De Bock, director Sales & Operations Commercial (CSO) at Bandag. "Not only to lower the total tyre cost per kilometre of their tyres but also to ensure the continuity of their operations and the safety of their personnel, goods and equipment. This is why we have applied our very latest technological advances in the fields of material engineering and pattern design to develop the all-new Bandag M-Trailer 001 and R-Trailer 001 retreads. To keep businesses rolling, no matter what the conditions."
Category: Product News, Retreading