Maxxis aims to address increasing high performance demand with Premitra HP5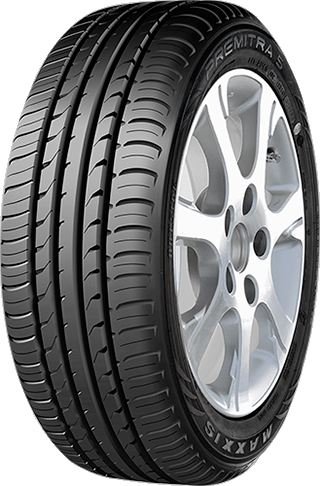 In recent years, demand for high performance and UHP tyres has increased considerably (see GfK data earlier in this section). However, this trend has also resulted in greater complexity in the market. Current trends see more small cars and family saloons being fitted with 16, 17, 18 and 19 inch rims, and as a result, motorists are requiring bigger, but better performing, tyres. Such demand indicates the need for manufacturers to offer a broader range of tyres, in a variety of tread patterns and load and speed ratings, to satisfy the market.
In order to address this growing demand, Maxxis introduced its most recent addition to its high-performance tyre offering in the form of the Premitra HP5, which features a full silica compound with an inbuilt carbon strip to eliminate static build up. The tyre was launched with its strongest selling point promising to deliver outstanding performance in both wet and dry weather conditions due to its world leading technology and design.
Extensive research and development went into the HP5 to ensure that all the correct features are in place to promote excellent performance. As a result, the tyre benefits from central ribs, which enables straight-line stability at high speeds whilst also providing optimal handling, and four circumferential grooves, which provide excellent water dispersal and aquaplaning resistance. The outside shoulder blocks are continuously linked, providing lateral traction and optimum steering performance, while also incorporating a sound reduction bar (SRB) to reduce drive by noise. According to Maxxis, these qualities allow the HP5 to perform on a par with premium European tyre brand alternatives, and also deliver best-in-class, 'A grade' label regulation performance for wet braking.
Since its launch, the Premitra HP5 tyre has been put through rigorous testing by teams at Professional Driver Magazine and Auto Bild. In both tests, the HP5 was compared against a range of other Euro premium tyres, in an evaluation of performance, aquaplaning, mileage, comfort and cost, amongst other criteria. As a result of these stringent series of testing, the HP5 was awarded 'recommended' status by both publications. As such, within Auto Bild's Allrad SUV tyre test, the HP5 was commended for its "good wet grip" and "low rolling resistance" as well as being affordable and "surprisingly good on sand and mud."
Commenting on the HP5 tyre, Maxxis' managing director, Derek McMartin, said: "Since Maxxis was established, we have prided ourselves on recognising gaps in the market, and filling these accordingly. The HP5 was introduced after high demands from drivers who wanted to ride on high performance tyres, that could tick all the right boxes, without costing the earth. Everybody – from a Fiat 500 to a Mercedes McLaren driver – can benefit from the HP5, which highlights just how big a market there is for a great quality, performance tyre that also represents good value for money."
Maxxis' high performance tyre portfolio also consists of the Victra Sport VS01 and the Victra MA-Z3, which were designed to provide luxury car marques with enhanced performance, minimised rolling resistance and more miles to the gallon.