Liqui Moly to introduce Gear Tronic automatic transmission fluid changer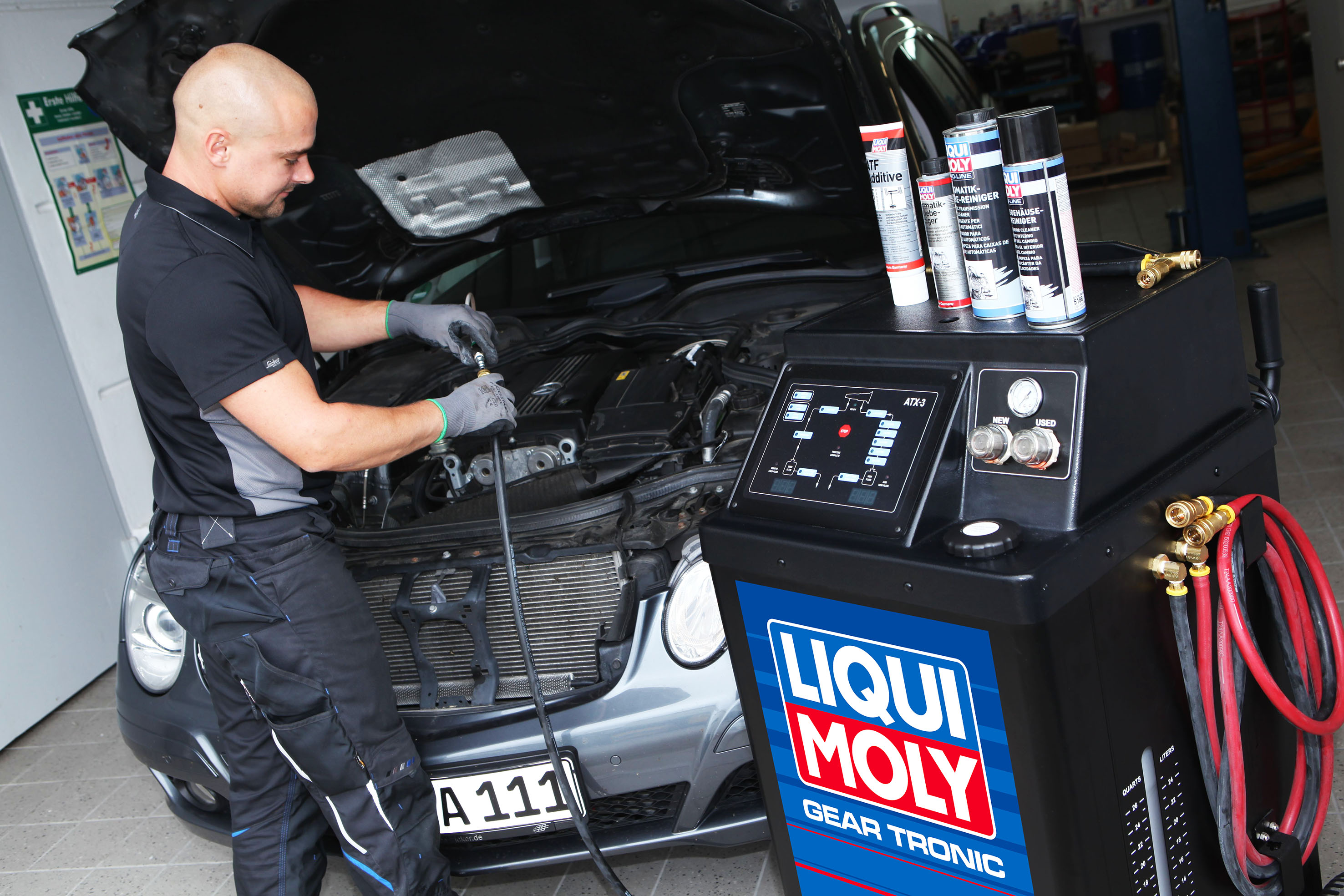 Replacing the oil in an automatic transmission is more difficult and has greater potential for errors than changing the motor oil. To make this work easier for workshops, the German motor oil and additive specialist Liqui Moly has developed a high-tech machine that can do more than just flush and replenish fluid: the Gear Tronic. It will be presented for the first time in the United Kingdom at Automechanika Birmingham from 6 to 8 June.
"Gear Tronic makes even a complicated process child's play and thereby opens up an additional income option to the garage," says Ibrahim Memis, responsible for the Liqui Moly business in the UK.
Unlike with motor oil, with automatic transmission fluid change it is not sufficient to simply release the oil drain plug. This would only allow a third of the oil to drain away. In any case, transmission fluid cannot simply be drained and then replenished with new fluid. Instead, replacement is a dynamic process: The filling quantity in the automatic transmission must remain the same throughout the entire process. Otherwise the vehicle's electronic system reports an error.
A complicated matter, therefore, which is not without risk. "Without the right tools a lot can go wrong, irritating both customers and the workshop itself," explains Memis. The Gear Tronic and the additives developed for it enable professional mechanics to offer complete transmission oil service including cleaning, flushing and re-filling. This machine ensures that the lubricant is replaced completely, which Liqui Moly states was not previously possible. The process is monitored by two digital scales, to ensure that the quantity of new fluid added to the transmission is exactly equal to the quantity of old fluid taken out. "This means that workshops can not only offer a transmission oil change, but also additional services such as thorough cleaning and extra care of the transmission," adds Memis.
Liqui Moly will also present a second innovation: Molygen New Generation oils. These motor oils are not brown, but have a greenish hue from their special wear protection, which is based on tungsten, among other substances. The chemical agents smooth the metallic surfaces in the engine and even out tiny, microscopic bumps. This reduces friction in the engine and therefore also fuel consumption. Furthermore, they protect against wear. Unlike conventional motor oil of the same quality, they reduce wear by up to 30 per cent.