The Tyre Equipment Company adds Ken-Tool products to its range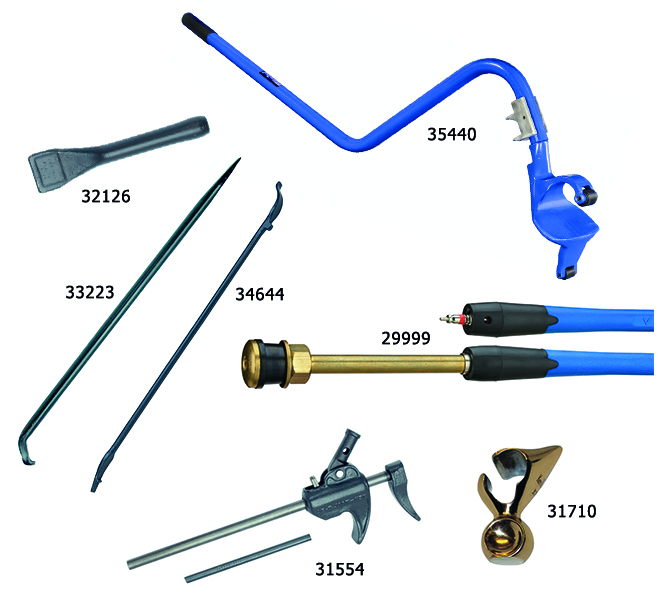 Equipment supplier, The Tyre Equipment Company (TEC), added American manufacturer Ken-Tool's products to its range and began supplying these throughout the UK and Ireland on the 1st January 2017. Based in Akron, Ohio, Ken-Tool is a leader in automotive aftermarket tyre repair tools, manufactures tyre changing tools and equipment and has been established for over 90 years. TEC will exhibit the Ken-Tool range alongside its existing range of equipment at The CV Show in April.
TEC says its customers are able to benefit from more choice when selecting bead breakers, wrenches and tyre levers and easy access to specialist Ken-Tool products such as the Blue Cobra Truck Tyre Demount Tool (35440) and the T54 Heavy-Duty Ratchet Action Tyre Spreader (31554).
The Blue Cobra Truck Tyre Demount Tool allows the operator to demount the majority of 22.5" tubeless truck tyres quickly – up to a 13" wide wheel. It helps to reduce back injuries by allowing the demounting of the tyre without lifting the entire wheel and tyre off the ground.
Ken-Tool's T54 Heavy-Duty Ratchet Action Tyre Spreader is also available from the TEC website. It has a minimum jaw opening of 89mm and a maximum jaw opening of 360mm.
This year, TEC will be exhibiting in the Workshop section of the CV Show which is located in Hall 4. The TEC team can be found on stand 4E121 where there will be a chance to win Ken-Tool's Deluxe Blue Cobra Tubeless Truck Tyre Service Set by taking part in a competition on the stand.
TEC supplies an extensive range of products for a number of industries including the agricultural, plant, mining and commercial vehicle sectors. The company is also heavily focussed on supplying tools to end users and tyre fitters for use in their own workshops.