New tyre changer makes light work of heavy tyres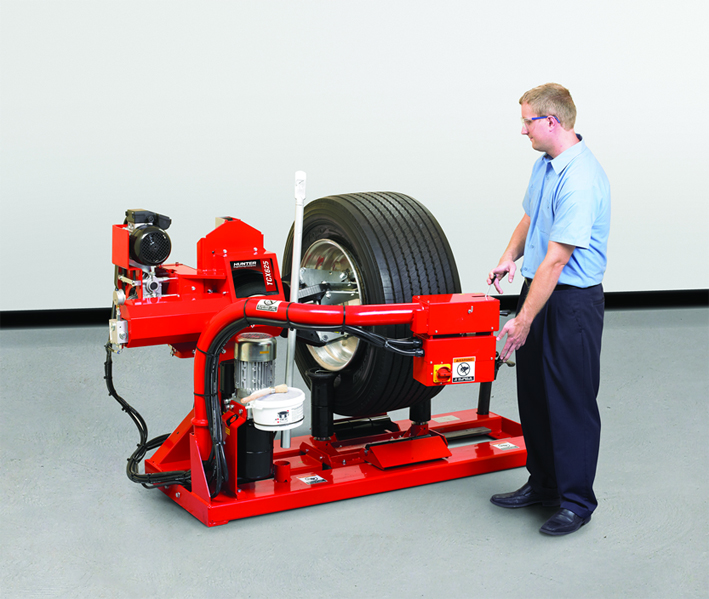 Pro-Align has expanded its range of Hunter garage equipment for commercial vehicle tyres, launching a heavy-duty tyre changer. The new changer follows the Hunter commercial vehicle aligner, which Pro-Align added to its range in 2015, announcing its entrance into the commercial sector. The supplier will present its products at The CV Show for the second consecutive year. The tyre changer has been designed to make the tyre changing process more efficient, and safer and easier for technicians carrying out the work.
"Changing truck and bus tyres can be a tricky and fraught process," comments Paul Beaurain, managing director, Pro-Align. "However, our new system reduces the risks and stresses making the entire process safer and quicker. There's no lifting of heavy assemblies, no need for the use of hammers, making it a whole lot easier and controlled."
To demount a tyre, operators simply roll the wheel and tyre assembly onto the changer, engage the tulip-style wheel clamp and then activate the bead-breaking rollers. The powerful hydraulic-powered carriage then moves across and effortlessly removes the tyre from the rim as it rotates, without any damage to the wheel or need for the use of hammers. This process can be completed in as little as 55 seconds.
Pro-Align claims that mounting the tyre can be completed in 30 seconds; the changer lowers the wheel rim onto the tyre and with the use of an optional mount lever, the wheel and tyre assembly is spun by the changer and the tyre mounting process is completed. On certain tyres, it's even possible to mount both beads simultaneously.
Pro-Align adds that the Hunter heavy-duty tyre changer offers great flexibility for workshops; it can accommodate standard truck tyres as well as super-singles, and thanks to the clamping mechanism, steel or aluminium rims can be serviced without fear of damage.