Record January new car registrations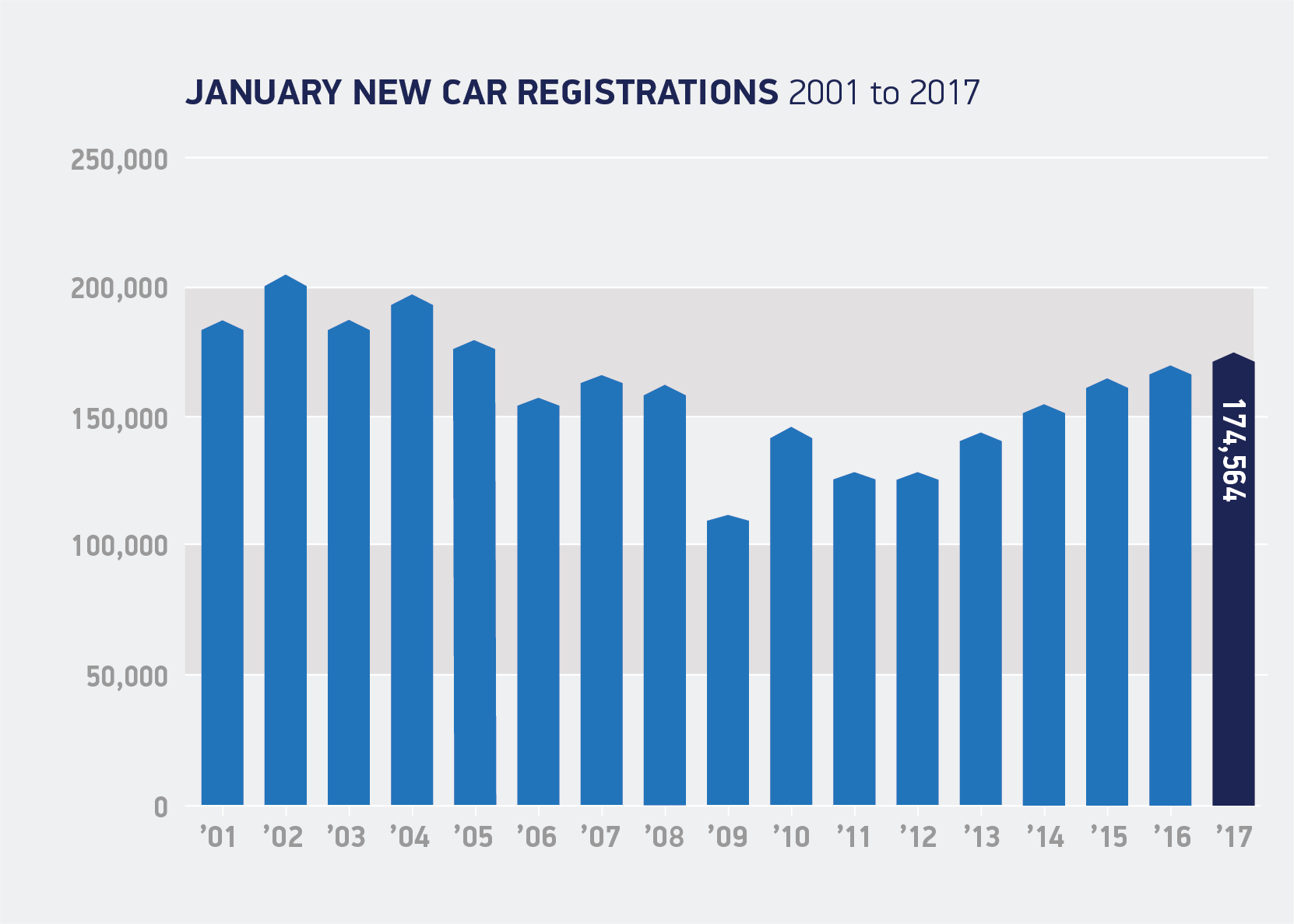 The UK new car market got 2017 the year off to a good start and achieved record levels of registration again January. According to the latest SMMT figures, 174,564 new cars were registered on British roads in January – rising 2.9 per cent to the highest level since 2005.
At the same time electric cars set a new milestone, with alternatively fuelled vehicle market share reaching 4.2 per cent. This was the first time alternatively fuelled vehicle share broke through 4 per cent. This level was reached after registrations in this segment grew 19.9 per cent. The previous monthly alternatively fuelled vehicle market share record was 3.6 per cent, achieved in January and November 2016.
Across other fuel types there was a mixed picture with diesel registrations down -4.3 per cent but new car registrations of petrol cars grew 8.9 per cent.
Across the market, private motorists led the growth, registering 76,729 new cars – up 5.0 per cent. Fleet demand also grew marginally by 1.4 per cent, while business registrations fell by -1.0 per cent.
Mike Hawes, SMMT chief executive, said: "2017 got off to a good start in the new car market, buoyed by a great range of new models which are safer and cleaner than ever before. It's encouraging to see alternatively fuelled vehicles benefiting from this positive growth, reaching a record market share. After record growth in 2016, some cooling is anticipated over the coming months, but provided interest rates remain low and the economy stable, the market is in a good position to withstand its short-term challenges."
Chris Bosworth, director of Strategy at Close Brothers Motor Finance, pointed out that the results were better than may have been expected:  "January's overall new car registration figures continue in similar vein to 2016, with registrations up and growth continuing in the market. This comes despite recent warnings of a slowdown in investment to the sector, fuelled by the uncertainty created by the UK's decision to leave the European Union"
"Looking ahead, the effects of rising inflation on consumer spending and the changes to salary sacrifice from April 2017 to the business market will be the major challenges to the private sales market. Innovations, including more sophisticated driver aids, increase in safety improvements, and the uptake of ULEV, will be key in encouraging consumers to purchase new over used vehicles in 2017."
Sue Robinson, Director of the National Franchised Dealers Association (NFDA) commented: "It is extremely encouraging to see that following last year's slowdown, private demand came back strong with a growth of 5.0 per cent in January.
"The decision of the Bank of England to raise the growth forecast for this year from 1.4 to 2.0 per cent is a positive sign as, in line with January's new car market figures, shows that the UK economy has remained stable in the aftermath of Brexit.
"A number of factors including the new and more expensive VED tax rates coming into effect in April, low interest rates and attractive finance packages will continue to attract new buyers in the upcoming months."