UK drivers increasingly buying cars online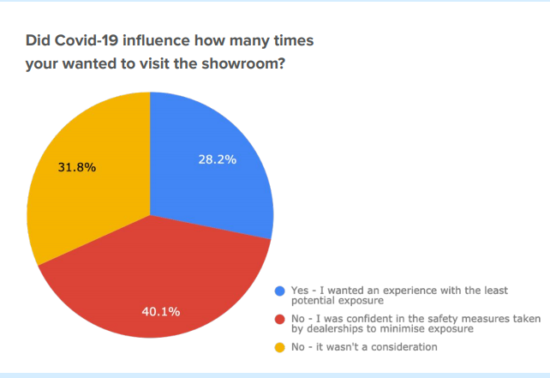 Carwow: 'Online car buying the new norm in UK, Germany and Spain
UK motorists are some of the fastest adopters of online car buying, something that is rapidly becoming the new normal in Britain, Germany and Spain, according to research conducted by online car retailer carwow. A survey of over 1000 consumers who bought a car through carwow since dealerships were allowed to reopen found 54 per cent of recent the company's customers in the UK said they would continue to do the bulk of their car buying online from now on. In Spain it was 45 per cent and it was 38 per cent in Germany.
43 per cent of carwow buyers in the UK purchased a new car without ever visiting a showroom (Germany, 23%; Spain, 13%). And 36 per cent of all UK buyers valued changes made by dealers to accommodate remote buying.
Carrying out a test drive was the biggest reason why carwow buyers in each of the three countries visited a showroom – the option of a test drive from the comfort of their own home ranks high on the buyers' wish list too. 1 in 4 customers in the UK who were not offered an end-to-end digital purchase process, wanted one. And 1 in 3 customers in the UK took advantage of a virtual video tour of the car they were looking to buy – significantly more than their counterparts in Europe.
Regardless of a growing desire to purchase online, more than two-thirds of the UK's buyers said that Covid-19 will not deter them from visiting dealers in the future – confidence that is mirrored in Spain and German.
carwow, CEO, James Hind commented: "Consumer appetite for online buying has been sharpened by the pandemic, which forced many who have previously resisted digital purchasing, to embrace it. What is yet to be proven is if this trend will continue, but our survey of carwow customers, not just here in the UK but in Spain and Germany too, firmly indicates that online buying of cars is now the new norm.
"What we are seeing however, is that alongside an increase in consumer willingness to transact digitally, is a need for the purchase to be supported by a wider range of remote support services. An end-to-end digital purchase process is almost expected, whilst tools that empower buyers to make decisions, such as virtual vehicle tours and from-home test drives, are growing in demand."