NFDA, DWF, KPMG, Global Data and SMMT reactions to 2019 car registration figures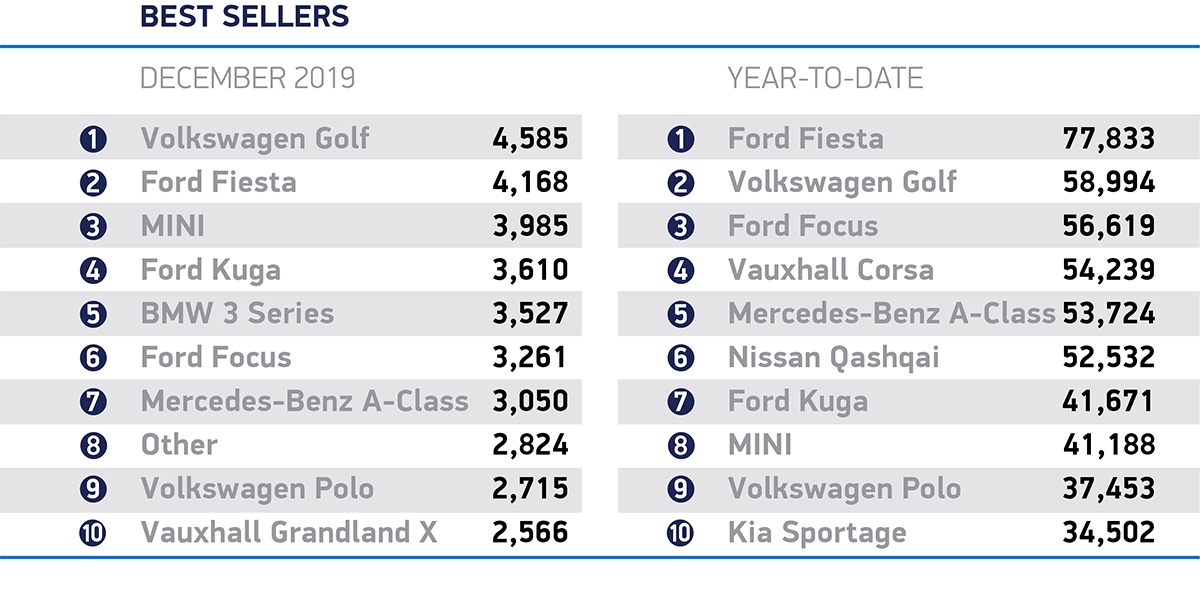 While the 2019 UK car registration figures are clear that the market declined last year, various sources gave differing views as to what are the most important trends and what should be done.
Sue Robinson, director of the National Franchised Dealers Association (NFDA), which represents franchised car and commercial vehicle retailers in the UK, said of the SMMT figures: "The new car market saw a -2.4 per cent decline in 2019 as a result of the continued, prolonged political uncertainty and a number of challenges affecting the automotive sector, namely supply constraints and confusion surrounding emissions."
Robinson continued, "It is encouraging to see that plug-in hybrids and electric cars saw consistent growth throughout the year. We expect the electric vehicle market to experience a significant increase in 2020 as new models become available and supply constraints ease.
"It is disappointing to see that CO2 emissions continued to rise. It is crucial that motorists choose the car that best suits their driving habits. Due to the confusion surrounding emissions, many high mileage drivers have purchased petrol cars which emit more CO2 than their modern diesel equivalents.
"In 2019, the decline in new car registrations was partially offset by a strong used car market which provided profit opportunities for retailers who, in turn, offered excellent deals to their customers.
"NFDA hopes that a more stable political environment will support the automotive retail sector and restore consumer confidence in 2020".
Jonathan Moss, head of transport at global legal business DWF, said: "Clarity, consistency, confidence and economic stability are required to turn around the fortunes of the UK new car market. The UK new car market declined in 2019, with annual registrations falling for the third consecutive year, representing a -2.4 per cent decline. Registrations from consumers are down -3.2 per cent.
"The car market has continued its downward trend, reacting to a series of adverse factors including geopolitical pressures, weak business and consumer confidence and confusion over rules relating to clean air zones.
"New CO2 emission standards are being introduced in 2021 and consumers are holding off from making purchases, unclear about which cars to buy. Electric vehicles are too expensive. Manufacturers need to deliver electric vehicles at affordable prices for the mass market. With Brexit on the horizon, there is continued uncertainty within British car manufacturers about what tariffs will be imposed on car components which need to be imported from the EU. The changing face of car ownership and the increasing popularity of ride hailing is exacerbating this downward spiral meaning that car manufacturers in the UK will be feeling the heat for some time."
Justin Benson, Head of Automotive at KPMG in the UK, added: "The latest car registration numbers are disappointing, having dropped by over 2 per cent on the previous year, however, the focus this year is all about consumer confidence and electric vehicles.
"Over the next couple of months we will see if consumer confidence improves, with increased certainty around the economy. I believe that 2020 will also be the year the industry sees sales of electric vehicles double again. Although still a low base, new emissions regulations and increased consumer awareness around climate change will drive continued growth in battery electric vehicles."
Looking to the future, David Leggett, Automotive Editor at data and analytics company GlobalData, expects a drop of five per cent in 2020. He says:
"The UK car market's decline in 2019 reflects a number of negative factors that have come together to depress car demand. Besides the
political and economic uncertainty in Britain surrounding Brexit, the uncertainty over future government policies and tax regimes surrounding diesel cars has also been a factor, demonstrated by the sharp decline in diesel car sales.
"Even the rise in share – albeit from a low base – of electric cars and hybrids unsettles some potential purchasers who are sensing that we are on the cusp of major technological change and are holding off on buying. These factors will still be at play in 2020, holding back the UK's car market again. The UK's new car market in 2020 is forecast by GlobalData to see another drop of around 5 per cent to 2.2 million units.
"The UK's planned formal departure from the EU at the end of January and the transition arrangements for UK-EU trade (effectively, business as usual) may have removed some short-term uncertainty, but the UK Government is aiming to conclude a new trade deal with the EU by the end of the year.
"It will be a very big challenge to get a comprehensive UK-EU trade deal in place for the end of the year. If it is not, a 'no-deal' on permanent trade arrangements between the UK and EU is a scenario that could see new import tariffs on car parts and finished vehicles as well as disruption to cross-border shipments (which means higher costs incurred by vehicle manufacturers). Once again, investment flows to UK Automotive could seize up and consumers will be nervous about economic prospects.
"In addition, currency volatilities also pose an ongoing concern, especially for importers who have seen margins eroded by sterling weakness. And the outlook for the UK economy is for another year of modest GDP growth – not much more than 1 per cent. It's hard to see the UK car market picking up against that background.
Mike Hawes, SMMT Chief Executive, said: "A third year of decline for the UK new car market is a significant concern for industry and the wider economy. Political and economic uncertainty, and confusing messages on clean air zones have taken their toll on buyer confidence, with demand for new cars at a six-year low.
"A stalling market will hinder industry's ability to meet stringent new CO2 targets and, importantly, undermine wider environmental goals. We urgently need more supportive policies: investment in infrastructure; broader measures to encourage uptake of the latest, low and zero emission cars; and long-term purchase incentives to put the UK at the forefront of this technological shift. Industry is playing its part with a raft of exciting new models in 2020 and compelling offers but consumers will only respond if economic confidence is strong and the technology affordable.
"Despite the overall decline in 2019, the UK car market remains the second biggest in the EU, behind Germany. It is also one of the most diverse, with buyers able to choose from some 350 different models available in various fuel types and body styles to suit all driving needs. With nearly 90 exciting new generation models – 23 of them zero emission cars and 11 plug-in hybrids – set to make their showroom debuts in 2020, and some compelling deals on offer, the industry is committed to new technology that will benefit consumers and the broader environment."