Mitas expands Terra Force-R and E-10 ranges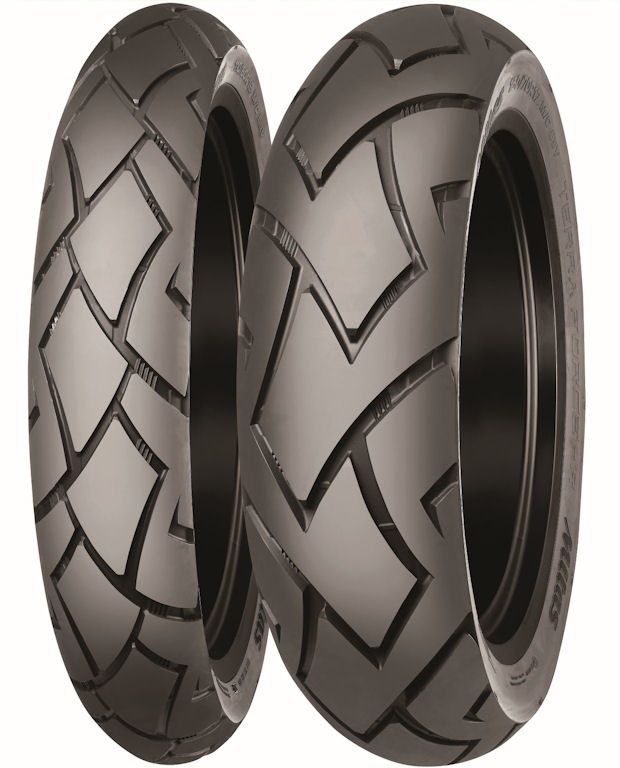 Two new sizes have joined the Mitas Terra Force-R and E-10 ranges. Commenting on these additions, Ksenija Bitenc, director of Mitas' motorcycle tyre and tube product area, said: "Our aim is to strengthen Mitas in the adventure segment by offering riders complete range of tyre sizes. The extension of Terra Force-R and E-10 tread patterns demonstrates our strategy."
The Terra Force-R is a dual-purpose (90 per cent on-road, ten per cent off-road) tyre designed for maxi enduro and trail motorcycles, and Mitas describes the tyre as "the ideal choice for commuters as well as adventurers who love longer rides with a passenger and luggage." Mitas's aim was to offer to both groups of riders a safe, dynamic and user-friendly tyre. At present one front size (110/80R19) and two rear sizes (140/80R17 and 150/70R17) are available, and a further two sizes (120/70R19 and 170/60R17) will be available in the second quarter of 2017. The Terra Force-R features Mitas's new 'Optimum Steel Cord Technology'; the manufacturer says OSTC ensures optimal contact area between the tyre and the surface in all driving conditions and means the tyre is ideally balanced with optimal contact in all driving conditions, especially at greater lean angles and higher speeds.
The E-10 tread pattern is designed for 30 per cent on-road and 70 per cent off-road use. Mitas calls it a "universal adventure tyre" and reports that the E-10 offers "excellent self-cleaning properties and superb directional control on soft and hard surfaces." The E-10 pattern is suitable for use on asphalt roads, poorly maintained tracks and light off-road terrain. "On bends and corners, the E-10 gives a gentle turn-in and a stable follow-through with optimum directional control," states Mitas.
New E-10 sizes (120/70B19 and 170/60B17) for large adventure motorbikes were tested during this year in various conditions in Europe, USA and South Africa. Based on the results of these tests, the tyre maker says it prepared "the optimal construction of carcass and tread compound." The new sizes are available as of this month.