Auto Bild summer tyre test – the 20 finalists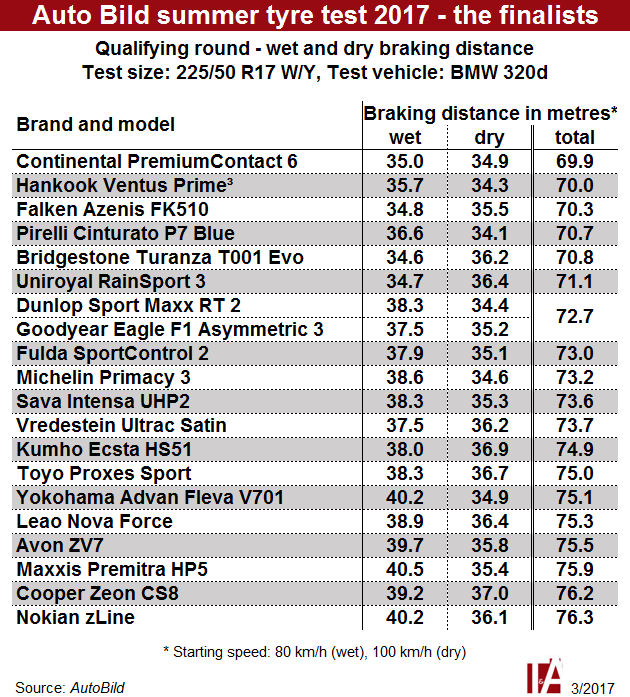 As in previous years, Auto Bild has separated the wheat from the chaff in its 2017 summer tyre test with a qualifying round. This year, the original 52 candidates were whittled down to 20 finalists through wet and dry braking tests.
The size 225/50 R17 W/Y tyres were stopped on a wet road surface from 80km/h and on a dry surface from 100km/h. A Continental tyre, the new PremiumContact 6, achieved the best overall result with its combined braking distance of 69.9 metres.
The braking distances for 12 candidates, on the other hand, were considered simply too long by the Auto Bild test team. These tyres, which had combined braking distances of between 81.5 and 88.7 metres, where the Nordexx NS9000, Delinte DH2, Rovelo RPX 988, Kleber Dynaxer HP3, EP-Tyres Accelera Phi-R, Radar Dimax R8, Formula Energy, Zeetex HP 1000, Tristar Sportpower Radial F105, Achilles 2233 and Autogrip Grip200.
A further 20 tyres with combined braking distances between 77.2 and 81.4 metres were also eliminated during the qualifying round. These were the Apollo Aspire 4G, Nexen N'Fera SU1, Mabor Sport-Jet 3, Nankang Sportnex AS-2+, Zeta ZTR 10, Aeolus SteeringAce AU 01, BFGoodrich g-Grip, Federal Formoza AZ 01, Hifly HF805, Headway HU901, Viking ProTech HP, Toledo TL 1000, Barum Bravuris 3HM, GT Radial Champiro FE1, Gislaved Ultra Speed, General Altimax Sport, Star Performer TNG UHP 1, Fortuna F2900, Effiplus Himmer II, Blacklion BU66 and Goform GH 18.
In addition to the test-topping Continental tyre, the other finalists are the Hankook Ventus Prime³, Falken Azenis FK510, Pirelli Cinturato P7 Blue, Bridgestone Turanza T001 Evo, Uniroyal RainSport 3, Dunlop Sport Maxx RT2, Goodyear Eagle F1 Asymmetric 3, Fulda SportControl 2, Michelin Primacy 3, Sava Intensa UHP2, Vredestein Ultrac Satin, Kumho Ecsta HS51, Toyo Proxes Sport, Yokohama Advan Fleva V701, Leao Nova Force, Avon ZV7, the Maxxis Premitra HP5, Cooper Zeon CS8 and Nokian zLine.
The winner of Auto Bild's comparative test will be announced in the magazine released on 10 March.