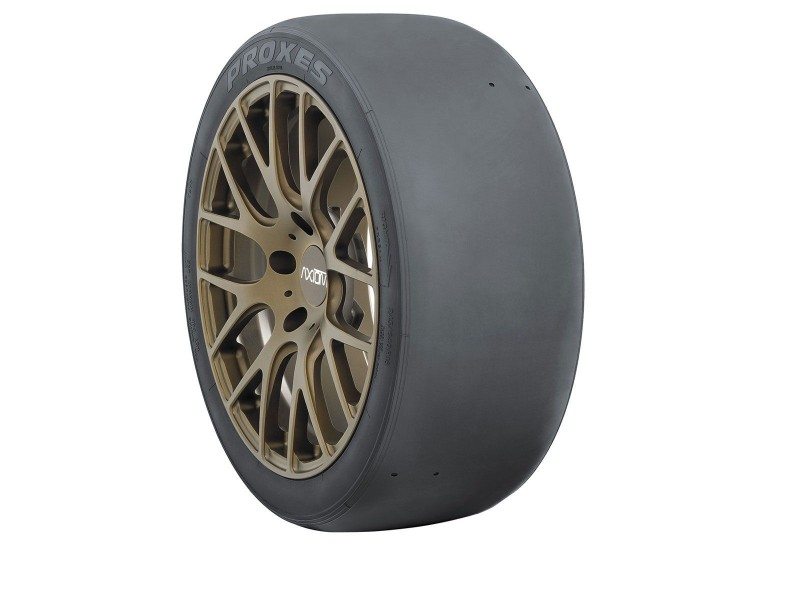 Toyo RS1 full slick competition tyre
Toyo's new full slick competition tyre, the Proxes RS1, was launched in the UK in time for the 2015 season. Its two 15" sizes (195/570R15 and 205/580R15) were joined by the larger 235/620R17, and now Toyo has added two 18" fitments to the range, 245/640R18 and 285/680R18. Toyo states that the tyre is its model for a large and growing market for specialist slick tyres, primarily amongst those that regularly attend track days or participate in club-level motorsport.
The Proxes RS1 is designed to balance performance, consistency and durability, managing these separate and oppositional traits with an advanced Rayon casing developed by Toyo for sporting applications. The Proxes RS1 also has a high-modulus bead filler and steel reinforced sidewalls, both of which improve steering response and handling when pushing to the edge of the performance envelope.
The compound also been developed to offer balanced abilities, including "class-leading" dry braking and wear resistance. Toyo states that the tyre provides high grip levels across a broad range of temperatures, assisted by the RS1's spiral wound cap ply. All of this is supplied at a price commensurate with the RS1's positioning as an "introduction into the world of high performance slick rubber," according to Toyo; the 235/620/17 is priced at £192.
Toyo recommends the following general set up guidelines for the Proxes RS1:
Operating Temperature: 160°F to 220°F
Hot Inflation Pressures: High 30s to Low 40s (psi)
Camber: -2.5° to -5.0°
Caster: As much positive as possible
Category: Motorsport, Product News